After merger approval with Indus, Bharti Infratel board to meet on Feb 24
Posted on 22nd February 2020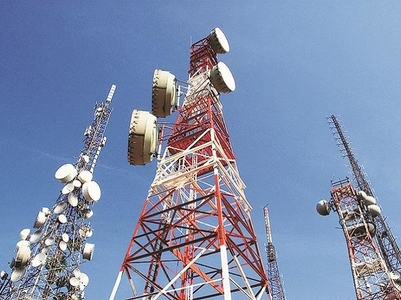 Bharti Infratel on Saturday said its board will meet on February 24 to chart out the future course of action following the telecom department's approval for merger with Indus Towers.

The combination of Bharti Infratel and Indus Towers will create a pan-India tower company with over 163,000 towers, operating across all 22 telecom service areas. The combined entity will be the largest tower company in the world outside China.

"...FDI approval for merger of Indus Towers with Bharti Infratel has been received late evening yesterday," Bharti Infratel said in a regulatory filing.

It added that the board of directors of the company will meet on February 24, 2020 to "take stock and decide the future course of action".

Bharti Infratel and Vodafone hold 42 per cent stake each in Indus. Vodafone Idea holds 11.15 per cent stake in the mobile tower firm.

As per the plans, the combined company, which would fully own the respective businesses of Bharti Infratel and Indus Towers, would change its name to Indus Towers Ltd and will continue to be listed on Indian stock exchanges.

The timely completion of the tower deal was critical for the companies, since it would allow Bharti and Vodafone Idea in offloading stake and raising funds.

The development comes at a time when Vodafone Idea is confronted with total AGR dues of over Rs 53,000 crore. Of this, it has paid only Rs 3,500 crore in two tranches earlier this week.

In all, as many as 15 entities owe the government Rs 1.47 lakh crore -- Rs 92,642 crore in unpaid licence fee and another Rs 55,054 crore in outstanding spectrum usage charges.

These dues arose after the Supreme Court, in October last year, upheld the government's position on including revenue from non-core businesses in calculating the annual Adjusted Gross Revenue (AGR) of telecom companies, a share of which is paid as licence and spectrum fee to the exchequer.
'Switch of all lights in your homes for 9 minutes at 9 PM on April 5': PM Modi's appeal to India in video message
Posted on 3rd April 2020
Prime Minister Narendra Modi on Friday addressed the nation through a video message, in which he appealed to the citizens of India to come together to defeat the threat of the coronavirus disease (COVID-19) crisis, that is spreading like wildfire across the nation.

In a unique proposition, the Prime Minister asked every citizen to switch off all lights at their residences on April 5 at 9 PM for nine minutes and instead light a candle, a 'Diya', or their mobile's flashlights to mark India's fight against coronavirus.
---
Tablighi Jamaat patients making lewd gestures at nurses, roaming nude in hospital: Ghaziabad CMO writes to police
Posted on 3rd April 2020
Hours after Delhi government wrote to capital's police commissioner seeking deployment of adequate police force at the quarantine centres and hospital where people who attended the Tablighi Jamaat event in Nizamuddin Markaz have been kept, adjoining Ghaziabad's Chief Medical Officer (CMO) has written to the local police saying that the Jammat attendees have been roaming nude inside the MMG district hospital and making lewd gestures and remarks at the nurses.

In the letter, the CMO said that the inmates who have been put under observation are misbehaving with the hospital staff.
---
960 foreigners linked to Tablighi Jamaat blacklisted, visas cancelled
Posted on 3rd April 2020
Taking stringent action against the Tablighi Jamaat, Nizamuddin, the Centre on Thursday blacklisted 960 foreigners and cancelled their tourist visas after over their involvement in Jamaat activities. The government also said that necessary legal action will be taken against them.

Under the directions of Union Home Minister, Shri Amit Shah, the Ministry of Home Affairs (MHA) has blacklisted 960 foreigners, present in India on tourist visas, for their involvement in Tablighi Jamaat activities, the Ministry of Home Affairs said in an official statement.
---
British Airways to lay off 28,000 employees, 60% of its workforce
Posted on 16th March 2020
The United Kingdom's flagship airline British Airways (BA) will temporarily lay off 28,000 employees, which is a staggering 60% of its entire workforce, news agency PTI reported. The move comes amid the coronavirus disease (COVID-19) crisis which is spreading like wildfire across the world and paralysing the airline sector, among several others.

The airline, which has grounded most of its fleet due to the coronavirus, has been locked in talks with unions for more than a week.
---
Coronavirus: Total confirmed COVID-19 cases cross 10 lakh worldwide; more than 50,000 dead
Posted on 3rd April 2020
The number of 'confirmed' coronavirus disease (COVID-19) cases in the world crossed 10 lakh around late Thursday night, with the Coronavirus Resource Center at the John Hopkins University putting the total number of confirmed cases worldwide at 1,014,673 on Friday at 7 AM.

It is worth noting that it just took a little over 24 hours for the number of global cases to jump from nine lakh to 10 lakh.
---
Be the first person to write a business review for After merger approval with Indus, Bharti Infratel board to meet on Feb 24