Donald Trump to make his first visit to India on Feb 24, 25: White House
Posted on 11th February 2020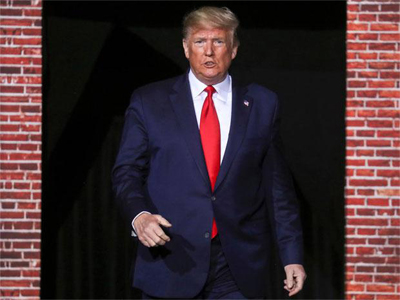 US President Donald Trump will embark on a two-day visit to India from February 24 during which he will travel to New Delhi and Ahmedabad to further strengthen the strategic bilateral partnership and highlight the strong and enduring bonds between the American and Indian people, the White House announced on Tuesday.

President Trump will be accompanied by First Lady Melania Trump and they will visit India on February 24–25, White House Press Secretary Stephanie Grisham said.

She said Trump and Modi talked on the telephone over the weekend.

"During a phone call over the weekend, President Trump and Prime Minister Modi agreed the trip would further strengthen the India-US strategic partnership and highlight the strong and enduring bonds between the American and Indian people," she said.

The President and the First Lady will travel to New Delhi and Ahmedabad, which is in Prime Minister Modi's home State of Gujarat and played an important role in Mahatma Gandhi's life and leadership of the Indian independence movement, the White House said.

Trump's predecessor Barack Obama had travelled to India in 2010 and 2015.

"President Trump's trip to India is timely in view of the bilateral trade issues that need to be resolved and in light of the collaborations between the US and India in various realms," M R Rangaswami, Indian-American philanthropist and head of Indiaspora, told PTI.

Describing it as a significant visit, Mukesh Aghi, president of the US-India Strategic and Partnership Forum, noted that the last three American presidents had made trips to India.

"It's essential to send a message to the region that India is a significant partner and the president values that," Aghi told PTI.

India has a role to play not only in its immediate neighbourhood, but in making sure that the South China Sea and the Indo Pacific region is part of the international global order, he said.

Trump's visit follows Modi's tour of the US in September, during which he met with the US President in New York on the sidelines of the 74th session of the UN General Assembly.

The meeting had come just days after the two leaders attended the mega 'Howdy Modi' rally in Houston which was attended by more than 50,000 Indian-Americans.

The two leaders also met in August at the G7 summit held in the French town of Biarritz.

Prime Minister Modi, while interacting with the media alongside President Trump, had rejected any scope for third party mediation between India and Pakistan on Kashmir, saying the two countries can discuss and resolve all issues bilaterally and "we don't want to trouble any third country." India trip will be Trump's second overseas this year, after a two-day visit to Switzerland for the World Economic Forum in Davos.
Oil prices skids after Saudi-Russia talks, stocks jump on Covid-19 slowdown
Posted on 6th April 2020
Oil prices skidded on Monday after Saudi-Russian negotiations to cut output were delayed, keeping oversupply concerns alive, while stocks jumped as investors were encouraged by a slowdown in coronavirus-related deaths and new cases.

In currency markets, sterling fell after the British Prime Minister was admitted to the hospital following persistent coronavirus symptoms as the pandemic rapidly spreads.
---
Coronavirus outbreak: Govt gives approval to 13 states to procure pulses
Posted on 6th April 2020
The Central government has given a blanket approval to 13 states to immediately start procuring chana (gram) and masoor (lentil), the two big pulses grown during the rabi season. The Centre has also cleared Rs 1,250 crore for purchasing around 258,000 tonnes of both the pulses.

These 13 states won't require any formal approval from the Centre before starting procurement. The states can start procuring up to 25 per cent of the produce immediately, without waiting for a formal clearance of their proposal from the Centre.
---
UNSC likely to discuss coronavirus crisis this week after 9 members call for meet
Posted on 6th April 2020
A pandemic that has so far claimed nearly 70,000 lives and has affected over 12.7 lakh people globally, putting almost half of the world's population under lockdown, is yet to be discussed by the United Nations in what is seen as a failure of the world body in a time of such an unprecedented crisis. This may, however, change soon with the United Nations Security Council (UNSC) likely to discuss the novel coronavirus outbreak this week.

The UNSC in its release on the this week's agenda has said that it could discuss the COVID-19 pandemic. A meeting this week on this issue is possible.
---
PF subscribers can now rectify date of birth online using Aadhaar
Posted on 6th April 2020
The Provident Fund subscribers can now rectify their date of birth in EPFO records to ensure that their UAN is KYC compliant, the Employees Provident Fund Organisation (EPFO) said on Sunday.

EPFO has issued revised instructions to its field offices in this regard.

The decision has been taken to extend the availability and reach of online services in the wake of the COVID-19 pandemic.
---
Coronavirus Pandemic: Italy, Spain see drop in daily death toll
Posted on 6th April 2020
Italy and Spain, the two European nations with the highest coronavirus death toll, saw a significant drop in the daily casualty numbers on Sunday, with officials hoping the trend to continue.

In Italy, daily coronavirus death toll plunge to its lowest in over two weeks. The 525 official COVID-19 fatalities were the lowest in the country since 427 deaths were registered on March 19.
---
Be the first person to write a business review for Donald Trump to make his first visit to India on Feb 24, 25: White House