Andhra govt passes 'Disha Bill' to provide speedy trials, stricter punishment for sexual offences
Posted on 13th December 2019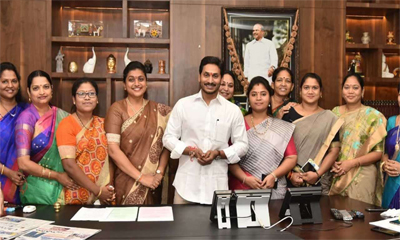 In a historic move, the Andhra Pradesh legislative assembly on Friday passed "AP Disha Act 2019" to protect women and children in sexual offences cases by providing speedy investigation and justice to victims.

Chief Minister YS Jaganmohan Reddy said the Nirbhaya case and the recent Disha case have compelled the need for "AP Disha Act" which has many salient features.

Also known as the Andhra Pradesh Criminal Law (Amendment) Act 2019, the bill provides for expediting the verdict in trials on rape and gang rape cases and also awarding death penalty within 21 days.

The development comes in the wake of the horrific incident in Telangana where a woman veterinarian was gang-raped and killed by four people before they burnt her body on November 27. Her charred body was recovered a day later.

According to a statement, the state government has prescribed exclusive death penalty for rapes where adequate conclusive evidence is present. The provision will be provided by amending Section 376 of Indian Penal Code, 1860.

Some of the significant points of the Act are:

In cases of rape crimes with substantial conclusive evidence, the total judgement period has been reduced to 21 working days from date of offence.

The investigation shall be completed in 7 working days and trial shall be completed in 14 working days.

Apart from rape, Government of Andhra Pradesh prescribes life imprisonment for other sexual offences against children.

In cases of harassment of women through mail, social media, digital mode or any other form, the guilty shall be punishable with imprisonment.

The imprisonment will be for a term which may extend to two years on first conviction and with imprisonment for a term which may extend to four years on second and subsequent conviction.

To ensure a speedy trial, Government is establishing Exclusive Special Courts in each district.

These courts will exclusively deal with cases of offences against women and children including rape, gangrape, acid attacks, stalking, voyeurism, social media harassment of women, sexual harassment and all cases under POCSO Act.

Period for disposal of appeal cases has been reduced to 3 months.

The State Govt. will constitute a Special Police team at District level to be called District Special Police Team to be headed by DSP for investigation of offences related to Women & Children.

Govt. will also appoint a Special Public Prosecutor for each exclusive Special Court.

Government of Andhra Pradesh will establish, operate and maintain a register in electronic form, to be called the 'Women & Children Offenders Registry'.

This registry will be made public and will be available to law enforcement agencies.

After the act was passed, women MLAs of YSRC tied rakhi to the CM.
Nirbhaya case: SC to hear curative petitions by two convicts on Jan 14
Posted on 11th January 2020

A five-judge bench of the Supreme Court will hear on January 14 curative petitions of two of the four death-row convicts in the Nirbhaya case.

A bench of Justices N V Ramana, Arun Mishra, R F Nariman, R Banumathi and Ashok Bhushan will hear the curative petitions filed by Vinay Sharma and Mukesh at 1.45 pm.
---
Goa police arrests 8 people with demonetised currency worth Rs 1.5 crore
Posted on 11th January 2020

Eight persons were arrested for allegedly possessing demonetised currency notes worth Rs 1.5 crore, Goa police said on Saturday.

The demonetised currency was seized during a routine search of vehicles at the Pollem border check post in South Goa on Friday, deputy superintendent of police (Canacona) Kiran Paudwal.
---
Illegal apartment complex in Kerala demolished; SC order implemented
Posted on 11th January 2020

A high rise apartment complex was brought down through controlled implosion method as authorities began implementing a Supreme Court order to demolish four illegal water-front structures in Maradu municipality here on Saturday.

The residential complex was demolished at 11.18 am.

The 60-meter high 19-storey building, known as "Holy Faith H20, was levelled in seconds in a spectacular implosion.
---
Panasonic Life to invest Rs 600 crore for electrical equipment near Chennai
Posted on 11th January 2020

Panasonic Life Solutions will invest Rs 600 crore in India, initially spending Rs 294.7 crore to set up an electrical equipment and wiring manufacturing plant in SriCity near Chennai.

The plant will start work by October 2021, becoming Panasonic's eighth electrical equipment production base in India after facilities in north and west India.
---
Centre notifies Citizenship Act amid protests; SC to hear pleas on Jan 22
Posted on 11th January 2020

The Centre notified the Citizenship Amendment Act (CAA) on Friday. The notification comes nearly a month after Parliament passed it on December 11, and in the wake of sustained anti-CAA protests. The Supreme Court is set to hear petitions challenging the constitutionality of the law on January 22.

The Centre, by notifying the law, has indicated its resolve to implement it even as lawyers and retired judges, Opposition parties, activists, students and retired bureaucrats have criticised it as unconstitutional as it discriminates on the basis of religion.
---
Be the first person to write a business review for Andhra govt passes 'Disha Bill' to provide speedy trials, stricter punishment for sexual offences