Verdict allowing women into Sabarimala not the 'final word': Supreme Court
Posted on 5th December 2019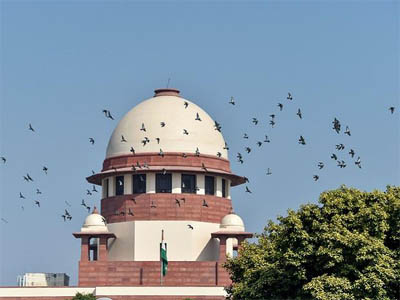 The Supreme Court on Thursday said its 2018 verdict allowing entry of girls and women of all ages into the Ayyappa temple at Kerala's Sabarimala was not the "final word" as the matter was referred to a larger bench.

The apex court's observation came when senior advocate Indira Jaising, appearing for a woman devotee, Bindu Ammini, alleged violation of the 2018 verdict and said her client was attacked for her bid to enter the shrine.

A bench headed by Chief Justice of India (CJI) S A Bobde, referring to a recent verdict of the apex court, said the 2018 judgment was not the final word as the issue was referred to a seven-judge bench for consideration.

"There is (an order) for a much larger bench to decide the matter. There is no final word as yet," the bench said.

On November 14, a five-judge Constitution bench headed by then CJI Ranjan Gogoi, in a 3:2 majority verdict, had referred the pleas seeking a review of its historic 2018 judgment to a seven-judge bench, along with other contentious issues of alleged discrimination against Muslim and Parsi women.

In September 2018, a five-judge Constitution bench had, by a majority 4:1 verdict, allowed girls and women of all ages to visit the Ayyappa temple at Sabarimala, saying discrimination on physiological grounds was violative of the fundamental rights as enshrined in the Constitution such as the right to equality.

Jaising said her client was attacked just outside the police commissioner's office, despite the fact that the earlier judgment allowing entry of all girls and women into the temple was not stayed by the November 14 judgment.

"Bindu was attacked with some chemical substance right outside the office of the commissioner of police," she said.

The bench agreed to list the woman devotee's plea for hearing next week.

"We will list the petition, along with the earlier petition, next week," it said.

Another woman, Fathima, had approached the apex court with a similar plea on Wednesday.
Adani Gas crashes 14% on report of gas regulator's notice on non-disclosure
Posted on 24th January 2020

Shares of Adani Gas slipped 14 per cent to Rs 148 on the BSE in Friday's session on reports that Petroleum and Natural Gas Regulatory Board of India (PNGRB) has sent a notice to the company for failing to disclose crucial information regarding a scheme of arrangement with Adani Enterprises.

According to the report by TV channel CNBC Awaaz, Adani Gas has bid for gas projects using networth calculations of Adani Enterprises and that the company's shareholding changes and restructuring violated city gas distribution regulations.
---
Shiv Sena questions Centre on democracy ranking drop, economic woes
Posted on 24th January 2020

The Shiv Sena on Friday said there have been attempts to muzzle dissenting voices and this is one of the reasons for India slipping in the 2019 Democracy Index's global ranking. An editorial in Sena mouthpiece Saamana said a slowdown in economy gives rise to unrest and instability, and this was getting reflected in the prevailing situation in the country.

Now (after an economic slowdown) there is a slide in (India's) global democracy index ranking, the Marathi daily said.
---
---
Judge who issued death warrants against Nirbhaya rapists transferred to Supreme Court registry
Posted on 24th January 2020

A Delhi court judge who issued death warrants for all four convicts in Nirbhaya case has been transferred to the Supreme court registry.

Judge Satish Arora has been appointed as additional registrar in the Supreme Court on a deputation for a year.

Satish Arora had been hearing the petition of parents of Nirbhaya seeking to expedite the process of execution.
---
Companies announce clinical trials for vaccine against China virus
Posted on 24th January 2020

Clinical trials for a vaccine against the new virus sweeping China could be carried out in the summer, the head of an anti-epidemic coalition said on Thursday, as different companies announced research into the disease.

We can announce that we have three partnerships to develop vaccines against the novel coronavirus, Richard Hatchett, chief executive of the Coalition for Epidemic Preparedness Innovations (CEPI), said in Davos.
---
Be the first person to write a business review for Verdict allowing women into Sabarimala not the 'final word': Supreme Court