Hyundai plans to bring fuel cell cars to India, Nexo could be first launch
Posted on 5th December 2019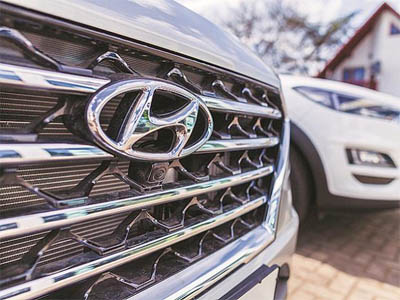 Korean auto major Hyundai is planning to bring fuel cell electric vehicles to India. The company has already started a feasibility study as part of the plan.

Hyundai Nexo, which is already available in many markets, could be the first launch. The company claims Nexo is the world's first dedicated hydrogen-powered SUV and that it has a range of close to 380 miles, highest for any fuel-cell or electric vehicle in the market.

S S Kim, Managing Director and CEO, Hyundai Motor India said, "progress for humanity with zero emission mobility is our responsibility and part of the vision to make a long-term positive transformation for our future generations. We have initiated the feasibility study for fuel cell electric vehicle in India and promise to bring the ultimate solution with zero emission mobility".

On Tuesday, Hyundai announced its "Strategy 2025". As a part of it, the company aims to sell 670,000 electric vehicles annually. "The goal is to electrify most new models by 2030 in key markets such as Korea, US, China, and Europe, with emerging markets such as India and Brazil following suit by 2035," the company said in a statement.

Hyundai is the first company to launch a fully electric car - Kona - in India.
IDFC First Bank seniors to forgo 65% of bonus amid Covid-19 crisis
Posted on 26th May 2020
Private sector lender IDFC First Bank's senior management will take 10 per cent pay cut in the current financial year as a step to soften blow from the economic disruption caused by the lockdown.

V Vaidyanathan, managing director and chief executive, will take 30 per cent cut in his compensation, including fixed compensation as well as all allowances.
---
Over 500 flights take off, but states create plane confusion at airports
Posted on 26th May 2020
It was a day of delight and despair for passengers as domestic airlines resumed flights on Monday after two months of suspension. While more than 39,000 people flew on Day One, several hundred remained stranded due to last minute cancellations.

Even as airlines were supposed to operate 33 per cent of the approved summer schedule, they were forced to rework their itineraries late Sunday evening following many rounds of discussions between the Centre and states.
---
Lockdown extensions economically disastrous, says Anand Mahindra
Posted on 26th May 2020
Mahindra Group Chairman Anand Mahindra on Monday said lockdown extensions are not just economically disastrous but also create another medical crisis.

While acknowledging that choices are not easy for policy makers, he said a lockdown extension will not help.
---
Uber trims a quarter of its India workforce, lays off 600 employees
Posted on 26th May 2020
Uber India on Tuesday announced it was laying off 600 of its employees – a fourth of its total headcount of 2,400 in the country – across customer & driver support, business development, legal, finance, policy and marketing verticals.

The retrenched employees would be paid 10 to 12 weeks of salary, besides medical insurance coverage for the next six months and outplacement support, the company said.
---
WHO halts hydroxychloroquine trials after study shows drug may increase risk of death
Posted on 26th May 2020
In a notable development, the World Health Organisation (WHO) has now banned the trial of the hydroxychloroquine and chloroquine drugs on coronavirus disease (COVID-19)-affected patients, citing a study by The Lancet journal which reports that the drugs might lead to an increased risk of death and the extent of their potential benefit or harm is yet to be completely understood.

The WHO, in an official press release, stated that the observational study by The Lancet noted the effects of hydroxychloroquine and chloroquine on COVID-19 patients that have been hospitalised.
---
Be the first person to write a business review for Hyundai plans to bring fuel cell cars to India, Nexo could be first launch