India's banks wrote off Rs 2 trillion worth of bad loans in 2018-19
Posted on 29th November 2019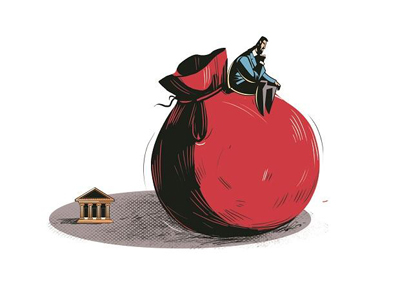 India's 42 scheduled commercial banks (SCBs) collectively wrote off Rs 2.12 trillion worth of loans in 2018-19, according to figures given by the finance ministry in Parliament. Not only was this 42 per cent higher than the Rs 1.5 trillion written off the previous year, but also about 20 per cent of all their non-performing assets (NPAs).

Banks generally take NPAs off their books to make their balance sheets look cleaner - with reduced liabilities and potential losses. According to Reserve Bank of India (RBI) guidelines, "non-performing loans, including, those in respect of which full provisioning has been made on completion of four years, are removed from the balance sheet of the bank concerned by way of write-off."

Since 2014-15, when the Narendra Modi-led government first came to power, India's banks have written off Rs 5.7 trillion worth of bad loans.

So far as the country's 21 public-sector banks (PSBs) are concerned, the amount of bad loans taken off their balance sheets has increased progressively over the years. In 2018-19, these banks wrote off Rs 1.9 trillion worth of bad loans - about 90 per cent of the total for all SCBs, and four times their own write-offs in 2014-15. Only a third of SCBs reported lower write-offs in 2018-19 than the previous year; and only three of those that did were PSBs, show government statistics.

State Bank of India (SBI) reported the biggest jump in write-offs, to Rs 56,500 crore. The significant increase in SBI's write-offs in the past couple of financial years has been on account of a merger of five other banks - State Bank of Bikaner and Jaipur, State Bank of Travancore, State Bank of Patiala, State Bank of Hyderabad and State Bank of Mysore - with it.

For India's SCBs, an increase in write-offs has occurred concurrently with a rise in NPAs. Bad loans on the books of all banks have tripled in four years - from Rs 3.2 trillion in 2014-15 to Rs 9.4 trillion in 2018-19.

The massive rise in write-offs by India's PSBs and some crisis-hit private lenders assumes more significance in view of a higher rate of bad-loan recoveries under the country's new insolvency resolution process, which came into force through a legislation in 2016. According to an RBI report, in 2018-19, banks were able to recover Rs 74,500 crore from companies under the resolution process - at a recovery rate of 43 per cent. This was significantly higher than recovery rates for other forums like Lok Adalats, debt resolution tribunals (DRTs) and procedures initiated under the Securitisation and Reconstruction of Financial Assets and Enforcement of Securities Interest Act (Sarfaesi).

According to the new Insolvency and Bankruptcy Code (IBC), 2016, once proceedings have been initiated against a borrower under the IBC, the Sarfaesi Act cannot be invoked against them. Similarly, if an errant borrower was being pursued under the Sarfaesi Act before the IBC came into effect, and the lender now wants to initiate proceedings under the IBC, the Sarfaesi proceedings would cease to apply to the borrower.

While more banks are now using the corporate insolvency resolution route, the sheer scale of bad loans and write-offs suggests that banks would have to take a heavy haircut. Even if the loan recovery rate under insolvency resolution were to improve to 50 per cent in coming years, India's banks would still never be able to recover Rs 5 trillion from various errant corporate borrowers.
Nirbhaya case: SC to hear curative petitions by two convicts on Jan 14
Posted on 11th January 2020

A five-judge bench of the Supreme Court will hear on January 14 curative petitions of two of the four death-row convicts in the Nirbhaya case.

A bench of Justices N V Ramana, Arun Mishra, R F Nariman, R Banumathi and Ashok Bhushan will hear the curative petitions filed by Vinay Sharma and Mukesh at 1.45 pm.
---
Goa police arrests 8 people with demonetised currency worth Rs 1.5 crore
Posted on 11th January 2020

Eight persons were arrested for allegedly possessing demonetised currency notes worth Rs 1.5 crore, Goa police said on Saturday.

The demonetised currency was seized during a routine search of vehicles at the Pollem border check post in South Goa on Friday, deputy superintendent of police (Canacona) Kiran Paudwal.
---
Illegal apartment complex in Kerala demolished; SC order implemented
Posted on 11th January 2020

A high rise apartment complex was brought down through controlled implosion method as authorities began implementing a Supreme Court order to demolish four illegal water-front structures in Maradu municipality here on Saturday.

The residential complex was demolished at 11.18 am.

The 60-meter high 19-storey building, known as "Holy Faith H20, was levelled in seconds in a spectacular implosion.
---
Panasonic Life to invest Rs 600 crore for electrical equipment near Chennai
Posted on 11th January 2020

Panasonic Life Solutions will invest Rs 600 crore in India, initially spending Rs 294.7 crore to set up an electrical equipment and wiring manufacturing plant in SriCity near Chennai.

The plant will start work by October 2021, becoming Panasonic's eighth electrical equipment production base in India after facilities in north and west India.
---
Centre notifies Citizenship Act amid protests; SC to hear pleas on Jan 22
Posted on 11th January 2020

The Centre notified the Citizenship Amendment Act (CAA) on Friday. The notification comes nearly a month after Parliament passed it on December 11, and in the wake of sustained anti-CAA protests. The Supreme Court is set to hear petitions challenging the constitutionality of the law on January 22.

The Centre, by notifying the law, has indicated its resolve to implement it even as lawyers and retired judges, Opposition parties, activists, students and retired bureaucrats have criticised it as unconstitutional as it discriminates on the basis of religion.
---
Be the first person to write a business review for India's banks wrote off Rs 2 trillion worth of bad loans in 2018-19