India's banks wrote off Rs 2 trillion worth of bad loans in 2018-19
Posted on 29th November 2019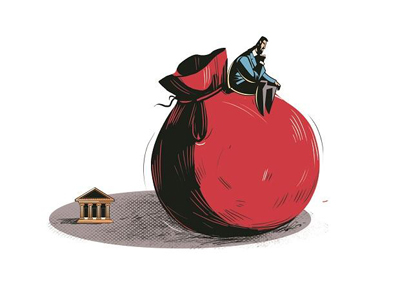 India's 42 scheduled commercial banks (SCBs) collectively wrote off Rs 2.12 trillion worth of loans in 2018-19, according to figures given by the finance ministry in Parliament. Not only was this 42 per cent higher than the Rs 1.5 trillion written off the previous year, but also about 20 per cent of all their non-performing assets (NPAs).

Banks generally take NPAs off their books to make their balance sheets look cleaner - with reduced liabilities and potential losses. According to Reserve Bank of India (RBI) guidelines, "non-performing loans, including, those in respect of which full provisioning has been made on completion of four years, are removed from the balance sheet of the bank concerned by way of write-off."

Since 2014-15, when the Narendra Modi-led government first came to power, India's banks have written off Rs 5.7 trillion worth of bad loans.

So far as the country's 21 public-sector banks (PSBs) are concerned, the amount of bad loans taken off their balance sheets has increased progressively over the years. In 2018-19, these banks wrote off Rs 1.9 trillion worth of bad loans - about 90 per cent of the total for all SCBs, and four times their own write-offs in 2014-15. Only a third of SCBs reported lower write-offs in 2018-19 than the previous year; and only three of those that did were PSBs, show government statistics.

State Bank of India (SBI) reported the biggest jump in write-offs, to Rs 56,500 crore. The significant increase in SBI's write-offs in the past couple of financial years has been on account of a merger of five other banks - State Bank of Bikaner and Jaipur, State Bank of Travancore, State Bank of Patiala, State Bank of Hyderabad and State Bank of Mysore - with it.

For India's SCBs, an increase in write-offs has occurred concurrently with a rise in NPAs. Bad loans on the books of all banks have tripled in four years - from Rs 3.2 trillion in 2014-15 to Rs 9.4 trillion in 2018-19.

The massive rise in write-offs by India's PSBs and some crisis-hit private lenders assumes more significance in view of a higher rate of bad-loan recoveries under the country's new insolvency resolution process, which came into force through a legislation in 2016. According to an RBI report, in 2018-19, banks were able to recover Rs 74,500 crore from companies under the resolution process - at a recovery rate of 43 per cent. This was significantly higher than recovery rates for other forums like Lok Adalats, debt resolution tribunals (DRTs) and procedures initiated under the Securitisation and Reconstruction of Financial Assets and Enforcement of Securities Interest Act (Sarfaesi).

According to the new Insolvency and Bankruptcy Code (IBC), 2016, once proceedings have been initiated against a borrower under the IBC, the Sarfaesi Act cannot be invoked against them. Similarly, if an errant borrower was being pursued under the Sarfaesi Act before the IBC came into effect, and the lender now wants to initiate proceedings under the IBC, the Sarfaesi proceedings would cease to apply to the borrower.

While more banks are now using the corporate insolvency resolution route, the sheer scale of bad loans and write-offs suggests that banks would have to take a heavy haircut. Even if the loan recovery rate under insolvency resolution were to improve to 50 per cent in coming years, India's banks would still never be able to recover Rs 5 trillion from various errant corporate borrowers.
'No desire for any post': Sachin Pilot calls truce after meeting with Gandhis, says wanted self-respect to remain intact
Posted on 11th August 2020
Former Rajasthan Deputy Chief Minister Sachin Pilot on Monday called truce with the Congress party after a month of high-pitched political drama that also played in the High Court and the Supreme Court. Pilot, who was sacked as deputy CM and as state unit chief, said he has no desire for any post and just wanted the self-respect to remain intact.

His statement came after a meeting with Rahul Gandhi and Priyanka Gandhi Vadra, and announcement of a three-member panel by party chief Sonia Gandhi.
---
Former President Pranab Mukherjee put on ventilator support after brain clot surgery
Posted on 11th August 2020
Former President Pranab Mukherjee is on ventilator support after undergoing brain surgery at the Army Research and Referral hospital, where he was admitted on Monday morning after testing positive for COVID-19, sources said on Tuesday.

On a visit to the hospital for a separate procedure, I have tested positive for COVID-19 today. I request the people who came in contact with me in the last week, to please self isolate and get tested for COVID-19, Mukherjee tweeted on Monday afternoon.
---
UP: Chased by eve-teasers, US scholar girl dies in Bulandshahr road accident
Posted on 11th August 2020
In what comes as a tragic end to a bright life, Sudiksha, a girl from Uttar Pradesh's Gautam Buddh Nagar who had received Rs 3.83 crore scholarship to study in the US, died after falling off from a bike in Bulandshahr after being chased by eve-teasers. Sudiksha had returned to India and was going to Sikandrabad with her uncle Manoj Bhati to meet her relatives.

According to reports, the eve-teasers had started performing stunts near Sudisha due to which her uncle was facing difficulty in riding the bike and was getting imbalanced.
---
Kerala plane crash: Air India praises Malappuram residents for saving lives
Posted on 10th August 2020
Air India Express has expressed its gratitude to people of Mallapuram, Kerala for help in a lane crash in which 18 people died Friday night.

In a tweet, the Air India Express said, Taking a bow to HUMANITY! A standing ovation from our hearts to the PEOPLE OF MALAPPURAM, Kerala, who had showered us with kindness & humanity during the uncertain incident. We owe you a lot! #ExpressGratitude.
---
Vodafone-Idea's fate hinges on the Supreme Court's AGR verdict today
Posted on 10th August 2020
For Vodafone Idea Ltd (VIL), the future course is closely pegged to today's Supreme court decision on the issue of tenure of payment of adjusted gross revenue (AGR) dues.

In the last hearing, held in July, the court had ended some confusion by clearly telling VIL and other operators that there would be no reassessment of the AGR dues calculated by the department of telecommunications (DoT). Operators had earlier claimed, based on their self-assessment, that the payable amount should be far less.
---
Be the first person to write a business review for India's banks wrote off Rs 2 trillion worth of bad loans in 2018-19