Maharashtra: BJP afraid MLAs may defect, says NCP's Nawab Malik
Posted on 16th November 2019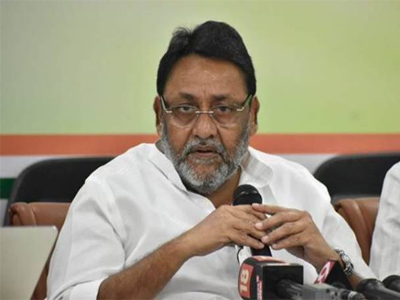 The Maharashtra BJP is bedevilled by the trepidation that politicians who joined the party ahead of the October 21 Assembly polls will defect and, hence, its leaders are claiming they will form government in the state, the NCP said on Saturday. NCP chief spokesperson Nawab Malik made the remarks a day after Maharashtra BJP chief Chandrakant Patil said his party will soon form the government and claimed it can count on the support of 119 MLAs, including Independents, in the 288-member Assembly.

Malik also attacked former Maharashtra Chief Minister Devendra Fadnavis over his recent remark that a non-BJP government will not last for more than six months, saying the latter spoke, like the general of a defeated army, to boost the morale of his party men. "The former chief minister is trying to boost the morale of his party workers like the general of a defeated army. We think they have been defeated and they will have to accept this. They are not ready to accept defeat, but one takes time," Malik said.

On Patil's remark, Malik questioned why the BJP did not form a government earlier if it had the numbers as claimed by its Maharashtra unit chief. "None can form government (in Maharashtra) without the backing of at least 145 MLAs. They (the BJP) do not have their own MLAs, it brought leaders from other parties into its fold," Malik said. He was referring to slew of leaders from the Congress and NCP joining the BJP ahead of the October 21 Assembly election. "They (the BJP) now have a trepidation that these MLAs (who joined BJP from other parties) will defect. Hence, they (BJP leaders) are making these statements to keep the flock together," Malik said.

Amid the current political stalemate in Maharashtra, Union minister and BJP leader Nitin Gadkari on Friday likened politics with cricket, saying "anything" could happen in both these fields as those who appear to be losing the match might actually win the game. Queried on the Union minister's statement, Malik said he was not aware whether Gadkari had understood that people have "clean bowled" the BJP. Maharashtra is at present under Presidents rule. Politics in Maharashtra took a turn after the Shiv Sena walked away from its ally BJP over sharing the chief ministerial post. The two parties fell out after having contested the October 21 Assembly polls together and coming up with 161 seats jointly.

At present, Shiv Sena is in the process of working out a new equation with erstwhile rivals NCP and Congress to form a non-BJP government in the state.
Verdict allowing women into Sabarimala not the 'final word': Supreme Court
Posted on 5th December 2019

The Supreme Court on Thursday said its 2018 verdict allowing entry of girls and women of all ages into the Ayyappa temple at Kerala's Sabarimala was not the final word as the matter was referred to a larger bench.

The apex court's observation came when senior advocate Indira Jaising, appearing for a woman devotee, Bindu Ammini, alleged violation of the 2018 verdict and said her client was attacked for her bid to enter the shrine.
---
Hyundai plans to bring fuel cell cars to India, Nexo could be first launch
Posted on 5th December 2019

Korean auto major Hyundai is planning to bring fuel cell electric vehicles to India. The company has already started a feasibility study as part of the plan.

Hyundai Nexo, which is already available in many markets, could be the first launch. The company claims Nexo is the world's first dedicated hydrogen-powered SUV and that it has a range of close to 380 miles, highest for any fuel-cell or electric vehicle in the market.
---
HDFC AMC slips 5% as Standard Life to sell additional stake via OFS
Posted on 5th December 2019

Shares of HDFC Asset Management Company (AMC) dipped 5 per cent to Rs 3,173 in intra-day deals on Thursday, after the company said it will use a greenshoe option for sale of additional 0.86 percent stake via offer for sale (OFS). The stock had ended 3 per cent lower at Rs 3,329 on the BSE a day earlier.

With the past two day's decline, HDFC AMC has corrected 17 per cent from its all-time high of Rs 3,844 touched on November 22, 2019.
---
RBI surprise: Repo rate left unchanged; FY20 GDP forecast lowered to 5%
Posted on 5th December 2019

Springing a surprise, the monetary policy committee of the Reserve Bank of India (RBI) maintained the repo rate at 5.15 per cent points (bps) in its fifth bi-monthly monetary policy meeting of the financial year 2019-20 (FY20) on Thursday. However, GDP growth forecast for FY20 was slashed to 5 per cent from 6.1 per cent.

The three-day rate-setting meet started on Tuesday (December 3). In its October meet, the RBI had cut interest rate by 25 bps to 5.15 per cent.
---
Polycab India hits fresh record high; stock zooms 100% from August low
Posted on 5th December 2019

Shares of Polycab India continued their upward journey, and hit a new high of Rs 1,052, up 6 per cent on the BSE on Thursday, on expectation of strong earnings going forward. The company was included in the MSCI Global Small Cap Index with effect from November 26, 2019.

The stock of the fast moving electric goods (FMEG) company zoomed 100 per cent from its recent low of Rs 525, touched on August 22, 2019.
---
Be the first person to write a business review for Maharashtra: BJP afraid MLAs may defect, says NCP's Nawab Malik