Vodafone Idea net worth down 70%, Bharti Airtel hurt but still in the game
Posted on 15th November 2019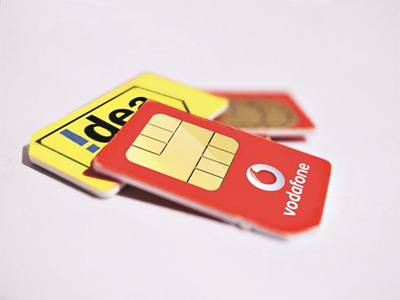 The record losses posted by Bharti Airtel and Vodafone Idea and the resulting erosion in their net worth have led to an immediate rise in the leverage ratio of these two operators. While Vodafone Idea has taken the maximum hit, Bharti Airtel has escaped with a minor deterioration in its balance sheet ratios.

Vodafone Idea's net debt to equity ratio has jumped to a record level of 4.5x at the end of September this year, as against 1.24x at the end of June and 1.8x at March-end. This makes Vodafone Idea one of the most indebted firms in the country comparable to financially stressed firms in sectors such as infrastructure and power sector. (see chart)

At Rs 24,000 crore now, Vodafone Idea's net worth is down nearly 70 per cent, as compared to the numbers at the end of June this year. The company's net debt was up 7 per cent during the period to Rs 1.07 trillion. This, analysts say, could trigger a rating downgrade, which could hit its ability to raise additional debt. This also puts the entire telecom exposure of Indian banks under risk.

In comparison, Bharti Airtel's net debt to equity ratio is up by around 40 basis points on quarter-over-quarter basis to 1.7x, as against 1.3x at the end of June and 1.65x at March-end.

This is slightly higher than its leverage ratio of 1.67x at the end of September 2018. The provisioning for adjusted gross revenue (AGR) dues led to a 23 per cent decline in Bharti Airtel's net worth on consolidated basis compared to the numbers at the end of June. The company's finances were, however, aided by a rights issue during the first quarter and a financial turnaround in its operations at the consolidated level.

However, the losses on account of AGR dues have erased all the financial gains that accrued to the company post its Rs 25,000 crore rights issue during the first quarter, which had boosted its net worth allowing it to repay some of its debt and lower its leverage ratio to the lowest level in the last three years. The firm's finances are back to square one.

Bharti Airtel's shareholders and lenders can take comfort from the fact that the company reported improvement in its operations during the second quarter including a better than expected jump in its operating profit unlike Vodafone Idea whose topline continues to shrink and its losing cash in its operations.

Bharti Airtel also has the flexibility to raise additional equity capital thanks to a 26 per cent rise in its market capitalisation in the past 12 months. In comparison Vodafone Idea's market capitalisation is down nearly 80 per cent decline in its market capitalisation in last one-year.

At Rs 1.86 trillion, Bharti Airtel's market capitalisation is way higher than its total debt liabilities, unlike Vodafone Idea's, whose market capitalisation is less than 10 per cent its total net debt.
Cement shares gain; Ramco Cements hits 52-week high,Heidelberg Cement up 5%
Posted on 23rd January 2020

Shares of cement companies were trading firm on the BSE on Thursday amid hopes of earnings improvement with Ramco Cements hitting a 52-week high, while Heidelberg Cement rallied 5 per cent intra-day.

In the past month, the share prices of JK Cements, Shree Cement, JK Lakshmi Cement, India Cements, Orient Cement, Birla Corporation, Ramco Cements and Heidelberg Cement have all soared over 10 per cent.
---
Malaysia hikes sugar import from India to resolve palm oil spat: Report
Posted on 23rd January 2020

Malaysia's top sugar refiner said it will increase purchases of the commodity from India, which according to two sources is part of efforts to placate New Delhi amid an ongoing spat over palm oil imports.

MSM Malaysia Holdings Berhad will buy 130,000 tonnes of raw sugar from India worth 200 million ringgit ($49.20 million) in the first quarter, the company told Reuters. It bought around 88,000 tonnes of raw sugar from India in 2019.
---
Pakistan 'spews venom', takes to hate speech like fish to water: India at UNGA
Posted on 23rd January 2020

India has once again slammed Pakistan for spewing venom and false narratives of monumental proportions in the United Nations about Jammu and Kashmir.

Speaking at a session of the General Assembly on Report of the Secretary-General on the Work of the Organization on Wednesday, India's Deputy Permanent Representative to UN, Nagaraj Naidu, said that Islamabad is indulged in hate speech against New Delhi and spreads false propaganda about J&K at global level every time it speaks at UN or any other international forum.
---
Case against Mohammed Azharuddin, 2 others for 'cheating' travel agent
Posted on 23rd January 2020

A case has been registered against former Indian cricketer Mohammed Azharuddin and two others in Aurangabad in Maharashtra after a travel agent lodged a police complaint alleging that they cheated him to the tune of Rs 20.96 lakh, an official said on Thursday.

Azharuddin, however, dismissed the allegation as "baseless", and said he will take legal action against the complainant, Mohammed Shahab.
---
Axis Bank jumps 3% as Q3 loan growth hits 7-qtr high, NIM best in 2.5 yrs
Posted on 23rd January 2020

Private lender Axis Bank surged as much as 3.4 per cent, to Rs 737.3 on the BSE, in the early trade on Thursday after the bank's loan growth touched a 7 quarter high during the December quarter of FY20 despite the slowdown in the economy. That apart, the bank's provisions declined 1.34 per cent sequentially to Rs 3,470.92 crore in Q3FY20.

The bank's loan book for the quarter ended December 31, 2019 stood at Rs 5.5 lakh crore, up 16 per cent year-on-year.
---
Be the first person to write a business review for Vodafone Idea net worth down 70%, Bharti Airtel hurt but still in the game