Vodafone Idea net worth down 70%, Bharti Airtel hurt but still in the game
Posted on 15th November 2019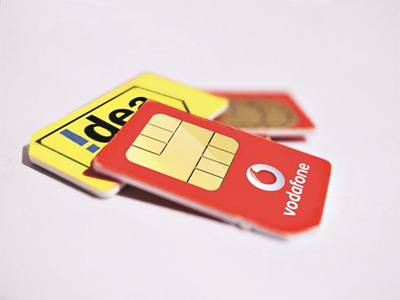 The record losses posted by Bharti Airtel and Vodafone Idea and the resulting erosion in their net worth have led to an immediate rise in the leverage ratio of these two operators. While Vodafone Idea has taken the maximum hit, Bharti Airtel has escaped with a minor deterioration in its balance sheet ratios.

Vodafone Idea's net debt to equity ratio has jumped to a record level of 4.5x at the end of September this year, as against 1.24x at the end of June and 1.8x at March-end. This makes Vodafone Idea one of the most indebted firms in the country comparable to financially stressed firms in sectors such as infrastructure and power sector. (see chart)

At Rs 24,000 crore now, Vodafone Idea's net worth is down nearly 70 per cent, as compared to the numbers at the end of June this year. The company's net debt was up 7 per cent during the period to Rs 1.07 trillion. This, analysts say, could trigger a rating downgrade, which could hit its ability to raise additional debt. This also puts the entire telecom exposure of Indian banks under risk.

In comparison, Bharti Airtel's net debt to equity ratio is up by around 40 basis points on quarter-over-quarter basis to 1.7x, as against 1.3x at the end of June and 1.65x at March-end.

This is slightly higher than its leverage ratio of 1.67x at the end of September 2018. The provisioning for adjusted gross revenue (AGR) dues led to a 23 per cent decline in Bharti Airtel's net worth on consolidated basis compared to the numbers at the end of June. The company's finances were, however, aided by a rights issue during the first quarter and a financial turnaround in its operations at the consolidated level.

However, the losses on account of AGR dues have erased all the financial gains that accrued to the company post its Rs 25,000 crore rights issue during the first quarter, which had boosted its net worth allowing it to repay some of its debt and lower its leverage ratio to the lowest level in the last three years. The firm's finances are back to square one.

Bharti Airtel's shareholders and lenders can take comfort from the fact that the company reported improvement in its operations during the second quarter including a better than expected jump in its operating profit unlike Vodafone Idea whose topline continues to shrink and its losing cash in its operations.

Bharti Airtel also has the flexibility to raise additional equity capital thanks to a 26 per cent rise in its market capitalisation in the past 12 months. In comparison Vodafone Idea's market capitalisation is down nearly 80 per cent decline in its market capitalisation in last one-year.

At Rs 1.86 trillion, Bharti Airtel's market capitalisation is way higher than its total debt liabilities, unlike Vodafone Idea's, whose market capitalisation is less than 10 per cent its total net debt.
Kerala plane crash: Air India praises Malappuram residents for saving lives
Posted on 10th August 2020
Air India Express has expressed its gratitude to people of Mallapuram, Kerala for help in a lane crash in which 18 people died Friday night.

In a tweet, the Air India Express said, Taking a bow to HUMANITY! A standing ovation from our hearts to the PEOPLE OF MALAPPURAM, Kerala, who had showered us with kindness & humanity during the uncertain incident. We owe you a lot! #ExpressGratitude.
---
Vodafone-Idea's fate hinges on the Supreme Court's AGR verdict today
Posted on 10th August 2020
For Vodafone Idea Ltd (VIL), the future course is closely pegged to today's Supreme court decision on the issue of tenure of payment of adjusted gross revenue (AGR) dues.

In the last hearing, held in July, the court had ended some confusion by clearly telling VIL and other operators that there would be no reassessment of the AGR dues calculated by the department of telecommunications (DoT). Operators had earlier claimed, based on their self-assessment, that the payable amount should be far less.
---
Gold prices at Rs 59,300 per 10 gm, silver jumps to Rs 74,210 a kg
Posted on 10th August 2020
Gold prices Monday jumped to Rs 59,300 from Rs 59,290 per 10 gram, while silver climbed to Rs 74,210 from Rs 74,200 per kg, according to Good Returns website.

Gold jewellery prices vary across India, the second-largest consumer of the metal, due to excise duty, state taxes, and making charges.
---
Paytm launches portable Android-based POS device for Rs 499 a month
Posted on 10th August 2020
Leading digital payment service Paytm on Monday launched an Android-based, pocked-sized point of sale (POS) device that is enabled with integrated billing software, camera for QR scanning and supports 4G SIM cards Wi-Fi and Bluetooth connectivity.

Available for an introductory monthly rental of Rs 499, the 'Paytm All-in-One Portable Android Smart POS' can accept orders and payments on the go.
---
PM Modi inaugurates submarine optical fibre cable connecting Chennai, Port Blair
Posted on 10th August 2020
Prime Minister Narendra Modi on Monday inaugurated the submarine Optical Fibre Cable (OFC) connecting Chennai and Port Blair through video conferencing.

He said that inauguration of the submarine Optical Fibre Cable in Andaman and Nicobar Islands will ensure high-speed broadband connectivity, fast mobile and landline telecom services and will give a big boost to the local economy.
---
Be the first person to write a business review for Vodafone Idea net worth down 70%, Bharti Airtel hurt but still in the game