Women's entry at Sabarimala: Supreme Court refers matter to larger bench
Posted on 14th November 2019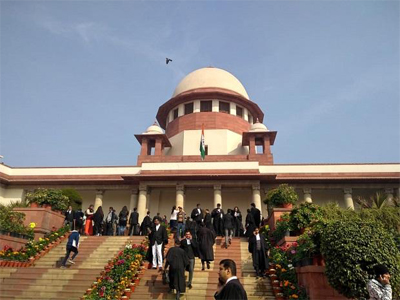 A five-judge bench of the Supreme Court on Thursday referred to a larger bench pleas seeking a review of its 2018 ruling that allowed menstruating women from entering the Sabarimala temple in Kerala.

Chief Justice Ranjan Gogoi, Justice A M Khanwilkar and Indu Malhotra said a larger bench will hear if the court can decide matter of religious practice. Justices R F Nariman and DY Chandrachud gave dissenting opinion.

The bench said petitions had "sought to revive the debate about what's the religion and essential religious practices". "Individual right to pray at temple cannot be superior to what is considered as religious by another sect is what petitions have argued," the court said, according to News18.com.

The court had on September 28, 2018, scrapped a ban on women and girls between 10 and 50 from at the temple, ruling that a centuries-old Hindu religious practice was illegal and unconstitutional.

The verdict comes two days before the temple opens for the two-month-long pilgrimage season from November 16.

The court's verdict sparked protests across Kerala, mainly led by caste outfits like the NSS and right-wing Hindu organisations of the Sangh Parivar.
Verdict allowing women into Sabarimala not the 'final word': Supreme Court
Posted on 5th December 2019

The Supreme Court on Thursday said its 2018 verdict allowing entry of girls and women of all ages into the Ayyappa temple at Kerala's Sabarimala was not the final word as the matter was referred to a larger bench.

The apex court's observation came when senior advocate Indira Jaising, appearing for a woman devotee, Bindu Ammini, alleged violation of the 2018 verdict and said her client was attacked for her bid to enter the shrine.
---
Hyundai plans to bring fuel cell cars to India, Nexo could be first launch
Posted on 5th December 2019

Korean auto major Hyundai is planning to bring fuel cell electric vehicles to India. The company has already started a feasibility study as part of the plan.

Hyundai Nexo, which is already available in many markets, could be the first launch. The company claims Nexo is the world's first dedicated hydrogen-powered SUV and that it has a range of close to 380 miles, highest for any fuel-cell or electric vehicle in the market.
---
HDFC AMC slips 5% as Standard Life to sell additional stake via OFS
Posted on 5th December 2019

Shares of HDFC Asset Management Company (AMC) dipped 5 per cent to Rs 3,173 in intra-day deals on Thursday, after the company said it will use a greenshoe option for sale of additional 0.86 percent stake via offer for sale (OFS). The stock had ended 3 per cent lower at Rs 3,329 on the BSE a day earlier.

With the past two day's decline, HDFC AMC has corrected 17 per cent from its all-time high of Rs 3,844 touched on November 22, 2019.
---
RBI surprise: Repo rate left unchanged; FY20 GDP forecast lowered to 5%
Posted on 5th December 2019

Springing a surprise, the monetary policy committee of the Reserve Bank of India (RBI) maintained the repo rate at 5.15 per cent points (bps) in its fifth bi-monthly monetary policy meeting of the financial year 2019-20 (FY20) on Thursday. However, GDP growth forecast for FY20 was slashed to 5 per cent from 6.1 per cent.

The three-day rate-setting meet started on Tuesday (December 3). In its October meet, the RBI had cut interest rate by 25 bps to 5.15 per cent.
---
Polycab India hits fresh record high; stock zooms 100% from August low
Posted on 5th December 2019

Shares of Polycab India continued their upward journey, and hit a new high of Rs 1,052, up 6 per cent on the BSE on Thursday, on expectation of strong earnings going forward. The company was included in the MSCI Global Small Cap Index with effect from November 26, 2019.

The stock of the fast moving electric goods (FMEG) company zoomed 100 per cent from its recent low of Rs 525, touched on August 22, 2019.
---
Be the first person to write a business review for Women's entry at Sabarimala: Supreme Court refers matter to larger bench