Women's entry at Sabarimala: Supreme Court refers matter to larger bench
Posted on 14th November 2019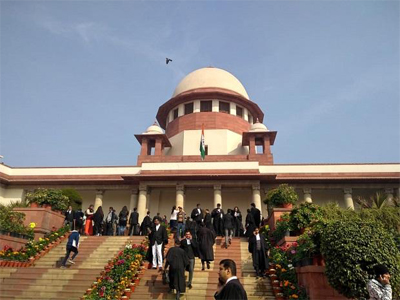 A five-judge bench of the Supreme Court on Thursday referred to a larger bench pleas seeking a review of its 2018 ruling that allowed menstruating women from entering the Sabarimala temple in Kerala.

Chief Justice Ranjan Gogoi, Justice A M Khanwilkar and Indu Malhotra said a larger bench will hear if the court can decide matter of religious practice. Justices R F Nariman and DY Chandrachud gave dissenting opinion.

The bench said petitions had "sought to revive the debate about what's the religion and essential religious practices". "Individual right to pray at temple cannot be superior to what is considered as religious by another sect is what petitions have argued," the court said, according to News18.com.

The court had on September 28, 2018, scrapped a ban on women and girls between 10 and 50 from at the temple, ruling that a centuries-old Hindu religious practice was illegal and unconstitutional.

The verdict comes two days before the temple opens for the two-month-long pilgrimage season from November 16.

The court's verdict sparked protests across Kerala, mainly led by caste outfits like the NSS and right-wing Hindu organisations of the Sangh Parivar.
IT raids in Delhi, Jaipur in tax evasion case against Rajasthan group
Posted on 13th July 2020
The Income Tax Department is conducting searches in four cities, including Delhi and Jaipur, in connection with a tax evasion case against a Rajasthan-based jewellery group, officials said on Monday.

They said the raids have been launched early morning in Delhi, Jaipur, Mumbai and Kota.
---
YES Bank declines for second straight day, slips 17% on heavy volumes
Posted on 13th July 2020
Shares of YES Bank extended their decline itnto second straight day, down 17 per cent to Rs 21.20 in the intra-day trade, on the BSE on Monday on the back of heavy volumes after the bank on Friday fixed floor price for its proposed follow-on public offer (FPO) at Rs 12 per share and a cap of Rs 13 per unit. In the past two trading days, the stock has tanked 20 per cent from a level of Rs 26.65 on the BSE.
---
---
Sachin Pilot likely to be sacked from Congress but won't join BJP: Sources
Posted on 13th July 2020
With the political developments in Rajasthan intensifying after Deputy Chief Minister Sachin Pilot revolted against the Ashok Gehlot led government, the Congres party is likely to sack the former as the president of Rajasthan Congress.

Raghuveer Meena likely to be appointed as new Congress state president in place of Sachin Pilot, sources quoted by Zee News claimed.
---
Coronavirus Outbreak: With 28,701 cases in a day, India's COVID-19 tally tops 8.78 lakh; death toll 23,174
Posted on 13th July 2020
As the coronavirus cases in India continue to spread rapidly, India is now just behind the United States and Brazil in terms of the total confirmed cases as it already overtook Russia to take the third spot in the list of worst-hit nations in the world affected by the coronavirus disease (COVID-19). It is, therefore, also the biggest epicenter of the coronavirus disease pandemic in Asia.

With over 28,800 new cases reported in the last 24 hours, India's COVID-19 count on Monday crossed the 8.78 lakh-mark, while the death toll has crossed the 23,000-mark as well.
---
Be the first person to write a business review for Women's entry at Sabarimala: Supreme Court refers matter to larger bench