Moody's cuts India outlook to negative, predicts 'prolonged slower growth'
Posted on 8th November 2019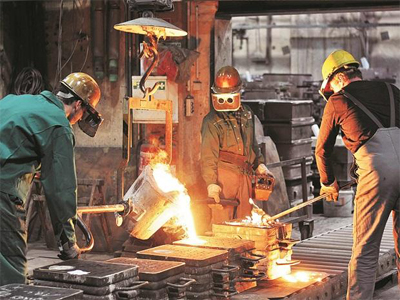 India's credit ratings outlook was cut to negative by Moody's Investors Service, the first step toward a downgrade, as concerns mount the economic slowdown will be prolonged and debt will rise.

Moody's projects a budget deficit of 3.7% of gross domestic product in the year through March 2020, a breach of the government's target of 3.3%, as slower growth and a surprise corporate-tax cut curbs revenue. The foreign currency rating was retained at Baa2, the second-lowest investment grade score.

India's growth outlook has deteriorated sharply this year, with a crunch that started out in the shadow banking industry spreading to retail businesses, carmakers, home sales and heavy industries. Growth has come down to a six-year low of 5%, with Moody's saying there's a low chance of sustained growth at or above 8%.

"A prolonged period of slower economic growth would dampen income growth and the pace of improvements in living standards, and potentially constrain the policy options to drive sustained high investment growth over the medium-to long term," William Foster, vice president of Moody's Sovereign Risk Group, wrote in a statement.

The SGX Nifty 50 Index Futures declined 0.4% in Singapore as of 6:57 a.m. in Mumbai.

The dollar-rupee one-month non-deliverable forwards rose after the Moody's statement.

The downgrade puts additional pressure on authorities to kickstart the economy, although they have limited room to move. The Reserve Bank of India has already cut interest rates five times this year, though lenders aren't passing on that easing to customers.

Moody's said it doesn't expect the credit crunch among non-bank financial institutions, which were the main source of consumer loans in recent years, to be resolved quickly.

Investors will closely watch the nation's gross domestic product data for signs of further, long-lasting weakness, which could result in another negative shift, according to Moody's. Stabilization in the non-bank financial sector, meantime, would be credit positive and could flag less risk of negative spillover into banks.

"There have been some concerns about fiscal slippage," said Shamaila Khan, director of emerging-market debt at AllianceBernstein in New York.

"If the government is able to maintain discipline and mitigate spending by doing more privatizations that could help allay these concerns. There's a reasonable probability that that could happen, and this is a negative outlook so it gives them some time to play this out."

Fitch Ratings and S&P Global Ratings still hold India's outlook at stable.
Verdict allowing women into Sabarimala not the 'final word': Supreme Court
Posted on 5th December 2019

The Supreme Court on Thursday said its 2018 verdict allowing entry of girls and women of all ages into the Ayyappa temple at Kerala's Sabarimala was not the final word as the matter was referred to a larger bench.

The apex court's observation came when senior advocate Indira Jaising, appearing for a woman devotee, Bindu Ammini, alleged violation of the 2018 verdict and said her client was attacked for her bid to enter the shrine.
---
Hyundai plans to bring fuel cell cars to India, Nexo could be first launch
Posted on 5th December 2019

Korean auto major Hyundai is planning to bring fuel cell electric vehicles to India. The company has already started a feasibility study as part of the plan.

Hyundai Nexo, which is already available in many markets, could be the first launch. The company claims Nexo is the world's first dedicated hydrogen-powered SUV and that it has a range of close to 380 miles, highest for any fuel-cell or electric vehicle in the market.
---
HDFC AMC slips 5% as Standard Life to sell additional stake via OFS
Posted on 5th December 2019

Shares of HDFC Asset Management Company (AMC) dipped 5 per cent to Rs 3,173 in intra-day deals on Thursday, after the company said it will use a greenshoe option for sale of additional 0.86 percent stake via offer for sale (OFS). The stock had ended 3 per cent lower at Rs 3,329 on the BSE a day earlier.

With the past two day's decline, HDFC AMC has corrected 17 per cent from its all-time high of Rs 3,844 touched on November 22, 2019.
---
RBI surprise: Repo rate left unchanged; FY20 GDP forecast lowered to 5%
Posted on 5th December 2019

Springing a surprise, the monetary policy committee of the Reserve Bank of India (RBI) maintained the repo rate at 5.15 per cent points (bps) in its fifth bi-monthly monetary policy meeting of the financial year 2019-20 (FY20) on Thursday. However, GDP growth forecast for FY20 was slashed to 5 per cent from 6.1 per cent.

The three-day rate-setting meet started on Tuesday (December 3). In its October meet, the RBI had cut interest rate by 25 bps to 5.15 per cent.
---
Polycab India hits fresh record high; stock zooms 100% from August low
Posted on 5th December 2019

Shares of Polycab India continued their upward journey, and hit a new high of Rs 1,052, up 6 per cent on the BSE on Thursday, on expectation of strong earnings going forward. The company was included in the MSCI Global Small Cap Index with effect from November 26, 2019.

The stock of the fast moving electric goods (FMEG) company zoomed 100 per cent from its recent low of Rs 525, touched on August 22, 2019.
---
Be the first person to write a business review for Moody's cuts India outlook to negative, predicts 'prolonged slower growth'