PSU banks gain; SBI, Canara Bank, Bank of Baroda and PNB rise 3%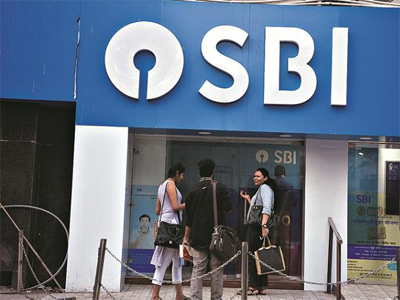 Shares of public sector undertaking (PSU) banks were in focus, rising up to 12 per cent in the intra-day deals on Wednesday. The counters extended their past three days' upmove on the National Stock Exchange (NSE), after the State Bank of India (SBI) reported a good set of numbers for September quarter (Q2FY20).

SBI was trading 3 per cent higher at Rs 290, up 9 per cent in four days on the NSE. The September quarter was mostly full of positives for SBI as the quarter saw improvement in the bank's asset quality as slippages halved and net interest margin (NIM) and provision coverage ratio (PCR) expanded further.

Central Bank of India, United Bank of India, Syndicate Bank, Andhra Bank and Bank of India were up in the range of 5-12 per cent. UCO Bank, Union Bank of India, Allahabad Bank, Corporation Bank, Indian Bank, Oriental Bank of Commerce and Bank of Baroda were up in the range between 3 to 5 per cent.

At 12:53 pm, Nifty PSU Bank index, the largest gainer among sectoral indices, was up 3.6 per cent, as compared to a 0.54 per cent rise in the Nifty 50 index. Nifty Bank and Nifty Private Bank were up 0.54 per cent and 0.19 per cent, respectively.

In the past four days, Nifty PSU Bank index gained 8 per cent, against 2.3 per cent rise in the benchmark index.

In Q2FY20, asset quality trends of SBI improved across-the-board with gross non-performing assets (GNPA) declining by 33bps QoQ to 7.2 per cent, slippage ratio coming in at a moderate 1.6 per cent, and sharp sequential decline in standard stressed exposures. Net interest margin (NIM) improved by 42 basis points (bps) and stood at 3.22 per cent, compared to a 2.80 per cent in the year-ago quarter.

While SBI surprised with a sharp improvement in performance across fronts (reduction in reported stress, NIM expansion and better coverage), analysts at HDFC Securities are a tad weary of the sustainability of the pace of this improvement.

"No material progress has been on large IBC cases and further standard exposure to vulnerable sectors/entities does not bode well for stress; the recent spate of ratings downgrades does not help, either. Still, the worst in terms of asset quality is long behind," the brokerage firm said in result update. It maintained 'buy' rating on the stock with the target price of Rs 389 per share.

Analysts at Dolat Capital believe the resolution of the large steel account is on the verge of conclusion in its principle form. The Supreme Court (SC) has been hearing the case on a daily basis and is likely to have concluded the hearing in the case.

"We believe the ABV is likely to increase by 7 per cent with this recovery. We like the SBI for its ability to gain market share, amidst consolidation among PSUs, key resolutions and ability to maintain its operating performance," the brokerage firm said in the result update.