After Jio's 4G and optical fibre, RIL to build $24 bn e-commerce giant
Posted on 29th October 2019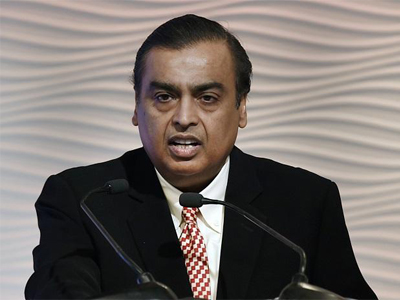 After Jio's 4G network and optical fibre-based broadband connection with a speed of up to 1 Gigabit per second, Mukesh Ambani, chairman of Reliance Industries Limited (RIL), is now planning to disrupt the country's e-commerce industry with a $24 billion digital-services behemoth.

The Reliance Industries board approved a proposal to plow 1.08 trillion rupees ($15 billion) into the fully-owned subsidiary, which will, in turn, invest that amount in Reliance Jio Infocomm Ltd, the conglomerate's telecommunications venture.

A series of capital transfers would make Jio, which already has capital of 650 billion rupees, almost debt free by March 2020, the parent said on October 25.

The move by Asia's richest man is the latest sign of the Reliance group's focus on data and digital services for future growth, as it builds an online platform to take on the likes of Amazon.com and Walmart Inc's Flipkart Online Services in India.

Ambani told shareholders in August that the new businesses, including retail, are likely to contribute to half of Reliance's earnings in a few years, from about 32 per cent now.

With the new holding firm, Ambani is also readying the businesses for an initial public offering, which he has vowed to complete within five years.

Ambani has also been stitching together a network of partners through acquisitions and stake purchases to build a backbone for his e-commerce plans.

In the Indian e-commerce space, Flipkart India's net loss has widened by around 86 per cent, year-on-year. However, its total income rose by about 43 per cent, including the consolidated income of Flipkart Internet Private Limited, which was up 57 per cent and has reported lower losses. To know more, listen to this podcast.
US, Taliban set to sign historic peace deal today; Indian envoy to attend
Posted on 29th February 2020

The much-anticipated peace deal between the United States and Afghanistan's Taliban is set to be signed in Qatar's Doha on Saturday. Envoys of more than 30 countries, including India, are expected to attend, news agencies reported.

US-Taliban peace deal is set to be signed today evening in Doha (Qatar), Indian envoy is among 30 countries invited to witness the event, ANI reported quoting sources.
---
FB, Twitter, Google threaten to shut services in Pak over new internet law
Posted on 29th February 2020

A coalition comprising digital media giants Facebook, Google and Twitter (among others) have spoken out against the new regulations approved by the Pakistani government for social media, threatening to suspend services in the country if the rules were not revised, it was reported.

In a letter to Prime Minster Imran Khan earlier this month, the Asia Internet Coalition (AIC) called on his government to revise the new sets of rules and regulations for social media, The News International reported on Friday.
---
NIA makes first arrest in Pulwama attack case, nabs JeM operative who provided shelter to bomber
Posted on 29th February 2020

In a major breakthrough, the National Investigation Agency (NIA) on Friday arrested an Over-Ground Worker (OGW) of Jaish-e-Mohammed in the Pulwama attack case which claimed lives of 40 CRPF personnel las year.

The NIA said it has arrested Shakir Bashir Magrey, a furniture shop owner, who provided shelter and other logistical assistance to the suicide-bomber Adil Ahmad Dar.
---
'Sedition law being misused for political gains': Ex-JNUSU president Kanhaiya Kumar demands 'speedy trial'
Posted on 29th February 2020

Former president of the Jawaharlal Nehru University (JNU) Students' Union Kanhaiya Kumar on Saturday expressed his doubts regarding the timing of the permission granted by the Delhi government to prosecute him and two others in the JNU sedition case dating back to 2016.

Kanhaiya also demanded a 'speedy trial' and said that the entire country gets to know how a law like sedition is being misused, hinting at the fact that a four-year-old sedition is being intentionally brought up for nefarious political motives.
---
China reports 44 new virus deaths, lowest rise in new cases in over a month
Posted on 29th February 2020

Mainland China had 327 new confirmed cases of coronavirus infections on Thursday, the country's National Health Commission said on Friday, down from 433 cases a day earlier and the lowest since Jan. 23.

That brings the total number of confirmed cases in mainland China so far to 78,824.
---
Be the first person to write a business review for After Jio's 4G and optical fibre, RIL to build $24 bn e-commerce giant