Amazon, Flipkart see record festive sales as 'Bharat' logs onto e-commerce
Posted on 7th October 2019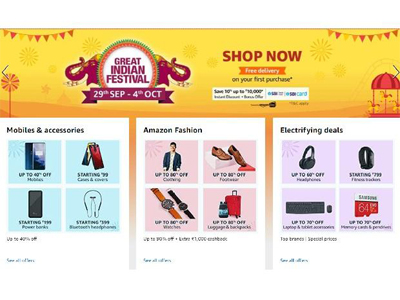 Amazon.com Inc. and rival Walmart Inc. reported record revenue for their six-day India sales festivals as e-commerce catches on with buyers and sellers in smaller Indian towns, moving beyond the country's urban, English-speaking population.

The American competitors have been dueling in India since Walmart cut a $16 billion deal for control of local pioneer Flipkart Online Services Pvt last year. Their latest sales — which Amazon calls the Great Indian Festival and Flipkart calls Big Billion Days — are a high-stakes battle that ran on the same days and concluded over the weekend.

Both focused on expanding their online commerce to smaller cities and rural areas, an enormous swath of the country known by its historic name of Bharat. Neither company gave specific revenue figures, though they claimed record activity.

"This has been our biggest celebration ever, a digital Bharat festival," said Amit Agarwal, Amazon's India chief, during a telephone call from his Bangalore headquarters. "Over 65,000 sellers from 500 cities sold products."

Millions of Indians are moving online thanks to inexpensive smartphones and some of the lowest wireless data rates in the world. That is boosting all kinds of internet businesses, from streaming video and online gaming to e-commerce and services.

"There is a big wave of consumers in Bharat shifting their offline spending to online during these sale days, and increasing the ticket size of their purchases," said Satish Meena, a senior forecast analyst at Forrester Research Inc. "Online retailers have been efficiently getting their message about the discounts, the product assortment and affordable credit offerings to the internet users in small cities."

Flipkart said in a note that it recorded almost 50 per cemt growth in new customers compared with last year's sale days, and a 100 per cent increase in units sold to shoppers in small, so-called tier 3 cities. More than 40 per cent of sellers during the sale days were from Tier 2 cities and beyond. "Bharat has moved closer to India in more ways than one," Kalyan Krishnamurthy, Flipkart's chief executive officer, said in a statement.

Agarwal said Amazon succeeded in attracting not justbuyers but also small and medium sellers hawking local, or "desi," brands. Among the top-selling brands were Ganesh vegetable choppers, local makers of treadmills and Boat, which makes earphones and other mobile accessories.

"A huge opportunity lies ahead as this sale event demonstrates," Agarwal said. "It's a long journey, and we are taking a 10-year-view as India will have the largest internet population in the world."
IT shares gain ahead of Q1 earnings; TCS hits all-time high, Infosys up 4%
Posted on 7th July 2020
Shares of information technology (IT) companies were in focus on Tuesday with the Nifty IT index gaining more than 1 per cent ahead of the announcement of their June quarter (Q1FY20) results. Tata Consultancy Services will kickoff the earnings season by announcing its numbers on Thursday, July 9.

Shares of TCS hit an all-time high of Rs 2,303, up 1.8 per cent on the National Stock Exchange (NSE) in Tuesday's trade. The stock surpassed its previous high of Rs 2,296, touched on September 3, 2019.
---
Panel recommends shifting LG Polymers plant hit by gas leak in Tamil Nadu
Posted on 7th July 2020
An investigation into a deadly gas leak at a South Korean-owned chemical plant in Tamil Nadu that killed 12 people in May recommended the factory be moved away from inhabited areas, according to its full report released on Tuesday.

The probe at the plant run by LG Polymers, owned by South Korea's LG Chem Ltd, found the company was negligent and warning systems were not working, the state government said on Monday.
---
Apollo Tyres decides to reduce capex by Rs 400 crore over coronavirus
Posted on 7th July 2020
Apollo Tyres on Tuesday decided to cut capital expenditure by around Rs 400 crore for the year in India due to the pandemic. The company had initially planned around Rs 1,400-1,500 crore in India and about 20 million pounds for its European facility.

During an investors call, the company's CFO Gaurav Kumar said that the plan was to invest around Rs 1400-1500 crore for the current year, but it would be about somewhere between Rs 1,000-1,100 crore.
---
TikTok to exit Hong Kong market within days over new national security law
Posted on 7th July 2020
TikTok will exit the Hong Kong market within days, a spokesman told Reuters late on Monday, as other technology companies including Facebook Inc have suspended processing government requests for user data in the region.

The short form video app owned by China-based ByteDance has made the decision to exit the region following China's establishment of a sweeping new national security law for the semi-autonomous city.
---
China has caused great damage to the US, rest of the world: Trump
Posted on 7th July 2020
China has caused great damage to the US and the rest of the world, President Donald Trump said on Monday.

Over the last few months, Trump has been holding China responsible for the spread of deadly coronavirus across the world.

The coronavirus has so far claimed the lives of 533,000 people globally with the US topping the chart with 132,000 fatalities.
---
Be the first person to write a business review for Amazon, Flipkart see record festive sales as 'Bharat' logs onto e-commerce