Soon flying taxis to arrive in Singapore to test cleaner, quieter sky ride
Posted on 7th October 2019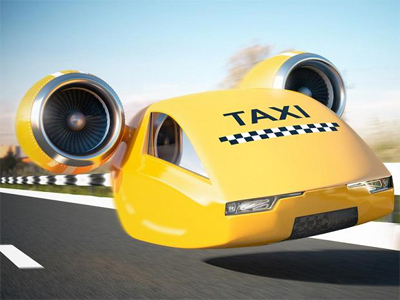 A British company says it's building the world's first "vertiport" for electric aircraft in Singapore, an early step towards a global network for flying taxis.

Essex-based Skyports Ltd. plans to show off the vertical take-off and landing station at Marina Bay during the Intelligent Transport Systems World Congress from October 21-25. Germany's Volocopter GmbH will bring along its electric aircraft for a demonstration flight.

Urban air transport isn't new—helicopters have been doing it for decades. What's changing is that better batteries and innovative designs are making it cheaper, cleaner and quieter. Companies are just trying to demonstrate the technology's capabilities for now, but a report from Citigroup said sales of air taxis could reach $5 billion by the end of the next decade.

"Helicopters have been around a long time but they're not well used, particularly in cities, because they're noisy, dangerous and polluting," Skyports Managing Director Duncan Walker said by phone. "We're really trying to make it a form of transportation for anybody, not just the extremely wealthy."

Citi expects designers to keep tweaking the technology and working with regulators so they can start to offer regular air taxi services from 2025. It could be even sooner, with Uber Technologies Inc. targeting launches in Los Angeles, Dallas and Melbourne as early as 2023. As many as 20,000 electric passenger aircraft could be sold annually by 2030, Citi said in its report last month.

They'll start with a range of about 50 miles for journeys of 10-20 minutes—enough to make it worth paying extra to avoid road congestion, according to the investment bank. It puts the likely cost of a ride at about $3.75 per mile—cheaper than a limousine but double the cost of ground-based ride-hailing.

First the industry must win over the public and air safety regulators, and that's what this month's demonstration is about, Walker said. His company built the Voloport in China then took it apart to be re-assembled in Singapore near the iconic Marina Bay Sands Hotel. Walker is in talks to establish permanent Voloports around the island. One obvious connection could be to the resort island of Sentosa, just a short hop across the water.

People attending the conference can tour the building and it will open to the public on Oct. 25. But don't expect a Volocopter ride just yet.

Visitors will get to sit inside the aircraft on the ground and a test pilot will take it up for a solo demo flight, said Volocopter spokeswoman Helena Treeck: "We want to see how the public reacts to it, whether it's too loud, whether they would feel safe flying in it."

For Citi analyst Pavan Daswani, the demonstration is important as it shows an infrastructure firm, an aircraft operator and the local government working in concert.

"It's a Catch-22: regulators and the public will only get more comfortable as more are flying, but you need the regulations in place for more of them to fly," he said. "Working together is the only way for it to be adopted early."
United Airlines sending layoff notices to nearly half of its US employees
Posted on 9th July 2020
United Airlines will send layoff warnings to 36,000 employees - nearly half its US staff - in the clearest signal yet of how deeply the virus outbreak is hurting the airline industry.

The outlook for a recovery in air travel has dimmed in just the past two weeks, as infection rates rise in much of the US and some states imposed new quarantine requirements.
---
Veteran actor and Jaaved Jaaferi's father Jagdeep passes away at 81
Posted on 9th July 2020
Veteran actor Syed Ishtiaq Ahmed Jafri, popularly known by his stage name Jagdeep, passed away at the age of 81 on Wednesday.

He is survived by his two sons Jaaved Jaaferi and Naved Jafri.

In his career of more than six decades, Jagdeep acted in over 400 films and was a part of several hit Hindi films including 1975 blockbuster Sholay in which he played the character of Soorma Bhopali.
---
Gold price today at Rs 48,700 per 10 gm, silver climbs to Rs 50,000 a kg
Posted on 9th July 2020
Gold prices on Thursday jumped to Rs 48,700 from Rs 48,450 per 10 gram, while silver climbed to Rs 50,020 from Rs 49,200 per kilogram, according to Good Returns website.

Gold jewellery prices vary across India, the second-largest consumer of the metal, due to excise duty, state taxes, and making charges.
---
IRB Infra Developers hits 52-week high; stock zooms 84% in one month
Posted on 9th July 2020
Shares of IRB Infrastructure Developers gained 3 per cent and hit a 52-week high of Rs 121.50 on the BSE on Thursday on expectations that earnings may improve going forward as road traffic reaches over 80 per cent of pre-Covid level.

The stock of the company, which is the largest private roads and highways infrastructure developer in India, has surpassed its previous 52-week high of Rs 119.70 touched on January 21, 2020.
---
Breaking: UP Gangster Vikas Dubey nabbed from Madhya Pradesh's Ujjain
Posted on 9th July 2020
After days of intensified manhunt, the Uttar Pradesh Police has managed to nab gangster Vikas Dubey, news agency ANI quoted sources as saying.

It is being said that he was nabbed from Madhya Pradesh's Ujjain on Thursday where he had gone to offer prayers at the Mahakaal temple. He was detained by the guard.
---
Be the first person to write a business review for Soon flying taxis to arrive in Singapore to test cleaner, quieter sky ride