Natural gas price cut to hurt ONGC earnings by Rs 1,460 crore: Moody's
Posted on 4th October 2019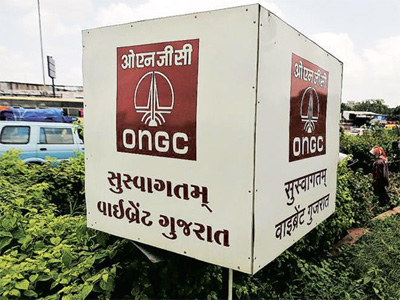 The recent reduction of gas prices by the central government would lead to state-owned Oil and Natural Gas Corporation (ONGC) lose Rs 1,460 crore revenue from its gas business, rating agency Moody's said on Thursday. The decline is equal to 0.3% of ONGC's expected consolidated revenue and around 2% of consolidated earnings before interest, tax, depreciation and amortisation for FY20.

On September 30, the government cut domestic natural gas prices by 12.5% to $3.23 per million British thermal units (mmBtu) — the first reduction in gas prices in the country since April 2017. Ceiling price for gas to be produced from difficult fields has also been cut 9.5% to $8.43/mmBtu. Terming the price reductions as "credit negative" for ONGC, Moody's, however, said that it "will have a limited effect on ONGC's metrics for FY20" since its gas business is small compared with its total upstream operations. In FY19, the gas business contributed 17% revenue to ONGC's upstream business.

The price cut "could potentially discourage upstream companies to take up domestic gas exploration which is already down by 1% y-o-y in the current financial year (April-August)," Care Ratings had recently said. ONGC accounts for 75% of the country's crude oil and natural gas production by volume and 17% of domestic refining capacity. It produced 1.3 million barrels of oil equivalent of oil and gas per day in FY19. The central government owns more than 64% stake in the company.

However, natural gas end-users such as urea and petrochemical manufacturers are seen to benefit from the price cut. City gas distribution entities, which are a priority sector under the gas utilisation policy, would also gain from decreasing prices.

Following the government announcement, Indraprastha Gas reduced the selling prices of compressed natural gas by Rs 1.90 per kg in Delhi and Rs 2.15 per kg in Noida, Greater Noida and Ghaziabad.
Swiggy starts liquor home delivery in Bengal, says following safety norms
Posted on 4th June 2020
Food delivery platform Swiggy started on Thursday online processing and home delivery of alcohol in West Bengal after obtaining approvals from the state government.

The company is offering the service in Kolkata and Siliguri, days after first launching delivery in Jharkhand and Odisha.
---
Fugitive Vijay Mallya likely to be extradited to India from UK soon
Posted on 4th June 2020
In a huge diplomatic win for India, fugitive liquor baron Vijay Mallya is likely to be extradited from United Kingdome to India, reports have said.

The speculations come in the wake of the rejection of Mallya application by the High Court of Justice, London against his extradition to face trial in India. The plea was rejected last month and it vindicated the investigation by the Central Bureau of Investigation (CBI), as Mallya has raised various concerns regarding the admissibility of evidence and the fairness of the investigation, the tactics aimed at diverting attention from his own acts.
---
Jaish planning more vehicle-borne IED attacks in J&K: Intel
Posted on 4th June 2020
Days after the security forces in Jammu and Kashmir foiled a Pulwama style terrorist attack after intercepting a vehicle laden with explosives, intelligence sources have said that Jaish-e-Mohammad (JeM) terrorists are planning another Vehicle-Borne Improvised Explosive Device (VBIED) attack on security forces in Kashmir.

Following the inputs, security forces have been put on high alert.
---
Mahatma Gandhi's statue vandalised outside Indian embassy in US, probe underway
Posted on 4th June 2020
Mahatma Gandhi's statue outside the Indian Embassy in Washington DC was vandalised on Wednesday by a group of unidentified people involved in the protests against the murder of a black man George Floyd at the hands of a policeman at Minneapolis.

The United States Park Police has launched an investigation into the matter.
---
COVID-19 in India live updates: Highest spike in cases yet again, 9304 new reported on Wednesday
Posted on 4th June 2020
The number of coronavirus cases in India has marked significant and consecutive highest jumps over a major part of the last two weeks.

On Wednesday, the total number of confirmed cases of COVID-19 infection in India crossed the 2.07 lakh-mark, while the death toll breached the 5,800-mark as well. With this, India has now become the world's seventh worst-hit country in terms of coronavirus cases, according to the World Health Organisation's (WHO) COVID-19 tracker.
---
Be the first person to write a business review for Natural gas price cut to hurt ONGC earnings by Rs 1,460 crore: Moody's