Rate sensitives plunge on panic selling in banks; YES Bank tumbles 30%
Posted on 1st October 2019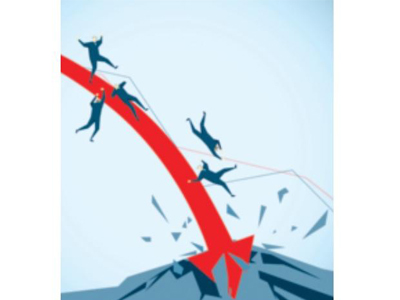 Shares of rate sensitive sectors like banking, real estate and automobile companies came under heavy selling pressure on Tuesday, falling by up to 30 per cent on the National Stock Exchange (NSE).

The Nifty PSU Bank index tumbled 8 per cent in intra-day deals to 2,118, its lowest level since May 2016. Nifty Realty, too, slipped 6 per cent to 241, while Nifty Private Bank and Nifty Auto indexes down 3 per cent and 2 per cent, respectively. In comparison, the benchmark Nifty 50 index down 1.75 per cent at 11,273 points.

Analysts say the sharp fall in the frontline indices and especially these sectors was triggered by a panic, following the sharp fall seen over the past few sessions in select banking counters.

"Markets seem to have punished banking and real estate sectors badly over the past few sessions. Even the ones that have reasonably sound fundamentals have taken a beating. As a result the premium these counters commanded has been knocked-off, which is unwarranted," says G Chokkalingam, founder and managing director at Equinomics Research.

Among individual stocks, YES Bank hit an over decade low of Rs 29.05 - slipping 30 per cent on the NSE. The stock of private sector lender was trading at its lowest level since July 2009. In past one week stock plunged 48 per cent from level of Rs 56.

State Bank of India (SBI), RBL Bank, DLF, DCB Bank, IndusInd Bank, Indian Bank and Punjab National Bank were down between 9 per cent and 22 per cent in intra-day deals. Expect Central Bank of India, the remaining 11 stocks including SBI, Bank of Baroda and Bank of India has hit their respective 52-week lows on the NSE on Tuesday.

Meanwhile, the Reserve Bank of India (RBI) placed Lakshmi Vilas Bank (LVB) under prompt corrective action (PCA), leading investors to re-assess the likelihood of the Indiabulls Housing Finance-LVB going through.

The Delhi High Court also issued notices to Indiabulls (IHFL), RBI and other respondents in a public interest litigation (PIL) seeking a probe into allegations of fraud against the mortgage lender.

Based on publically available data, analysts at Macquarie said in a recent report that YES Bank, Bank of Baroda (BOB) and IndusInd Bank are the most exposed to IHFL group (10-22% of net worth), whereas HDFC Bank and Kotak are safer (0.5-1% of net worth). ICICI Bank, they said, has no exposure to the group at all.

"We believe a large part of the loans outstanding for IndusInd Bank and HDFC Bank may already be repaid / withdrawn. IndusInd Bank's release to exchanges appears to corroborate our thesis – as per them, their exposure to the housing finance group is only 0.35% of loans (approx Rs 7 billion, or 2.3% of net worth, instead of Rs 31 billion)," wrote Suresh Ganapathy of Macquarie in a co-authored report with Nishant Shah and Akash Nainani.
AIMPLB to decide on filing Ayodhya verdict review petition in SC today
Posted on 16th November 2019
The All India Muslim Personal Law Board (AIMPLB) is likely to take a call on whether to file a review petition in the Supreme Court's final verdict in the Ayodhya land dispute case.

A meeting of AIMPLB is expected to take place today in Lucknow to decide on call to be taken by the board in the Ram Janmabhoomi-Babri Masjid case verdict by the Supreme Court.
---
Maharashtra: BJP afraid MLAs may defect, says NCP's Nawab Malik
Posted on 16th November 2019
The Maharashtra BJP is bedevilled by the trepidation that politicians who joined the party ahead of the October 21 Assembly polls will defect and, hence, its leaders are claiming they will form government in the state, the NCP said on Saturday. NCP chief spokesperson Nawab Malik made the remarks a day after Maharashtra BJP chief Chandrakant Patil said his party will soon form the government and claimed it can count on the support of 119 MLAs, including Independents, in the 288-member Assembly.
---
SAT pulls up Sebi for 'shabby' handling of complaints from investor
Posted on 16th November 2019
The Securities and Appellate Tribunal (SAT) has hauled up the Securities and Exchange Board of India (Sebi) for giving computer-generated response to investor complaints filed on its online platform Scores and for disposing of the matter without settling the case.

"We find the approach adopted by Sebi to be a strange one. Such computer-generated disposal of a serious complaint speaks volumes on the conduct in treating the minority shareholders in this shabby manner," the tribunal said while delivering a judgment on a matter related to an investor complaint.
---
US to extend licence for its firms to continue business with Huawei: Report
Posted on 16th November 2019
The Trump administration is set to issue a two-week extension of a licence allowing U.S. companies to continue doing business with China's Huawei Technologies Co Ltd, two sources familiar with the deliberations said.

The extension of around two weeks is far shorter than the prior 90-day extension and a longer extension is in the works but has not yet been finalised due to regulatory hurdles, said one source who was briefed on the matter.
---
SC sets aside NCLAT order, paves way for Arcelor to acquire Essar Steel
Posted on 16th November 2019
The Supreme Court on Friday brought down the curtains on an epic battle for debt-laden Essar Steel, paving the entry of the world's largest steel maker, ArcelorMittal, into the second-biggest steel market, India.

In a ruling that would have a far-reaching impact on cases under the Insolvency and Bankruptcy Code (IBC), the apex court has set aside the National Company Law Appellate Tribunal (NCLAT) order that put a different class of creditors — financial vis-a-vis operational creditors as also secured and unsecured financial creditors — on a par.
---
Be the first person to write a business review for Rate sensitives plunge on panic selling in banks; YES Bank tumbles 30%