Brokerages give thumbs up to IRCTC initial public offer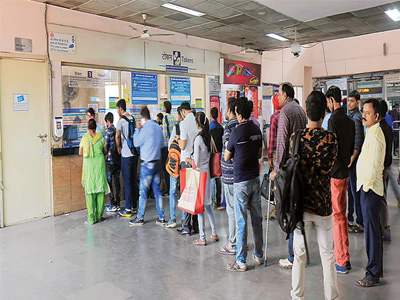 Analysts are upbeat on the Rs 645-crore initial public offer of the state-owned Indian Railway Catering and Tourism Corporation (IRCTC), which opens for subscription today, on account of the company's growth potential and attractive offer price.
According to IIFL Securities' IPO note, levy of convenience fee on ticket bookings and commissioning of six new "Rail Neer" (the water brand) plants is expected to aid IRCTC's revenue CAGR at 16% over FY19-21E. Moreover, these segments enjoy high operating margins, and will thus, aid healthy Ebitda margin expansion of nearly 600 bps and PAT CAGR of 40% over the same period.
"IRCTC is seeking 18.8x/13.6x/9.7x its FY19/FY20E/FY21E EPS. Given the near-term growth potential, we value the company at 13x FY21E EPS translating in a potential target price of Rs 431/share, and thus expect it to witness a healthy listing gain. However, the company remains exposed to a potential risk of any change in policies or allowing of open competition by the government," the brokerage said in its note.
The issue, which will open for subscription on September 30 and close on October 3, will comprise an offer for sale of 2.01 crore shares (representing 12.5% of total paid-up equity) of the face value of Rs 10 by the ministry of railways. Out of the total issue size, 1.6 lakh equity shares are reserved for eligible employees. The price band for the offer has been set at Rs 315-320 per share.
IRCTC is the only authorised entity by Indian Railways to provide online railway tickets, catering services to railways, and packaged drinking water at railway stations and trains in India.
Angel Broking in its note said, "From September 01, the ministry of railways has permitted the company to charge Rs 15 for non- AC & Rs 30 for AC ticket booked online. If tickets are booked through BHIM or UPI, charges are Rs 10 and Rs 20 for non-AC and AC, respectively. The market share of packaged drinking water at railway premises and trains will increase to approximately 80% from approximately 45% as the number of plants will increase from 10 to 20 by CY21. The company has a high dividend payout ratio (44.89% in FY19). At the upper end of the price band, IRCTC demands PE multiple of 18.8x of FY19 EPS."
The company currently operates in four business segments viz. internet ticketing (12% of revenue in FY19), catering (55%), packaged drinking water under Rail Neer brand (9%), and travel & tourism (24%). It operates one of the most transacted websites with transaction volume averaging 2.5cr-2.8cr transactions per month during the five months ended August 30, 2019.
ICICI Securities in its research note said, "Inclusion of convenience fee on railway tickets, setting up of 10 water plants in next 2 years and recent tax reduction of corporate tax bodes well for EPS growth, coupled with healthy dividend payout (45% in FY19) and RoE (26.1%). Further, at the IPO price band of Rs 315-320, the stock is available at a price to earnings multiple of approx. 10x (FY21E EPS), which we believe looks attractive from the perspective of future earnings growth."