Coal strike output loss at 1mt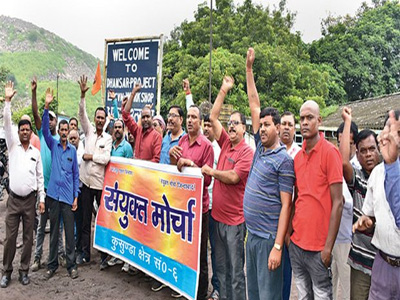 The one-day strike on Tuesday by coal workers against FDI in the sector has led to an estimated loss of 1 million tonnes (mt) in production as the Centre looks to initiate talks with the unions to normalise the situation by Wednesday.
The strike has affected production across the subsidiaries of Coal India and Singareni Collieries.
The unions said the strike was successful even as coal minister Pralhad Joshi hoped that production would normalise from Wednesday.
Coal India, which produces over 80 per cent of the production of the mineral in the country, saw its attendance go down in the early shifts, with only officers present.
Five federations representing over half-a-million workers of CIL and Singareni Collieries have called the strike, seeking withdrawal of the central government's decision to allow 100 per cent FDI in mining. "Strike is total with complete stop in production, transportation and dispatch of coal from all mines — Assam to Singareni," All India Coal Workers' Federation general-secretary D.D. Ramanandan said.
Unions that served the strike notice were the Indian National Mineworkers' Federation (affiliated to the INTUC), Hind Khadan Mazdoor Federation (HMS), Indian Mineworkers' Federation (AITUC), All India Coal Workers' Federation (CITU) and All India Central Council of Trade Unions (AICCTU).
RSS-affiliated labour union Bharatiya Mazdoor Sangh (BMS), which is not a signatory with other federations to the strike notice, is observing a five-day ceasework from Monday till September 27.
Coal minister Joshi said efforts were on to hold talks with Coal India and SCCL workers. "We are trying to have negotiations with them (workers). The government is quite open and the major impact is today," Joshi said on the sidelines of an event by the Indian Energy Forum in New Delhi.
Speaking at the same event, power secretary S.C. Garg said Rs 5 lakh crore of investment in coal-based power plants were in jeopardy amid a shortage of the dry fuel and stressed the importance of foreign investment to boost output.