Rupee continues to slide, opens 22 paise lower against US dollar
Posted on 17th September 2019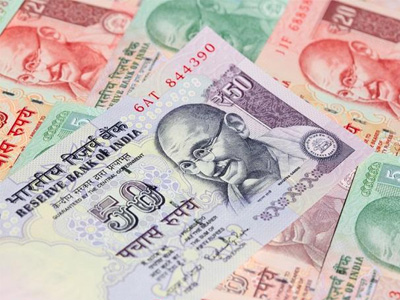 The rupee opened 22 paise lower at 71.82 against the US dollar amid elevated crude oil prices. The domestic unit on Monday plunged 68 paise to 71.60 against the US dollar amid concerns over soaring crude prices following drone attacks on Saudi Arabia's oil facilities.

Surging crude oil prices have emerged as major fears for India -- the world's third largest oil importer -- in form of fiscal slippage and inflationary pressure.

The drone attacks on Saturday targeted Abqaiq, the site of the largest oil processing plant run by the Saudi state oil company, Aramco, and the Khurais oilfield.

"Rupee fell against the US dollar following sharp rise in global crude oil prices after an attack on Saudi Arabian crude facilities cut the kingdom's production in half. The attack heightened uncertainty in a market that had become relatively subdued in recent months and now faces the loss of crude from Saudi Arabia. If prices sustain at higher levels it will start to hurt the inflation which has remained subdued in the recent past," said Gaurang Somaiya, Research Analyst (Currency) at Motilal Oswal Financial Services (MOFSL).

India is among the most vulnerable to rising oil prices given its overwhelming dependence on imports.

"Today, USD/INR pair is expected to quote in the range of 71.40 and 72.05," Somaiya added.

Foreign institutional investors (FIIs), who were net buyers for the past few sessions, offloaded shares worth Rs 751.26 crore on Monday, according to provisional exchange data.

On the global front, oil futures shed some of their massive gains on Tuesday, but the threat of military action over the attacks on Saudi oil facilities kept prices elevated and stocks under pressure. MSCI's broadest index of Asia-Pacific shares outside Japan was down 0.1 per cent. Japanese stocks slid 0.48 per cent, while Australian shares were down 0.18 per cent, Reuters reported.
Bajaj Auto net profit surges to ₹1,402 crore, shares rise
Posted on 23rd October 2019
Bajaj Auto today reported better-than-expected earnings for the quarter ended September 30, pushing its shares 2% higher in afternoon trade. Bajaj Auto shares were up 2% at ₹3,186 as compared to a 0.44% rise in Sensex. The automaker's profit rose 22% to ₹1,402 crore, aided by a tax expense reversal of ₹182 crore due to the recent lowering of corporate tax rate.
---
Amazon's new move to boost customer connect: Publishes success of small business sellers on boxes
Posted on 23rd October 2019
In a first-of-its-kind move by an e-commerce company, Amazon optimising its delivery boxes to increase customer engagement has announced Storyboxes — a packaging initiative where Amazon shares the growth journey of its sellers on the boxes. The company started the initiative during its annual Great Indian Festival sale (September 29 – October 4) to print the stories of its six sellers as of now. The company is looking to increase the number of such sellers' stories ahead.
---
American firm readies class action suit against Infosys on whistleblower allegations
Posted on 23rd October 2019
Even as Infosys battles whistleblower allegations of using aggressive accounting methods to boost its revenues and margin, a US-based law firm, Rosen Law Firm, which specialises in securities class actions, said it was preparing such a suit to recover losses suffered by the investors. "Rosen Law Firm is preparing a class action lawsuit to recover losses suffered by Infosys investors," it said in a statement.
---
DoT seeks relief for BSNL, MTNL once again, but with fewer demands
Posted on 23rd October 2019
Department of Telecommunications has again sought relief for the beleaguered Bharat Sanchar Nigam Ltd and Mahanagar Telephone Nigam Ltd with fewer demands, essentially translating into lesser cash outgo by the Centre.

It is learnt that DoT has sought funds for the voluntary retirement schemes of the two sick units and allotment of 4G spectrum, besides proposing to raise finances by monetising assets.
---
SBI Life Insurance joins Rs 1-trillion m- cap club, stock hits record high
Posted on 23rd October 2019
SBI Life Insurance Company today entered the coveted Rs 1 trillion market capitalisation (market-cap) club after its share price hit a fresh all-time high on the National Stock Exchange (NSE). The stock of the life insurance company hit a new high of Rs 1,012 on Wednesday in the intra-day deal.

Following the uptick in the counter, SBI Life's market cap crossed Rs 1-trillion mark or Rs 1,01,200 crore in intra-day trade today.
---
Be the first person to write a business review for Rupee continues to slide, opens 22 paise lower against US dollar