Intelligence agencies intercept, crack codes used by Pak Army and terror groups
Posted on 12th September 2019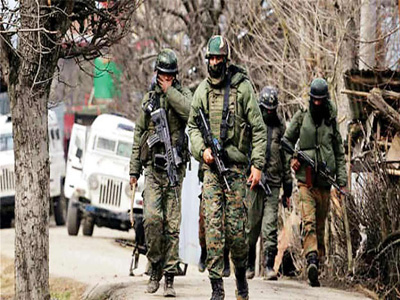 Indian intelligence agencies have intercepted and cracked the code words used by the Pakistan Army and different terrorist groups to communicate in order to escape the dragnet of defence and security forces in Jammu and Kashmir. The call signs used for communication are -- JeM (66/88), LeT (A3) and Al Badr (D9). From August 12 onwards terrorists have been using these Quami Taranas very actively.

Both the Pakistan Army and terrorist organisations have been using FM transmission stations in Pakistan-occupied Kashmir (PoK) to send messages to there handlers and cadres in Jammu and Kashmir. In a recent development, the Pakistan Army has directed the Signal Corps move VHF (very high frequency) radio stations near the Line of Control (LoC) with India. These VHF has been used to play 'Quami Taranas'. These taranas are also used by the Lashkar-e-Taiba (LeT), Jaish-e-Mohammad (JeM) and Al Badr to communicate with the local cadres in Jammu and Kashmir.

Two weeks ago, the Pakistan Army started installing new FM transmission stations and used its Signal Corps to send messages to terrorists near the LoC. It has also been using this means for misleading the people of nearby villages. The Pakistan Army is also shifting the existing FM transmission stations in PoK closer to the LoC. The 10 Corps Commander of Pakistani Army has entrusted the Signal Corps with this work. This comes as another of Pakistan's ill-intentioned steps in trying to push terrorists into India.
Protests rock Andhra Pradesh as assembly decides fate of Amaravati today
Posted on 20th January 2020

Several opposition leaders were either detained or placed under house arrest in Andhra Pradesh as protests rocked Amaravati and surrounding districts on Monday, ahead of a crucial Assembly session where the state government is likely to announce its final decision on three capitals proposal.

Tension prevailed as people took to streets to demand that Amaravati be continued as the only state capital.
---
Reliance Industries declines 2% as investors book profit post Q3 results
Posted on 20th January 2020

Shares of Reliance Industries (RIL) slipped 2 per cent to Rs 1,546 on the BSE on Monday despite the company logging its highest-ever quarterly consolidated net profit of Rs 11,640 crore for the quarter ended December 31, 2019 (Q3FY20).

The stock has fallen 4 per cent from its early morning high of Rs 1,610 on profit-booking. During the past four months, RIL has outperformed the market by surging 32 per cent, as compared to a 15 per cent rise in the S&P BSE Sensex till Friday. It touched an all-time high of Rs 1,618 on December 20, 2019.
---
'Too small to fight India': Malaysia rules out action over palm oil ban
Posted on 20th January 2020

Malaysia will not take retaliatory trade action against India over its boycott of palm oil purchases amid a political row between the two countries, Prime Minister Mahathir Mohamad said on Monday.

India, the world's largest edible oil buyer, this month effectively halted imports from its largest supplier and the world's second-biggest producer in response to comments from Mahathir attacking India's domestic policies.
---
Adani Enterprises denies wrongdoing in coal supply contracts case
Posted on 20th January 2020

Adani Enterprises on Monday said that it has not done anything wrong in supply of the dry-fuel amid reports that the CBI registered a case against the company for alleged coal supply contract irregularities.

In its FIR filed last week after a detailed preliminary enquiry in the matter, the CBI booked Adani Enterprises Ltd, the then NCCF chairman Virender Singh, the then managing director G P Gupta and senior advisor SC Singhal under IPC sections related to alleged criminal conspiracy, cheating under Indian Penal Code and Provisions of Prevention of Corruption Act, officials said on Thursday.
---
HDFC Bank slips over 1% as Q3 provisions rise; analysts maintain 'Buy'
Posted on 20th January 2020

Shares of private lender HDFC Bank declined 3.4 per cent from day's high to hit an intra-day low of Rs 1,258.75 on the BSE on Monday as investors turned cautious after it reported sharp spike in the provisions during the October-December quarter of the current fiscal (Q3FY20).

The bank's provisions, including those for bad loans and contingencies, grew a whopping 37.6 per cent to Rs 3,043.6 crore in Q3FY20, from Rs 2,211.5 crore reported in the year ago quarter. The increase in specific loan loss provisions jumped by 66.2 per cent to Rs 2,883.6 crore in the quarter from Rs 1,734.6 crore the previous year.
---
Be the first person to write a business review for Intelligence agencies intercept, crack codes used by Pak Army and terror groups