ICICI Bank Rating: Buy; Comfort in a difficult environment
Posted on 31st August 2019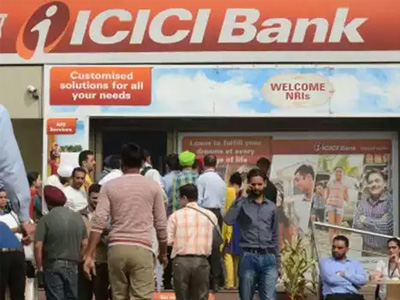 ICICI Bank's (ICICIBC's) annual report reaffirms our view that the bank is progressing well in its endeavour to strengthen balance sheet with strong focus on retail franchise. While its retail portfolio has been leading overall loan growth, GNPA has remained stable at 1.7% for many years; also, retail fees contribute over 70% to total fees. Concentration of the top-20 advances/exposures improved by 206bp/208bp to 12.1%/ 11.9% during the year. On the liability side, concentration of the top-20 depositors improved by ~50bp to 5.7%.

BB and below pool reduced to Rs 175 bn (~3.0% of total loans) while net stressed loans declined to 3.3% (excluding NNPA). During Q1FY20, the BB & below pool further reduced to Rs 154 bn (~2.6% of loans) while net stressed loans declined to 2.9% (excl. NNPA). SA per branch improved to Rs 448 m in Q1FY20 v/s Rs 354 m in FY17, thus, indicating higher productivity and operational efficiency at branch level. The bank has one of the highest proportions of retail deposits with a strong CASA mix.
Calcutta HC asks RBI to take appropriate action against Bank of Baroda
Posted on 17th February 2020
The Calcutta High Court has directed the Reserve Bank of India to consider appropriate steps against Bank of Baroda (BoB), including revoking its licence or authority to carry on with banking business, if necessary, for failing to honour a bank guarantee given by a third party to Indian Oil Corporation (IOCL).
---
Grant women officers permanent commission in Army in 3 months: SC to Centre
Posted on 17th February 2020

The Supreme Court on Monday directed the Centre to grant permanent commission to all women officers in the Army within three months and said there will not be any absolute bar on giving them command postings.

A bench headed by Justice D Y Chandrachud rejected the Centre's argument of physiological limitations and social norms for denying them permanent commission and command postings, saying it is disturbing and against the concept of equality.
---
Graphite India slips 5%, nears 52-week low on Rs 353 crore net loss in Q3
Posted on 17th February 2020

Shares of Graphite India slipped 5 per cent to Rs 268 on the BSE on Monday after it reported a consolidated net loss of Rs 353 crore in December quarter (Q3FY20), due to steep fall in electrode prices.

The graphite electrode manufacturer had posted a consolidated net profit of Rs 764 crore in the same quarter last fiscal. The stock was trading close to its 52-week low level of Rs 255 touched on October 9, 2019.
---
JSW Steel gets NCLAT's approval to acquire Bhushan Power for Rs 19,700 cr
Posted on 17th February 2020

The National Company Law Appellate Tribunal on Monday allowed JSW Steel to acquire of Bhushan Power & Steel Ltd for Rs 19,700 crore by providing it immunity from prosecution.

A two-member bench headed by Chairman Justice S J Mukhopadhaya, said that JSW Stwel will be immuned from the acts done by the former promoters of the Bhushan Power & Steel Ltd.
---
Arvind Kejriwal takes charge as Delhi CM
Posted on 17th February 2020

AAP supremo Arvind Kejriwal on Monday took charge as the Chief Minister of Delhi for the third time.

Members of his Cabinet, including Manish Sisodia, Satyendar Jain, Rajendra Pal Gautam and Imran Hussain, also took charge at the Delhi Secretariat.
---
Be the first person to write a business review for ICICI Bank Rating: Buy; Comfort in a difficult environment