Hyundai drives in all-new Grand i10 NIOS
Posted on 21st August 2019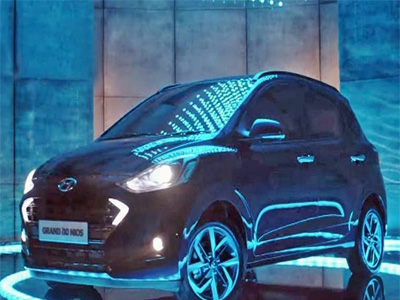 Hyundai, India's second-largest car manufacturer, has launched its all-new hatchback Grand i10 NIOS priced between Rs 4.99 lakh and Rs 7.99 lakh.

NIOS is the third generation of i10 series to be launched in India. The car is available in two engine options, 1.2l petrol engine, which is BS VI-compliant and 1.2l diesel engine. The engine is the company's first BS-VI petrol engine in India. To make the car stand out in the competition, the company has put a redesigned front grille with boomerang-shaped LED DRLs and has also added integrated roof rails and a shark fin antenna.

S S Kim, managing director, Hyundai Motors India, said "The All New Grand i10 NIOS is Made-in-India made-for-the-world product. The Indian market is key and axis point of Hyundai's global growth plan. The third generation NIOS is our third consecutive launch in India of highly successful i10 Brand"

The company recently increased its market share to 19% amid the industry slowdown. Vikas Jain, assistant vice-president sales, said, "We strive to increase our market share everyday and will aim to increase it further. The slowdown is a temporary phase and we are sure the industry will revive. Cars like Venue and Kona are getting a great response and will help to increase our share further."

This is the company's third launch in this calendar year after compact SUV Venue and India's first electric SUV Kona. The all new i10 takes on Maruti Suzuki Swift and Ford Figo.
Govt gives sugar mills time till Dec 31 to export last year's balance quota
Posted on 11th November 2019
The government on Monday gave sugar mills three months more till December to export the last year's balance quota of the sweetener.

Mills were able to export about 3.8 million tonne of sugar during the 2018-19 marketing year (October-September) due to depressed market conditions, against the target of 5 million tonne under the Minimum Indicative Export Quota (MIEQ) scheme.
---
India smartphone shipments rise 9.3% in Q3; Xiaomi leads the list
Posted on 11th November 2019

Multiple online sales festivals, new launches and price corrections on a few key models by brands helped smartphone shipments in India grow 9.3 per cent in the July-September quarter to touch record 46.6 million units, research firm IDC said on Monday.

Sequentially, Smartphone shipments were higher by 26.5 per cent in the third quarter ended September 2019 compared to the previous quarter. IDC expects the smartphone market to see only mid-to-high single-digit year-on-year growth in 2019.
---
Ayodhya verdict is cue for PM Modi to focus on fixing India's economy
Posted on 11th November 2019
Over the weekend, India's Supreme Court pronounced on a title dispute in Ayodhya, a small town in India's northern state of Uttar Pradesh. Like many other property cases in India, this one had been working its way through the judicial system for decades. But it may be the most consequential such dispute in Indian history.

Millions of Hindus believe Ayodhya was the capital of Ram, an avatar of Vishnu and hero of the epic Ramayana, and the dispute was over rights to the site where Hindus say a 16th century mosque was built over Ram's birthplace.
---
Auto slowdown: Car sales continue to slide; decline by 6.34% in October
Posted on 11th November 2019
Domestic passenger vehicle sales witnessed a marginal increase of 0.28 per cent to 2,85,027 units in October from 2,84,223 units in the year-ago period.

Domestic car sales were down 6.34 per cent to 1,73,649 units as against 1,85,400 units in October 2018, according to data released by the Society of Indian Automobile Manufacturers (Siam).
---
Shiv Sena MP Arvind Sawant resigns from Union Minister post
Posted on 11th November 2019
Union Minister of Heavy Industries and Public Enterprises and Shiv Sena MP Arvind Sawant today resigned from his ministerial post, amid the political developments in Maharashtra. Sawant was sworn in after the 2019 Lok Sabha elections, the lone Union Minister from Shiv Sena.

At 8:00 AM, news agency ANI posted an update, quoting Sawant, who said, I am resigning from my ministerial post, thereby confirming the earlier reports of him possibly resigning and the Sena quitting ties with the NDA alliance at the centre.
---
Be the first person to write a business review for Hyundai drives in all-new Grand i10 NIOS