Punjab CM Amarinder Singh accepts Navjot Singh Sidhu's resignation
Posted on 20th July 2019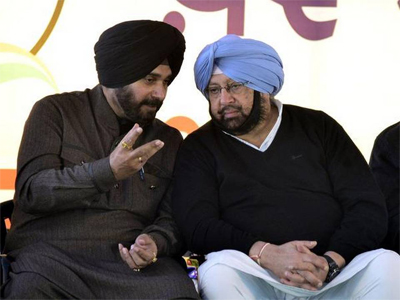 Punjab Chief Minister Amarinder Singh on Saturday accepted the resignation of Navjot Singh Sidhu from the Cabinet.

"Captain Amarinder Singh has accepted Navjot Singh Sidhu's one-line resignation and forwarded the same to the Governor," said an official spokesperson.

The spokesperson added that the Chief Minister, who had been indisposed for the last two days since arrival from Delhi, forwarded the letter to Punjab Governor V.P.S. Badnore for formal acceptance.

Mr. Sidhu had sent his resignation on June 10 to Congress leader Rahul Gandhi and tweeted the same more than a month later. Thereafter, he had tweeted that he would formally send his papers to the Chief Minister, in whose Cabinet he had been allocated the Power Ministry as part of a reshuffle post the Lok Sabha elections. He finally sent his resignation to the Chief Minister's official residence.

After the Cabinet reshuffle on June 6, the Chief Minister divested Mr. Sidhu of the Local Bodies portfolio and allocated him the Power and New and Renewable Energy Sources portfolios. However, Mr. Sidhu, instead of taking charge of the new Ministry, approached the party's Central leadership to express his displeasure and appraised the "high command'' of being singled out "unfairly'' in the Cabinet rejig on the pretext of the party's "poor performance" in the urban areas of the State in the 2019 Lok Sabha election.

Capt. Singh recently said if Mr. Sidhu did not want to do his job, there was nothing he could do about it.

Capt. Singh and Mr. Sidhu have been at loggerheads since the Lok Sabha poll. It started with Mr. Sidhu's wife Navjot Kaur Sidhu accusing Capt. Singh of blocking her Lok Sabha ticket from Chandigarh. Later, the Chief Minister blamed Mr. Sidhu for not handling his department well, which he claimed had resulted in the Congress's "poor performance" in urban areas in the general election.
Auroinbo recalls heartburn drug ranitidine, two others from US market
Posted on 6th December 2019

Aurobindo Pharma Limited has initiated a nationwide recall of three drugs from the US, two of them due to manufacturing issues. The development comes close on the heels of the regulatory compliance issues being faced by several of its manufacturing facilities back home.

These three products include heartburn drug Ranitidine that the US Food and Drug Administration(US FDA) had recently asked the companies to withdraw from the market owing to the presence of carcinogenic nitrosodimethylamine (NDMA) compound above the daily acceptable intake limits in the formulation.
---
MTPL to set up off-highway tyre facility in Gujarat, invest $107 million
Posted on 6th December 2019

Mahansaria Tyres Private Limited (MTPL) will set up a $107-million facility to manufacture off-highway tyres in Gujarat, backed by International Finance Corporation (IFC) through equity and loan.

IFC will provide a loan of up to $30 million and it will buy a stake in MTPL for up to $7.74 million.
---
Growth of world cities to decline in 2020-21 amid global slump: Research
Posted on 6th December 2019

The blockbuster growth in the world's major cities in recent years will slow sharply in 2020 and 2021 as the global trade slowdown takes its toll, according to new research.

Nine of the top 10 biggest global cities will slow next year, with the stars of the US Silicon Valley showing the most dramatic signs of slamming on the brakes, Oxford Economics researchers found in a report provided to AFP.
---
Mahindra & Mahindra nears 52-week low; stock slips 12% in one month
Posted on 6th December 2019

Shares of Mahindra & Mahindra (M&M) slipped 2 per cent to Rs 512 on the BSE on Friday and was trading close to its 52-week low level. The car & utility vehicles maker's stock is less than 2 per cent away from its 52-week low price of Rs 503, touched on August 14, in intra-day trade.

In past one month, M&M has underperformed the market by falling 12 per cent as the company's tractor sales delivered disappointing performance.
---
Vodafone Idea will shut shop if govt doesn't provide relief: KM Birla
Posted on 6th December 2019
Vodafone Idea Ltd, India's third largest mobile service provider, will shut down if the government does not provide relief on the liability it faces in past statutory dues following a Supreme Court order, its billionaire chairman Kumar Mangalam Birla said on Friday. "If we we are not getting anything then I think it is end of story for Vodafone Idea," Birla said at the HT Leadership Summit when asked about the future of Vodafone Idea in absence of a government relief on payment of Rs 53,038 crore dues.
---
Be the first person to write a business review for Punjab CM Amarinder Singh accepts Navjot Singh Sidhu's resignation