ICICI-Videocon loan case: Chanda Kochhar, husband appear before ED again
Posted on 15th May 2019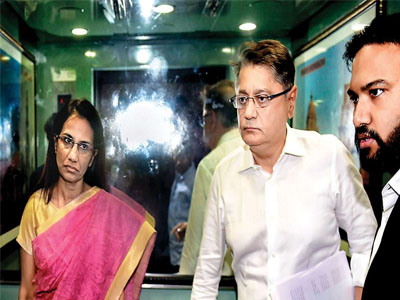 Former ICICI Bank CEO Chanda Kochhar and her husband Deepak Kochhar were grilled for the second consecutive day by Enforcement Directorate sleuths in connection with the Videocon Group bank loan case. The couple was grilled for eight hours on Monday as well. On Tuesday morning, they appeared again at the agency headquarters.

Sources said that documents pertaining to a Rs 64 crore investment in Nupower Renewables Limited, through the Supreme Energy Private Limited (SEPL), were sought from the Kochhars. The agency had earlier recorded their statements in Mumbai as well, while Chanda's brother-in-law Rajiv was also quizzed in Mumbai and Delhi by the Central Bureau of Investigation (CBI).

The ED's money-laundering probe is based on an FIR registered by the CBI, alleging a quid pro quo of Rs 64 crore in the form of investments in Deepak's company, in exchange of sanction of loans to the Videocon Group. The CBI had said these people, as part of ICICI Bank committees, had cleared some of the six loans worth Rs 1,875 crore to Videocon and associated companies.

The agency had also carried out raids at offices of the Videocon group and Nupower Renewables in Mumbai and Aurangabad. The FIR was registered following a preliminary enquiry after allegations that Rs 3,250 crore worth of loans were sanctioned by the bank to companies associated with the Videocon Group in violation of laid-down norms.
PM Modi pitches for structural reforms in agriculture to boost investment
Posted on 15th June 2019
With the farm sector facing headwinds, Prime Minister Narendra Modi on Saturday stressed upon the need for structural reforms in agriculture which would boost private investment, strengthen logistics and provide ample market support to farmers.

Delivering the opening address during the fifth Governing Council meeting of NITI Aayog, PM Modi said that the food processing sector should grow at a faster pace to benefit the farmers.
---
Importance of Bitcoin futures has been understated, JPMorgan says
Posted on 15th June 2019
Bitcoin futures may be more important than many in the market appreciate, according to JPMorgan Chase & Co.

Recent reports from cryptocurrency asset manager Bitwise and the Blockchain Transparency Institute indicate that only a small percentage of reported trading may be authentic.
---
Air India spreads its wings, plans flights for Bali, Nairobi and Toronto
Posted on 15th June 2019
Air India plans to launch services from Delhi to Bali, Nairobi and Toronto in the winter schedule as it looks to consolidate its position as the largest carrier on overseas routes from India.

Currently, there is no non-stop service from Delhi to Nairobi and Bali while Air Canada flies daily to Toronto. New services are being proposed as Air India expects the return of its seventeen grounded planes in service by October end.
---
Indian Oil Corporation in fuel switch drill
Posted on 15th June 2019
Indian Oil plans to set up a diesel exhaust fluid plant in Bengal at an investment of around Rs 150 crore to support the introduction of Bharat Stage-VI compliant fuel from April 1, 2020. The investment is part of the company's expansion plans in the state across businesses.
---
RBI asks banks to grout ATMs to wall, pill or floor to enhance security
Posted on 15th June 2019
The Reserve Bank on Friday asked banks to ensure their ATMs are grouted to a wall, pillar, or floor by September-end, except those installed in high secured premises such as airports, to enhance security of the cash vending machines.

In 2016, the RBI had set up a Committee on Currency Movement (CCM) to review the entire gamut of security of treasure in transit.
---
Be the first person to write a business review for ICICI-Videocon loan case: Chanda Kochhar, husband appear before ED again