Microsoft inks pact with VMware to keep up with Amazon in cloud computing
Posted on 30th April 2019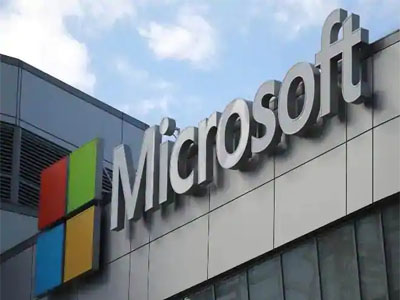 Microsoft Corp. unveiled a partnership with VMware Inc. in a bid to bring more customers to its Azure cloud-computing service, emulating a pact that has benefited rival Amazon.com Inc.

The agreement will let VMware customers move their technology systems to Microsoft's Azure cloud-computing services, the companies said Monday in a statement. Amazon Web Services, the leader in the market for cloud services, struck a partnership with VMware in 2016 to lure customers of the virtualization software maker to AWS.

"We're thrilled about the partnership and we're excited about getting this into the hands of customers to get them into hybrid cloud," Satya Nadella, Microsoft's chief executive officer, said at Dell Technologies Inc.'s annual user conference in Las Vegas, alongside Michael Dell and VMware CEO Pat Gelsinger. VMware is majority owned by Dell Technologies.

Microsoft for several years has proclaimed one advantage over AWS — the ability to serve customers who have some of their data in the cloud and some on company servers at corporate headquarters. With Amazon entering that hybrid cloud market later this year, Microsoft is bolstering its offerings to fend off its rival. Previously Amazon had eschewed the need for such technology, preferring to focus on the public cloud where clients run applications and store data in Amazon data centers.

As part of the agreement, Dell and Microsoft will pre-install Microsoft 365 cloud applications on Dell devices running the software maker's Windows 10. VMware and Microsoft also agreed to integrate their networking software.

Customers "want this hybrid solution — the ability to say something is here, something is there and I want to connect the two," Gelsinger said. "Today is a very good day for our joint customers."
Gold price at Rs 48,750 per 10 gm, silver crosses Rs 50,000 mark
Posted on 2nd July 2020
Gold prices on Monday rose to Rs 48,750 from Rs 48,300 per 10 gram, while silver climbed to Rs 50,050 from Rs 48,550 per kilogram on Thursday, according to Good Returns website.

Gold jewellery price varies across India, the second-largest consumer of the metal, due to excise duty, state taxes, and making charges.
---
IDBI Bank's market-cap crosses Rs 50,000 cr, stock surges 51% in 2 weeks
Posted on 2nd July 2020
IDBI Bank on Thursday entered the coveted Rs 50,000 crore market capitalisation club after its share price hit a fresh 52-week high on the BSE. The stock was locked in the upper circuit band for the seventh straight day, up 5 per cent at Rs 48.20. It has surged 51 per cent in the past two weeks on the BSE.

Following the sharp rally on the counter, the bank's market capitalisation (market-cap) jumped to Rs 50,034 crore, higher by Rs 16,920 crore, from Rs 33,114 crore on June 18, 2020.
---
After CBI, ED set to charge GVK Group for Mumbai airport 'irregularities'
Posted on 2nd July 2020
The Enforcement Directorate (ED) is set to charge promoters of the GVK Group of companies for alleged money laundering, sources told Business Standard after the Central Bureau of Investigation (CBI) accused them of alleged irregularities to the tune of Rs 705 crore in running the Mumbai airport.

Mumbai International Airport Ltd (MIAL) is a joint venture between GVK, state-run Airport Authority of India (AAI) and foreign entities. AAI entered into an agreement with the two others for upgradation and maintenance of the Mumbai airport.
---
PM Modi invited to Ayodhya to inaugurate Ram temple construction
Posted on 2nd July 2020
Prime Minister Narendra Modi has been invited Ayodhya to inaugurate the construction work at the Ram Mandir site. The president of Ram Janmabhoomi Teerth Kshetra Trust, Mahant Nritya Gopal Das, on Wednesday said that he had written to Modi, requesting him to visit the sacred city.

We have written a letter to Prime Minister Narendra Modi requesting him to visit Ayodhya and inaugurate the construction activities of Ram temple. Pooja and other rituals have been ongoing for three months at the site, said Mahant Das.
---
Tuticorin custodial death case: Three more cops arrested by CBI
Posted on 2nd July 2020
The Crime Branch of Criminal Investigation Department (CB-CID) on Wednesday arrested three more cops in connection with the alleged custodial deaths of a father-son duo at a Tamil Nadu police station.

Sub Inspector Balakrishnan and constables Muthuraj and Murugan were arrested by the investigation agency on charges of murder under Section 302 of the Indian Penal Code.
---
Be the first person to write a business review for Microsoft inks pact with VMware to keep up with Amazon in cloud computing