Adani group eyes new venture as it joins race for six AAI airports
Posted on 23rd February 2019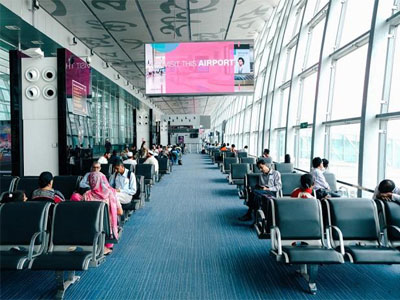 The Adani group, which straddles the businesses of power, ports, real estate, agriculture and defence, among others, is moving into airports.

A few days ago, the group made an aggressive entry by bidding for all the six airports put up for privatisation by the Airports Authority of India, locking horns with big boys in the airport infrastructure business (the GMR group has thrown its hat into the ring for all the airports).

The airports are Ahmedabad, Jaipur, Lucknow, Guwahati, Thiruvanthapuram and Mangaluru.

In its airport venture, it is looking at both options — bidding for airports being offered under privatisation within the country and acquiring stakes in existing joint-venture airport companies.

The Adanis' tryst with airports began some years ago when they set up Mundra airport, which has now become an important commercial city in Gujarat.

It has cobbled up a plan to invest Rs 1,500 crore to upgrade the airport strip and convert it into a full-fledged commercial airport with integrated cargo and aerospace operations to cater to the growing demand from the expats of Gujarat.

It is reported to be in the race to pick 23.5 per cent in GVK-controlled Mumbai International Airport Ltd (MIAL) by acquiring the equity of Airports Company of South Africa (Acsa) and Bidvest, which want to pull out. GVK has the first right of refusal to buy the stake, but the group, which is facing a cash shortage, could find it difficult to get the cash. A spokesperson for Adani, however, responding to the possible deal, said it was "speculation".

Airport players say they are expecting the Adanis to make aggressive bids for the six airports, especially for Ahmedabad and Jaipur. "We won't be surprised if they win two to three of these airports, though we will know only at the end of this month, when the bids are opened. Unlike us, who are bidding based on the economic viability of the airports, they are bidding for strategic entry into a new area of infrastructure. So the strategy would be different," says a top executive of one of the key bidders for the airports.

The bids are based on the highest monthly fee per passenger and not revenue share.

The six airports could be an attractive way to enter the airport infrastructure space. They together carried about 20.6 million domestic passengers and 5.1 million international flyers in April-December 2018.

In the domestic and international arenas, they account for around 10 per cent of all passengers flying domestic or abroad. But Ahmedabad and Jaipur constitute half (over 10 million) of these domestic passengers and they are growing rapidly. Domestic traffic in Ahmedabad, for instance, in the same period grew by more than 23 per cent over the previous year and Jaipur by 17.8 per cent, making them some among the fastest-growing airports in the country.

Even Lucknow has seen huge growth in passenger traffic both in the domestic as well as the international spaces. Experts say the Adanis, who have their headquarters in Ahmedabad, would surely make a determined bid to win the project.

However, for both Ahmedabad and Jaipur there are seven bidders in the fray.

The Adanis would get into a different league in the airport infrastructure space if they are able to buy a stake in Mumbai airport, the largest airport in the country after Delhi. While with a more than 50 per cent stake it won't change the ownership, which will be with GVK, it would give them an entry into having a say in a large operating airport business.
This helicopter company stock zooms 112% in six weeks
Posted on 18th April 2019
Shares of Global Vectra Helicorp surged 9 per cent to Rs 127 in the intra-day trade on Thursday, gaining 53 per cent in the last one week on the BSE, on expectation of strong earnings growth. The stock was trading close to its 52-week high of Rs 131 on April 23, 2018 on the BSE.

In past three weeks, the stock has rallied 112 per cent from level of Rs 60.30 on March 8, 2019, as compared to 7 per cent rise in the S&P BSE Sensex.
---
Hyundai eyes leadership position in compact SUV segment: MD
Posted on 18th April 2019
Hyundai Motor India is eyeing a leadership position in the compact SUV segment in the country with its upcoming model Venue, a top company official said.

The company will face stiff competition in the sub-4 metre compact SUV segment from the likes of Maruti Suzuki Vitara Brezza, Tata Motors Nexon, Mahindra XUV300 and Honda WR-V.
---
Mahindra, Ford to co-develop mid-sized SUV for India, emerging markets
Posted on 18th April 2019
Mahindra & Mahindra (M&M) and Ford Motor Company on Thursday said they have signed a definitive agreement to co-develop a mid-sized SUV for India and other emerging markets.

The new agreement reinforces the steady progress made since the announcement of a strategic alliance between the two companies in September 2017, followed by an announcement on powertrain sharing and connected car solutions in October 2018.
---
JustDial data leak exposed personal details of 100 million users: IT expert
Posted on 18th April 2019
Justdial, a company that provides local search for different services in India over voice calls and internet, suffered a data breach last week that compromised the personal details of 100 million users, according to independent cyber-security researcher Rajshekhar Rajaharia.

Inc42 quoted a senior JustDial executive on Monday as saying that the company is investigating the alleged loopholes in its database and that the company's systems are foolproof.
---
Now, Mamata Banerjee objects to no non-veg on Air India
Posted on 18th April 2019
Chief Minister Mamata Banerjee launched a new attack front against Prime Minister Narendra Modi on Wednesday and registered a delayed protest against the decision to stop serving non-vegetarian food to economy class passengers of Air India's domestic flights.

Air India does not serve non-vegeterian food in economy class. Only business class passengers are entitled to have chicken. Why will Modi babu decide what others will eat? the firebrand leader lashed out when addressing a public meeting at Kandi in Murshidabad.
---
Be the first person to write a business review for Adani group eyes new venture as it joins race for six AAI airports