Air India pilots keep flying despite takeoff mishap
Posted on 13th October 2018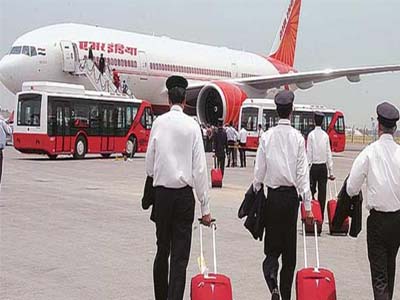 MUMBAI: A Dubai-bound Air India Express Boeing 737 aircraft was diverted to Mumbai for an emergency landing hours after it was discovered that the underside of the plane had been badly scraped when it hit the airport compound wall while taking off from Trichy.

Although the plane was damaged and the wall broke when the wheels of the aircraft rammed into it during take-off, the pilot continued to operate the plane saying the systems were operating normally. The aircraft, which took off at 1:30 am on Friday, eventually landed at Mumbai at 5:35 am.

"The pilot in command was D Ganesh Babu, who has flying experience on the B737 aircraft of 3,600 hours including about 500 hours as commander. The first officer was captain Anurag, who has an experience of about 3,000 hours on the B737. The two pilots have been derostered pending investigation," said a statement from the national carrier.

Following the incident, aviation minister Suresh Prabhu announced that he had ordered to put in place a third party professional organisation to look into various safety aspects at Air India. "In order to have continuous attention towards air safety, I have also ordered officials concerned to put in place a regular 'safety compliance report' of all airlines," he said.
Sensex cracks over 300 points; Nifty below 11,700
Posted on 22nd April 2019
The benchmark BSE Sensex cracked over 300 points in early trade on Monday tracking losses in index heavyweights RIL, HDFC and ICICI Bank, amid weak global cues, sinking rupee and soaring crude oil prices.

The 30-share index was trading 309.56 points or 0.79% lower at 38,830.72. The NSE Nifty too plunged to 101.80 points, or 0.87%, to 11,651.
---
Rupee falls 47 paise to 69.82 against US dollar in early trade
Posted on 22nd April 2019
The rupee fell sharply by 47 paise to 69.82 against the US dollar in early trade Monday on higher demand for the greenback from importers and banks.

Forex dealers said besides increased demand of the US currency from importers, lower opening of the equity markets weighed on the rupee.
---
Sri Lanka blasts: Death toll rises to 290; 13 arrested so far
Posted on 22nd April 2019
The toll in a series of eight blasts targeting mostly churches and hotels in Sri Lanka on Sunday has risen to 290, a police spokesman said Monday.

More than 500 people were wounded in the blasts, he added, in the deadliest violence since the end of the country's long-running civil war a decade ago.
---
Maruti Suzuki cuts discounts on popular models, all sops to go by September
Posted on 22nd April 2019
Maruti Suzuki has started lowering discounts on several models to drive up sales before it phases out the practice later this year. Dealers FE spoke to said discounts on popular models such as Alto and Dzire were trimmed from Rs 60,000 earlier to Rs 40,000 in April. The discounts would be further lowered and fully phased out by around August or September.

Similarly, discounts on compact SUV Brezza and premium hatchback Swift have been cut this month by around Rs15,000-Rs 30,000 and Rs 35,000, respectively.
---
Reliance Industries shares slump 3% after GRM fall; should you buy or sell stock?
Posted on 22nd April 2019
Shares of billionaire Mukesh Ambani-led Reliance Industries slumped in trade on Monday morning, after the firm's GRMs came in at the lowest level since Q3FY15. Reliance Industries shares slumped nearly 3% to hit the day's low at Rs 1,345.30 on BSE. Notably, the firm has reported a drop in standalone net profit for the first time in 17 quarters.
---
Be the first person to write a business review for Air India pilots keep flying despite takeoff mishap