Air India pilots keep flying despite takeoff mishap
Posted on 13th October 2018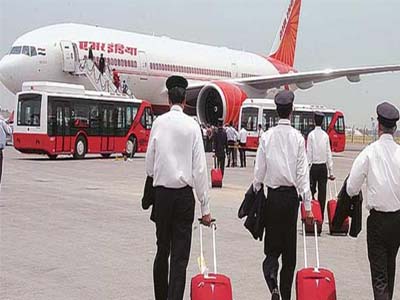 MUMBAI: A Dubai-bound Air India Express Boeing 737 aircraft was diverted to Mumbai for an emergency landing hours after it was discovered that the underside of the plane had been badly scraped when it hit the airport compound wall while taking off from Trichy.

Although the plane was damaged and the wall broke when the wheels of the aircraft rammed into it during take-off, the pilot continued to operate the plane saying the systems were operating normally. The aircraft, which took off at 1:30 am on Friday, eventually landed at Mumbai at 5:35 am.

"The pilot in command was D Ganesh Babu, who has flying experience on the B737 aircraft of 3,600 hours including about 500 hours as commander. The first officer was captain Anurag, who has an experience of about 3,000 hours on the B737. The two pilots have been derostered pending investigation," said a statement from the national carrier.

Following the incident, aviation minister Suresh Prabhu announced that he had ordered to put in place a third party professional organisation to look into various safety aspects at Air India. "In order to have continuous attention towards air safety, I have also ordered officials concerned to put in place a regular 'safety compliance report' of all airlines," he said.
Sensex, Nifty end higher for 2nd session on strong fund inflow, firm rupee
Posted on 17th November 2018
The BSE Sensex on Friday continued its rising streak for the second day to end at near a four-week high of 35,436.33, fuelled by gains in Reliance Industries, Bharti Airtel and other bluechips amid continued foreign fund inflows and strengthening rupee.

A higher opening in European shares too influenced sentiments here.
---
---
Relief for Hyundai: Supreme Court stays Rs 420-crore fine
Posted on 17th November 2018
The Supreme Court on Friday stayed the Competition Commission of India's order that imposed over Rs 420-crore penalty on the country's second-largest car maker Hyundai Motors India for anti-trade practices including lack of standardisation of spare parts and allowing original equipment suppliers (OESs) to sell spare parts in the open market without any restrictions.
---
Analyst Corner: Retain 'buy' on Ashok Leyland, target price Rs 135
Posted on 17th November 2018
The EBITDA margin at 10.6% for Q2FY19 missed our/consensus estimates by 60 bps on lower realizations and higher commodity costs. The bigger surprise was resignation of Vinod Dasari with effect from March 31, 2019. Dheeraj Hinduja will take over as the executive Chairman till the Board finds a suitable replacement.We expect FY20 earnings to benefit from a confluence of factors (higher volumes, lower discounts, higher operating leverage) on BS6 pre-buy.
---
GVK Power gets approval to raise Rs 8,000 crore for debt repayment
Posted on 17th November 2018
GVK Power and Infrastructure (GVKPIL) has received the shareholders' approval to raise up to Rs 8,000 crore.

The resolution to raise the funds, by a combination of various options listed on the agenda of the annual general meeting (AGM) held recently, has been passed by the requisite majority, the company said in a BSE filing on Friday.
---
Be the first person to write a business review for Air India pilots keep flying despite takeoff mishap