Microsoft boasts of a security win ahead of Pentagon cloud computing bids
Posted on 10th October 2018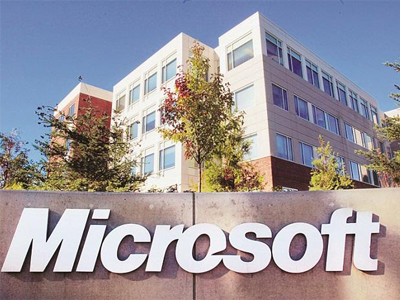 Microsoft Corp. is on track to catch up with Amazon.com Inc. by obtaining top federal security authorizations early next year, bolstering the company's position in the Pentagon's winner-take-all competition for a multibillion-dollar cloud computing deal.

The software company said Tuesday that it will earn the certification required to host the government's most sensitive and classified information -- a distinction previously held only by Amazon Web Services -- by the end of the first quarter of 2019.

Microsoft's announcement comes just four days before tech companies submit bids for the Defense Department's cloud contract, which is widely seen to favor Amazon. The project, known as the Joint Enterprise Defense Infrastructure cloud, or JEDI, involves transitioning massive amounts of Defense Department data to a commercially operated cloud system. Bids for the project, which could last as long as 10 years and be valued at as much as $10 billion, are due on Oct. 12.

Alphabet Inc.'s Google, which is far behind its peers in obtaining government cloud-security authorizations, said Monday it has decided not to compete for the JEDI project, in part because of a potential conflict with its corporate values on uses of artificial intelligence.

Microsoft had said in June that it was making progress toward winning top-level security clearance for the cloud.

"I don't think anyone was doubting that Microsoft would be able to get its security up to snuff before the JEDI contract," said Bloomberg Intelligence analyst James Bach. "I don't think this rises beyond the level of a PR win."

Amazon Web Services is widely seen as the front-runner for the JEDI project because it already won a $600 million cloud contract from the Central Intelligence Agency in 2013. In recent months, Microsoft has been seen as a competitive alternative as it expands its work with the intelligence community.

The long and costly process to gain authorization to sell cloud services to federal agencies can give technology companies a boost when they compete for government contracts. Commercial cloud providers for the federal government must seek certification from the Federal Risk and Authorization Management Program (FedRAMP), which awards approval based on the sensitivity of data the service is hosting.

A low-level certification might be sufficient for cloud-based services used to support public websites, while a high level would be needed to host secret government information.

Additionally, those working for the Defense Department typically need clearance from the Defense Information Systems Agency (DISA.) It issues security authorizations from IL-2, for hosting unclassified material, to IL-6, for highly classified data such as national security information.

The JEDI contract requires cloud companies to be authorized to host data of all classification levels, though it gives vendors some time to obtain the necessary certifications.

Amazon Web Services is currently the only company to have achieved an IL-6 security authorization, besting other competitors including Microsoft, Oracle Corp. and International Business Machines Corp.

Microsoft has already obtained FedRAMP's highest rating for its Microsoft Azure Government business and an IL-5 through DISA. In October, the company announced it was developing Microsoft Azure Government Secret, which would help it obtain the IL-6 authorization.

Even if Redmond, Washington-based Microsoft doesn't win the JEDI contract, earning the IL-6 authorization next year will give the company an advantage as it competes for other government business.

"It's a demonstration of our continued investment around cloud security," said Julia White, corporate vice president of Microsoft Azure.
Indian Oil hopes to raise funds under new working capital norms in 20 days
Posted on 16th October 2018
An executive of state-owned Indian Oil Corporation on Tuesday said the company was hoping to raise at least $300 million under the new working capital norms within 20 days from now.

IOC had last week said it would invest Rs 54.63 billion in setting up a city gas distribution network for retailing CNG to automobiles and piped cooking gas to households in seven districts.
---
#MeToo: Women journalists demand M J Akbar's dismissal, write to President
Posted on 16th October 2018
A panel of female journalists has written to President Ram Nath Kovind demanding the dismissal of Union Minister M.J. Akbar who has been accused of sexual harassment by a dozen women in the wake of the #MeToo movement.

We are extremely concerned that he continues to be a minister in the Union council of ministers even as he pursues whatever legal course of action he plans.
---
ICICI Bank gets RBI clearance to appoint Sandeep Bakhshi as its MD and CEO
Posted on 16th October 2018
Private sector lender ICICI Bank Tuesday said the RBI has approved Sandeep Bakshi's appointment as Managing Director and CEO of the bank for three years.

After resignation of Chanda Kochhar, who was facing inquiry, earlier this month, the bank's board had elevated Chief Operating Officer (COO) Bakshi as the new managing director and CEO for five years until October 3, 2023, subject to regulatory and other approvals.
---
Rupee weakens 9 paise to 73.92 against US dollar in early trade
Posted on 16th October 2018
The rupee weakened by 9 paise to 73.92 against the US dollar in early trade Tuesday on increased demand for the American currency from banks and importers.

At the Interbank Foreign Exchange, the domestic currency opened higher at 73.79 but lost ground and fell to 73.92.
---
Good news: Pink Line Delhi Metro to open by Diwali
Posted on 16th October 2018
The Delhi Metro's Pink line will be opened by Diwali, according to various media reports. Pink line for Shiv Vihar-Trilokpuri Metro was scheduled to be opened in August as per a previous plan but then the deadline got extended.

Pink Line Metro will ease connectivity between North East Delhi and South Delhi by connecting Shiv Vihar and Lajpat Nagar.
---
Be the first person to write a business review for Microsoft boasts of a security win ahead of Pentagon cloud computing bids