Microsoft boasts of a security win ahead of Pentagon cloud computing bids
Posted on 10th October 2018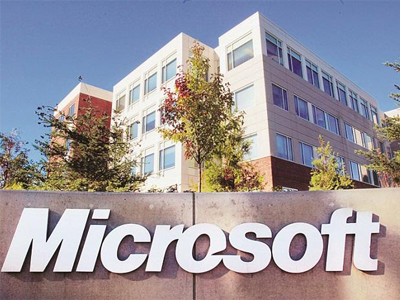 Microsoft Corp. is on track to catch up with Amazon.com Inc. by obtaining top federal security authorizations early next year, bolstering the company's position in the Pentagon's winner-take-all competition for a multibillion-dollar cloud computing deal.

The software company said Tuesday that it will earn the certification required to host the government's most sensitive and classified information -- a distinction previously held only by Amazon Web Services -- by the end of the first quarter of 2019.

Microsoft's announcement comes just four days before tech companies submit bids for the Defense Department's cloud contract, which is widely seen to favor Amazon. The project, known as the Joint Enterprise Defense Infrastructure cloud, or JEDI, involves transitioning massive amounts of Defense Department data to a commercially operated cloud system. Bids for the project, which could last as long as 10 years and be valued at as much as $10 billion, are due on Oct. 12.

Alphabet Inc.'s Google, which is far behind its peers in obtaining government cloud-security authorizations, said Monday it has decided not to compete for the JEDI project, in part because of a potential conflict with its corporate values on uses of artificial intelligence.

Microsoft had said in June that it was making progress toward winning top-level security clearance for the cloud.

"I don't think anyone was doubting that Microsoft would be able to get its security up to snuff before the JEDI contract," said Bloomberg Intelligence analyst James Bach. "I don't think this rises beyond the level of a PR win."

Amazon Web Services is widely seen as the front-runner for the JEDI project because it already won a $600 million cloud contract from the Central Intelligence Agency in 2013. In recent months, Microsoft has been seen as a competitive alternative as it expands its work with the intelligence community.

The long and costly process to gain authorization to sell cloud services to federal agencies can give technology companies a boost when they compete for government contracts. Commercial cloud providers for the federal government must seek certification from the Federal Risk and Authorization Management Program (FedRAMP), which awards approval based on the sensitivity of data the service is hosting.

A low-level certification might be sufficient for cloud-based services used to support public websites, while a high level would be needed to host secret government information.

Additionally, those working for the Defense Department typically need clearance from the Defense Information Systems Agency (DISA.) It issues security authorizations from IL-2, for hosting unclassified material, to IL-6, for highly classified data such as national security information.

The JEDI contract requires cloud companies to be authorized to host data of all classification levels, though it gives vendors some time to obtain the necessary certifications.

Amazon Web Services is currently the only company to have achieved an IL-6 security authorization, besting other competitors including Microsoft, Oracle Corp. and International Business Machines Corp.

Microsoft has already obtained FedRAMP's highest rating for its Microsoft Azure Government business and an IL-5 through DISA. In October, the company announced it was developing Microsoft Azure Government Secret, which would help it obtain the IL-6 authorization.

Even if Redmond, Washington-based Microsoft doesn't win the JEDI contract, earning the IL-6 authorization next year will give the company an advantage as it competes for other government business.

"It's a demonstration of our continued investment around cloud security," said Julia White, corporate vice president of Microsoft Azure.
Money laundering case: Delhi courts extends Robert Vadra's interim bail till March 2
Posted on 16th February 2019
The Enforcement Directorate on Saturday extended interim bail protection to businessman Robert Vadra till March 2. During the course of hearing today, the ED told the court that Vadra was not cooperating the officials in money laundering probe. Vadra's counsel, however, denied the charge.

The ED counsel also said that Vadra is accompanied by a 'baraat' (procession) wherever he goes, whether to ED or to court. This comes days after ED grilled him in connection with a money laundering case and a land scam in Rajasthan's Bikaner.
---
Sehwag offers to take care of education of Pulwama terror attack martyrs' children
Posted on 16th February 2019
Former India cricketer Virender Sehwag on Saturday offered to bear the educational expenses of children of all the CRPF personnel martyred in the dastardly terrorist attack in Jammu and Kashmir's Pulwama.

On Thursday, at least 40 CRPF paramilitary troopers were killed in a terror attack while several others are battling for their lives following what is being termed as the deadliest terrorist strike in three decades in the valley.
---
All-party resolution: in solidarity with forces in defending India's unity
Posted on 16th February 2019
An all-party meeting called to discuss the Pulwama terror attack on a CRPF convoy killing 40 soldiers adopted a unanimous resolution to condemn terrorism and the support it is receiving from across the border.

The meeting, convened by Home Minister Rajnath Singh, was attended by Ghulam Nabi Azad, Anand Sharma and Jyotiraditya Scindia of the Congress, Sudip Bandyopadhyay and Derek O'Brien of the Trinamool Congress, Sanjay Raut of the Shiv Sena, Jithendra Reddy of the Telangana Rashtra Samithi, D. Raja of the Communist Party of India, Farooq Abdullah of the National Conference, and Ram Vilas Paswan of the Lok Janshakti Party, among others.
---
SC stays death warrant against teacher convicted for raping 4-year-old girl
Posted on 16th February 2019
The Supreme Court on Friday stayed the execution of death penalty against a school teacher, who was convicted for raping a four-year-old girl in Satna district of Madhya Pradesh in June last year. A bench comprising Chief Justice Ranjan Gogoi and justices L Nageswara Rao and Sanjiv Khanna stayed the execution of the death sentence of convict Mahendra Singh Gond, which was scheduled for March 2 in a Jabalpur jail. There shall be stay of execution of the death sentence of the petitioner, the bench said. According to the prosecution, the girl was so brutally assaulted that she had to spend months in the All India Institute of Medical Sciences (AIIMS), Delhi to get her intestines realigned.
---
Pulwama Attack: Army deploys 9 security columns in Jammu after violent protests
Posted on 16th February 2019
The Army has deployed nine security columns with air support in Jammu following massive protests over the terror attack in Pulwama in the Valley in which 40 CRPF personnel were killed, officials said.

Earlier, curfew was imposed in the city after stray incidents of violence and torching of vehicles.
---
Be the first person to write a business review for Microsoft boasts of a security win ahead of Pentagon cloud computing bids