Mercedes-Benz EQ Silver Arrow concept pays homage to brand's original W 125 race car
Posted on 27th August 2018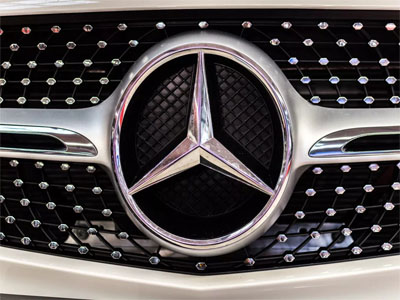 In Monterey, Calif., late on Friday, Mercedes-Benz unveiled its latest concept car, the EQ Silver Arrow. It's an homage to the brand's original W 125 race car, which in 1937 set the record for fastest land-speed vehicle on a public road by traveling nearly 270 miles per hour. That record was only broken late last year by the Koenigsegg Agera.

The electric one-seater joins a long list of memorable concepts that Mercedes shows off every year in advance of the Pebble Beach Concours d'Elegance on Sunday. None of them will reach anything near production, but design chief Gorden Wagener says they're useful to illustrate how the brand's future will look, embodied in one car.

As the name suggests, it's extremely long and thin. The car is more than 17 feet long but just 3 feet deep, with a carbon-fiber front splitter and side skirts with a lighting strip. Large, recessed EQ lettering heralds the company's EQ brand of battery-electric vehicles, illuminated in blue in front of the rear wheels.

The "Alubeam Silver" paint work on the body of the car is similar to the type used on the original Silver Arrow cars. The rear diffuser also looks like those on vintage racers, with an extendable spoiler that acts as an air brake by increasing the wind resistance as the car decelerates.

Inside are gray, suede sidewalls, as well as aluminum-and-walnut trim; the saddle-brown leather is laser-etched with stars. The dashboard is curved in a three-dimensional panoramic screen that can project images from behind the car, and in the center of the steering wheel is an integrated touchscreen. A lever on the side of the seat adjusts the pedal height to better suit the driver's height.

If the EQ Silver Arrow were to be manufactured for sale, Wagener said, it would have an output of 738 horsepower, thanks to a thin, rechargeable battery of roughly 80 kWh and a driving range of more than 250 miles.
BoB, PNB, other lenders hold 2-day meeting to generate ideas for growth
Posted on 19th August 2019
Public sector lenders, including PNB, BoB and Corporation Bank, have organised a two-day consultation process at branch level, seeking suggestions to make the sector future ready and be a catalyst in economic growth. The consultations were held over a period of two days from August 17-18 under the direction of Department of Financial Services, Ministry of Finance.
---
Sebi to ease buyback norms for companies with housing finance, NBFC arms
Posted on 19th August 2019
Capital markets regulator Sebi is planning to ease its norms for buyback of shares by listed companies, especially those having subsidiaries in housing finance and NBFC sectors. According to top officials, a proposal in this regard is expected to be discussed by Sebi's board at its meeting this week. The repurchase of shares by listed companies is governed by the Buyback Regulations of the Securities and Exchange Board of India (Sebi) as well as by the Companies Act.
---
Paytm promotes CFO Madhur Deora as President
Posted on 19th August 2019
New Delhi: Gearing up for the next phase of growth in consumer Internet and financial services, digital payments player Paytm on Monday announced the promotion of its Chief Financial Officer Madhur Deora as the company's President.

Prior to joining Paytm in October 2016, Deora served as Managing Director in Citigroup's investment banking business.
---
State Bank of India mulls repo-linked home loans for existing borrowers
Posted on 19th August 2019
Kolkata: State Bank of India said it is contemplating extending the benefit of the repo-linked lending rate to the existing home loan borrowers while hoped for better traction in consumer demand in the second half of the fiscal expecting the government to offer fiscal stimulus.
---
Apollo Hospitals' profit focus is key to retaining investor interest
Posted on 19th August 2019
Shares of Apollo Hospitals Enterprise Ltd have gained 10% since it announced its June quarter results on 13 August. With the performance reassuring investors on asset optimization and profit metrics, the stock hit a new 52-week high of ₹1,4687 on Friday.

Losses the company's new ventures, housed under Apollo Health and Lifestyle Ltd, reduced significantly.
---
Be the first person to write a business review for Mercedes-Benz EQ Silver Arrow concept pays homage to brand's original W 125 race car