Concor ropes in TCS to strengthen mobile app for reverse auction
Posted on 10th August 2018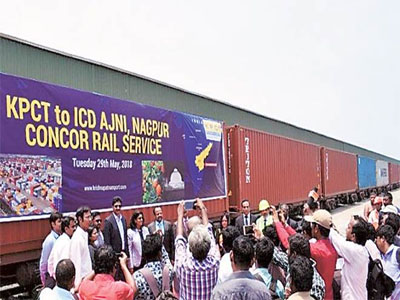 In a bid to improve the quality of services offered by vendors for containerized movement of cargo at the first and last mile, state-run Container Corporation of India (Concor) has roped in Tata Consultancy Services (TCS) to strengthen its mobile app to facilitate continuous reverse auction for the first time among vendors. An in-house team of Concor is working with TCS on the project. At present, a vendor is selected for a particular area through an open tender process to transport containers from the site of a customer to Concor's loading terminal and similarly another selected vendor transports containers to the delivery location of the receiver after being unloaded at the railway arm's terminating facility.

However, according to VKalyana Rama, chairman and managing director of Concor, while the company is able to do container transportation business and fixed location services at inland transport depots well, there are issues in the end-to-end services. "Since we are a PSU, we need to outsource activity based on open tenders. So one outsource activity requires one vendor. At present we are dependent on the selected vendors for the quality of the service," he said, adding that the company is now changing the method.

Concor already has an app which provides continuous transportation visibility of booked containers to customers. This mobile app is now being upgraded into a complete logistics platform."It will be like any other platform such as Amazon or Uber. So when a customer will put in a requirement, empaneled vendors will get an intimation and will be allowed to put in quotes and there will be a continuous reverse auction process going on at the backend to offer the first and last mile services," said Rama. He added that the quality of service will be continuously monitored.

The lowest bidder among the empaneled vendors will then be awarded the service and the customer will be informed about the logistics provider. According to Rama, once multiple vendors are empaneled through tendering, there will be more competition.

"The customer will get complete logistics solution from door-to-door. However, in the backend every activity will be matched to a vendor who will provide quality service at competitive price. We will monitor the quality service of the vendors constantly," he added.

Concor is aiming to strengthen the app platform as the number of order is high. Last year, it processed 3.5 million twenty feet equivalent unit (TEU) of boxes. Considering that every container goes through at least two activities at each end of the journey by third-party vendors, 7 million outsourcing activity was needed. "So to execute 7 million reverse auctions, a robust platform is needed," said Rama.
RIL likely to report slowest profit growth in 15 quarters, say analysts
Posted on 18th July 2019
The operating profit of Mukesh Ambani promoted Reliance Industries' (RIL) is expected to take a hit in the June quarter. Analysts estimate a decline in earnings before interest, taxation, depreciation and amortization (EBITDA). The company is also expected to see its slowest profit growth in the last 15 quarters. RIL will report its June 2019 ended quarter results on Friday.
---
Gold prices remain near record high, silver rates surge
Posted on 18th July 2019
Gold prices today remained steady in India near record highs while silver rates continued to surge. On MCX, August gold contracts were today trading higher at ₹35,094, after hitting a new high of ₹35,145 last week. The October gold contracts were near ₹35,600. The September silver contracts on MCX zoomed 0.72% to ₹40,467 per kg, reflecting a surge in global prices.
---
Demand for digitally skilled talent to grow at 35 pc CAGR:NASSCOM
Posted on 18th July 2019
Chennai: The demand for digitally skilled workforce would rise at 35 per cent Compounded Annual Growth Rate till 2023 of the current talent base of four million, Information Technology body NASSCOM said here on Wednesday.

NASSCOM said the top priority for it was to reskill this base and has taken a number of initiatives, the first of which was proposed tie-ups with educational institutions.
---
Sensex drops over 100 points; Yes Bank slumps over 10 per cent
Posted on 18th July 2019
Mumbai: Domestic equity benchmark BSE Sensex dropped over 100 points in early trade Thursday led by heavy selloff in Yes Bank shares, amid weak cues from global markets and unabated foreign fund outflow.

The 30-share index was trading 112.21 points or 0.29 per cent lower at 39,103.43 at 0930 hours, and the broader Nifty fell 32.05 points or 0.27 per cent to 11,655.45.
---
How HDFC disrupted itself
Posted on 18th July 2019
Aditya (Puri) decided to travel to California to take a close look at the disruptions that were being discussed.

In September 2014, Mastercard Inc., a leading global payments and technology company that connects consumers, business, merchants, issuers and governments around the world, organised the trip for Aditya, then chairperson of its advisory committee for the Asia-Pacific region.
---
Be the first person to write a business review for Concor ropes in TCS to strengthen mobile app for reverse auction