Concor ropes in TCS to strengthen mobile app for reverse auction
Posted on 10th August 2018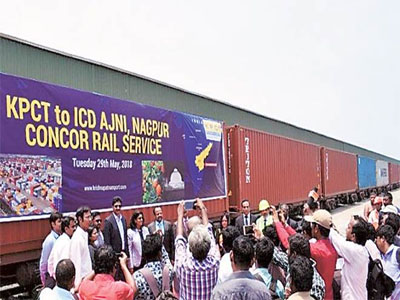 In a bid to improve the quality of services offered by vendors for containerized movement of cargo at the first and last mile, state-run Container Corporation of India (Concor) has roped in Tata Consultancy Services (TCS) to strengthen its mobile app to facilitate continuous reverse auction for the first time among vendors. An in-house team of Concor is working with TCS on the project. At present, a vendor is selected for a particular area through an open tender process to transport containers from the site of a customer to Concor's loading terminal and similarly another selected vendor transports containers to the delivery location of the receiver after being unloaded at the railway arm's terminating facility.

However, according to VKalyana Rama, chairman and managing director of Concor, while the company is able to do container transportation business and fixed location services at inland transport depots well, there are issues in the end-to-end services. "Since we are a PSU, we need to outsource activity based on open tenders. So one outsource activity requires one vendor. At present we are dependent on the selected vendors for the quality of the service," he said, adding that the company is now changing the method.

Concor already has an app which provides continuous transportation visibility of booked containers to customers. This mobile app is now being upgraded into a complete logistics platform."It will be like any other platform such as Amazon or Uber. So when a customer will put in a requirement, empaneled vendors will get an intimation and will be allowed to put in quotes and there will be a continuous reverse auction process going on at the backend to offer the first and last mile services," said Rama. He added that the quality of service will be continuously monitored.

The lowest bidder among the empaneled vendors will then be awarded the service and the customer will be informed about the logistics provider. According to Rama, once multiple vendors are empaneled through tendering, there will be more competition.

"The customer will get complete logistics solution from door-to-door. However, in the backend every activity will be matched to a vendor who will provide quality service at competitive price. We will monitor the quality service of the vendors constantly," he added.

Concor is aiming to strengthen the app platform as the number of order is high. Last year, it processed 3.5 million twenty feet equivalent unit (TEU) of boxes. Considering that every container goes through at least two activities at each end of the journey by third-party vendors, 7 million outsourcing activity was needed. "So to execute 7 million reverse auctions, a robust platform is needed," said Rama.
Sensex, Nifty end higher for 2nd session on strong fund inflow, firm rupee
Posted on 17th November 2018
The BSE Sensex on Friday continued its rising streak for the second day to end at near a four-week high of 35,436.33, fuelled by gains in Reliance Industries, Bharti Airtel and other bluechips amid continued foreign fund inflows and strengthening rupee.

A higher opening in European shares too influenced sentiments here.
---
---
Relief for Hyundai: Supreme Court stays Rs 420-crore fine
Posted on 17th November 2018
The Supreme Court on Friday stayed the Competition Commission of India's order that imposed over Rs 420-crore penalty on the country's second-largest car maker Hyundai Motors India for anti-trade practices including lack of standardisation of spare parts and allowing original equipment suppliers (OESs) to sell spare parts in the open market without any restrictions.
---
Analyst Corner: Retain 'buy' on Ashok Leyland, target price Rs 135
Posted on 17th November 2018
The EBITDA margin at 10.6% for Q2FY19 missed our/consensus estimates by 60 bps on lower realizations and higher commodity costs. The bigger surprise was resignation of Vinod Dasari with effect from March 31, 2019. Dheeraj Hinduja will take over as the executive Chairman till the Board finds a suitable replacement.We expect FY20 earnings to benefit from a confluence of factors (higher volumes, lower discounts, higher operating leverage) on BS6 pre-buy.
---
GVK Power gets approval to raise Rs 8,000 crore for debt repayment
Posted on 17th November 2018
GVK Power and Infrastructure (GVKPIL) has received the shareholders' approval to raise up to Rs 8,000 crore.

The resolution to raise the funds, by a combination of various options listed on the agenda of the annual general meeting (AGM) held recently, has been passed by the requisite majority, the company said in a BSE filing on Friday.
---
Be the first person to write a business review for Concor ropes in TCS to strengthen mobile app for reverse auction