Concor ropes in TCS to strengthen mobile app for reverse auction
Posted on 10th August 2018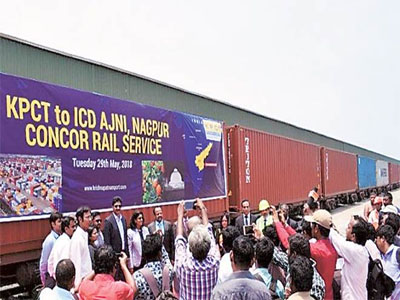 In a bid to improve the quality of services offered by vendors for containerized movement of cargo at the first and last mile, state-run Container Corporation of India (Concor) has roped in Tata Consultancy Services (TCS) to strengthen its mobile app to facilitate continuous reverse auction for the first time among vendors. An in-house team of Concor is working with TCS on the project. At present, a vendor is selected for a particular area through an open tender process to transport containers from the site of a customer to Concor's loading terminal and similarly another selected vendor transports containers to the delivery location of the receiver after being unloaded at the railway arm's terminating facility.

However, according to VKalyana Rama, chairman and managing director of Concor, while the company is able to do container transportation business and fixed location services at inland transport depots well, there are issues in the end-to-end services. "Since we are a PSU, we need to outsource activity based on open tenders. So one outsource activity requires one vendor. At present we are dependent on the selected vendors for the quality of the service," he said, adding that the company is now changing the method.

Concor already has an app which provides continuous transportation visibility of booked containers to customers. This mobile app is now being upgraded into a complete logistics platform."It will be like any other platform such as Amazon or Uber. So when a customer will put in a requirement, empaneled vendors will get an intimation and will be allowed to put in quotes and there will be a continuous reverse auction process going on at the backend to offer the first and last mile services," said Rama. He added that the quality of service will be continuously monitored.

The lowest bidder among the empaneled vendors will then be awarded the service and the customer will be informed about the logistics provider. According to Rama, once multiple vendors are empaneled through tendering, there will be more competition.

"The customer will get complete logistics solution from door-to-door. However, in the backend every activity will be matched to a vendor who will provide quality service at competitive price. We will monitor the quality service of the vendors constantly," he added.

Concor is aiming to strengthen the app platform as the number of order is high. Last year, it processed 3.5 million twenty feet equivalent unit (TEU) of boxes. Considering that every container goes through at least two activities at each end of the journey by third-party vendors, 7 million outsourcing activity was needed. "So to execute 7 million reverse auctions, a robust platform is needed," said Rama.
L&T Construction wins over ₹7,000-crore contract for building major airport
Posted on 18th February 2019
New Delhi: Infrastructure major Larsen & Tourbo (L&T) Monday said its construction arm has won a contract for building a major airport.

The engineering and construction company, however, did not provide the exact value of the contract; but specified that as per its classification, the mega project is in the range of over ₹7,000 crore.
---
Yes Bank shares falls sharply as RBI censures selective disclosure
Posted on 18th February 2019
Mumbai: Yes Bank Ltd. fell after India's central bank reprimanded it for selectively revealing a "confidential" report by the regulator that led to a 30 percent surge in the lender's shares Thursday. The regulator called the disclosure a "deliberate attempt" to mislead the public.
---
Air India Express launches international operations from Surat
Posted on 18th February 2019
Surat: Gujarat's 'diamond city' Surat has made it to the international aviation map with the first Air India Express flight arriving here carrying 75 passengers from Sharjah, the airline said on Sunday.

The maiden Air India Express flight IX 172 from Sharjah touched down atthe Surat airport at 11.30 pm on Saturday with 75 passengers on board the Boeing 737-800 aircraft, the airline said in a statement.
---
Punjab National Bank in better state, but momentum is still soft – reduce holdings
Posted on 18th February 2019
Punjab National Bank (PNB), post three quarters of muted profitability (losses), reported PAT of `2.5 bn in Q3FY19. This was led by better-than-expected asset quality even as business momentum continued to remain soft.

(a) slippages were restricted at sub-Rs 40 bn (3.7%). This, with better recovery, led to dip in GNPL; (b) that said, business momentum continued to be soft (albeit improving), which with sustained NIM pressure restricted core operating profitability; and (c) improved coverage led to dip in NNPL & sequential traction in domestic growth was encouraging.
---
The Tata way: Cyrus Mistry or N Chandrasekaran, it's all about crown jewel TCS
Posted on 18th February 2019
Two years after a change of leadership at the Tata Group, it is abundantly clear that whether it's Cyrus Mistry or Natarajan Chandrasekaran, cleaning up after Ratan Tata is not easy. Today, the sprawling conglomerate is even more about TCS than when Mistry left it.

The software major accounts for 73% or nearly three-fourths of the combined market capitalisation of ten top 10 companies; this share was just 59% in February 2017, when Chandra took over the reins at the group as chairman, Tata Sons.
---
Be the first person to write a business review for Concor ropes in TCS to strengthen mobile app for reverse auction