HPCL, BPCL, Jet Airways gain on fall in oil prices
Posted on 12th July 2018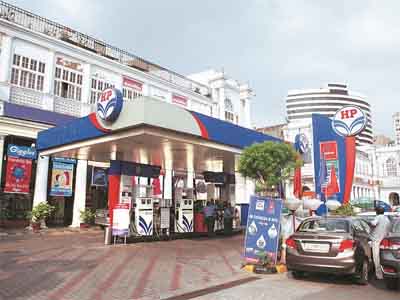 Shares of airlines and oil marketing companies (OMCs) companies were trading higher by up to 5% on the BSE after the Brent Crude recorded its biggest one-day fall in two years on Wednesday.

All three listed OMCs, Hindustan Petroleum Corporation (HPCL), Bharat Petroleum Corporation (BPCL) and Indian Oil Corporation (IOC) were up 3% to 5%. Meanwhile Jet Airways (India), SpiceJet, and InterGlobe Aviation, which runs IndiGo were trading higher in the range of 2% to 5% on the BSE. On comparison, the S&P BSE Sensex was up 0.87% or 316 points at 36,582 at 11:13 am.

"Global benchmark Brent crude oil had its biggest one-day drop in two years on Wednesday as escalating U.S.-China trade tensions threatened to hurt oil demand, and news that Libya would reopen its ports raised expectations of growing supply," the Reuters report suggested.

Lower crude oil prices could reduce under-recoveries of public sector oil marketing companies (PSU OMCs) on domestic sale of LPG and kerosene at controlled prices. The government has already freed pricing of petrol and diesel.

Fuel costs are the biggest expense for airlines. The size of the oil drop means that more of that revenue will end up as profits.
---
Maruti Suzuki feels the heat, loses market share
Posted on 15th November 2018
MUMBAI: It has been a classic case for the Indian passenger vehicle market in the last 5-7 years: if Maruti Suzuki sneezes, the market catches a cold.

So, the overall Indian passenger vehicle market fell into negative category in the quarter ended September with sales falling 3.6% year-on-year to 870,804 when Maruti Suzuki sales dropped 1% to 449,834.
---
Air India eyes Rs 800 crore from sale of over 70 properties
Posted on 15th November 2018
MUMBAI: Loss-making national carrier Air India plans to mop up Rs 700-800 crore by selling over 70 residential and commercial properties spread across the country, a senior airline official said Thursday.

This fresh bid is a part of the airline's real estate assets monetisation plan approved by the then UPA government in 2012.
---
Mary Kom sets eyes on sixth world crown
Posted on 15th November 2018
New Delhi: Home favourite M. C. Mary Kom will look to grab her historic sixth crown when she will begin her campaign at the Aiba Women's World Boxing Championships at the Indira Gandhi Stadium here from Thursday.

The 35-year-old, who will fight in the 48kg, is tied with Katie Taylor on five golds and one more will make her the most successful woman boxer in history since the Irish pugilist is now a Pro.
---
Infosys to hire 500 American techies in Texas
Posted on 15th November 2018
Bengaluru: Tech major Infosys will hire 500 American workers in Texas where the company is setting up a Technology and Innovation Hub, a specialised facility for telecommunications, retail and banking sectors.

Infosys in May 2017 said it would hire 10,000 American workers by 2019 and the company has already hired over 6,200 of them since it made this people announcement.
---
Be the first person to write a business review for HPCL, BPCL, Jet Airways gain on fall in oil prices