Ford is killing the fusion and giving the name to a sport wagon
Posted on 12th July 2018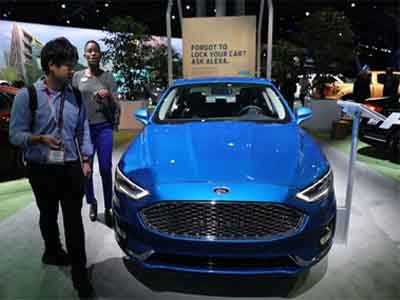 Ford Motor Co. is killing its slow-selling Fusion sedan while keeping the name to affix to a sport wagon it is developing to take on Subaru's popular Outback, according to people familiar with the automaker's plans.

The Fusion name probably will live on when the sedan exits early next decade, according to a spokesman. It will be replaced in the showroom by a high-roofed hatchback built on the same mechanical underpinnings, said two people who asked not to be identified revealing future product plans.

Ford shocked the auto industry -- and many of its dealers -- when it announced plans in April to abandon the shrinking sedan market and go all in on higher-profit sport utility vehicles and pickups. By early next decade, only the Mustang pony car will remain in Ford's U.S. lineup. Worried that customers will defect to rivals, dealers have pushed to retain the Fusion name, which just four years ago was such a strong seller that Ford had to add a second factory of production.

"They spent hundreds of millions of dollars for brand equity in that Fusion name -- not $10 million or $20 million -- but hundreds of millions," said Rhett Ricart, one of Ford's top dealers, whose showroom is near Columbus, Ohio. "The smart thing is to play on that brand equity."

Ford spokesman Mike Levine declined to speculate on the new Fusion's design while confirming "we'll likely continue to use the name because of its awareness, positive imagery and value with consumers."
Trump says India looking at something 'very strong' after Pulwama attack
Posted on 23rd February 2019
Asserting that there is a lot of problems between India and Pakistan, US President Donald Trump has said New Delhi is looking at something "very strong" in the wake of the Pulwama terror attack.

Forty CRPF personnel were killed and five injured on February 14 in one of the deadliest terror attacks in Jammu and Kashmir when a suicide bomber of Pakistan-based terror group Jaish-e-Mohammad (JeM) rammed a vehicle carrying a huge quantity of explosives into their bus in Pulwama district.
---
Pulwama attack: Crackdown on Jamaat-e-Islami J&K, top leaders detained
Posted on 23rd February 2019
Police swooped on Jamaat-e-Islami Jammu and Kashmir members in Kashmir during the intervening night of Friday and Saturday, and detained around two dozen of its cadres, including its chief Abdul Hamid Fayaz, officials said here.

Though police termed the detentions as routine, officials privy to the developments said this is the first major crackdown on the organisation that is part of the Tehreek-e-Hurriyat, a separatist conglomerate.
---
Lok Sabha polls: Lamp lighting and flag planting as Modi woos Indian voters
Posted on 23rd February 2019
Prime Minister Narendra Modi's party will reach out to the 220 million Indians it says directly benefited from his policies, as it seeks to counter growing disenchantment just weeks before elections are due.

The Bharatiya Janata Party will begin its outreach program Feb. 26, when leaders and workers will fan across the country to visit potential voters: from women who receive government-subsidized cooking gas to villagers who availed small, cheap loans under an official credit program.
---
Pulwama attack: Hundreds of Indians protest near Pak consulate in New York
Posted on 23rd February 2019
More than a hundred US-based Indians protested outside the Pakistan consulate in New York on Friday against the terror attack which was carried out by Pakistan-based terror outfit Jaish-e-Mohammed (JeM) on February 14 in South Kashmir's Pulwama.

Waving the tricolour, protesters raised slogans like Pakistan Murdabad, Global terror Pakistan, LeT Pakistan, 9/11 Pakistan, 26/11 Pakistan, Osama bin Laden Pakistan," amongst others.
---
Railways set to launch massive recruitment drive to fill up 131,000 posts
Posted on 23rd February 2019
Indian Railways is set to come out with an IndicativeNotice on Saturday, initiating the process for filling up 131,000 vacancies. The national transporter had recently faced criticism over the timing of the announcement of these vacancies, as the Election Commission expected to come out with a notification for Lok Sabha polls early next month.

The new set of job notification include recruitment of 100,000 staff in Level-1 (erstwhile Group-DCategories) for which online registration would open on March 12. The registration for remaining 30,000 will happen in three tranches. The eligible candidates for the first tranche of recruitments in Non-Technical Popular Categories can do registration of online applications from February 28.
---
Be the first person to write a business review for Ford is killing the fusion and giving the name to a sport wagon