IRCTC orders enquiry into complaint on quality of food in Duronto Express
Posted on 10th July 2018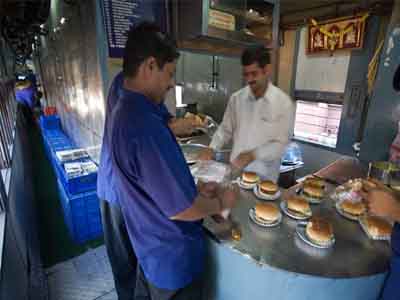 The Railway's food catering arm IRCTC has ordered an enquiry into a complaint by a passenger of the 12246 Yeswantpur-Howrah Duronto Express about the quality of food served to him in the train, an IRCTC official said on Tuesday.

IRCTC Group General Manager (east zone) Debasish Chanda said that there were, however, tweets by at least 23 passengers travelling by the same train that reached Howrah last evening stating that the quality and taste of the food served to them were good.

"The gentleman may not have liked the taste, but the food served to him was definitely not stale," Chanda said.

He said that despite that, an enquiry was ordered immediately after the complaint was lodged on Monday.

IRCTC officials said that the passenger has said that he generally travels in the higher class, but was travelling in the Sleeper class during this journey since he could not get a confirmed ticket in the air-conditioned classes.

This may have led to his not liking the taste of the food served to him in the particular class, an official said.
People assaulting police personnel during COVID-19 lockdown will be booked under NSA, warns UP government
Posted on 3rd April 2020
The Yogi-Adityanath led Uttar Pradesh government on Friday took a strict stance against reports of misbehaviour against police personnel in the state and said that anyone who attacks the police at any place in the state will be booked under the National Security Act (NSA).

A directive issued by the state government, under Chief Minister Yogi Adityanath, read, During the lockdown, strict action will be taken against those who attack the police at any place in the state. They will be booked under the NSA.
---
Amazon Pantry back online, resumes services in Bengaluru, Hyderabad, Pune
Posted on 3rd April 2020
Amazon Pantry, the company's daily essentials store for Prime members, is back online and is accepting orders in a few cities after temporarily shutting down last week due to the lockdown.

It is now serviceable in Bengaluru, Hyderabad and Pune for select pincodes. Pantry offers essentials including food, beverages, household supplies, health and beauty products at discounted rates.
---
'Switch of all lights in your homes for 9 minutes at 9 PM on April 5': PM Modi's appeal to India in video message
Posted on 3rd April 2020
Prime Minister Narendra Modi on Friday addressed the nation through a video message, in which he appealed to the citizens of India to come together to defeat the threat of the coronavirus disease (COVID-19) crisis, that is spreading like wildfire across the nation.

In a unique proposition, the Prime Minister asked every citizen to switch off all lights at their residences on April 5 at 9 PM for nine minutes and instead light a candle, a 'Diya', or their mobile's flashlights to mark India's fight against coronavirus.
---
Tablighi Jamaat patients making lewd gestures at nurses, roaming nude in hospital: Ghaziabad CMO writes to police
Posted on 3rd April 2020
Hours after Delhi government wrote to capital's police commissioner seeking deployment of adequate police force at the quarantine centres and hospital where people who attended the Tablighi Jamaat event in Nizamuddin Markaz have been kept, adjoining Ghaziabad's Chief Medical Officer (CMO) has written to the local police saying that the Jammat attendees have been roaming nude inside the MMG district hospital and making lewd gestures and remarks at the nurses.

In the letter, the CMO said that the inmates who have been put under observation are misbehaving with the hospital staff.
---
960 foreigners linked to Tablighi Jamaat blacklisted, visas cancelled
Posted on 3rd April 2020
Taking stringent action against the Tablighi Jamaat, Nizamuddin, the Centre on Thursday blacklisted 960 foreigners and cancelled their tourist visas after over their involvement in Jamaat activities. The government also said that necessary legal action will be taken against them.

Under the directions of Union Home Minister, Shri Amit Shah, the Ministry of Home Affairs (MHA) has blacklisted 960 foreigners, present in India on tourist visas, for their involvement in Tablighi Jamaat activities, the Ministry of Home Affairs said in an official statement.
---
Be the first person to write a business review for IRCTC orders enquiry into complaint on quality of food in Duronto Express