Mercedes-Benz India management changes: Martin Schwenk to replace Roland Folger as MD & CEO
Posted on 9th July 2018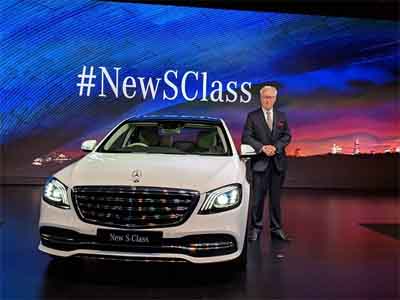 German luxury car maker Mercedes-Benz has announced changed in its top-management and Roland Folger who currently heads the company's operations in India will be replaced by Martin Schwenk starting November 2018. Martin Schwenk is currently the CFO of Mercedes-Benz China operations and will the Managing Director & CEO of Mercedes-Benz India.

Roland Folger is handed over the duties of for Mercedes-Benz's Thailand & Vietnam markets. Mr Folger has been heading Mercedes-Benz India since last 3 years and took charge from Eberhard Kern in 2015. He played a key role in driving in growth for the company and ensured smooth sales even during difficult times (ban of diesel SUVs in Delhi, increase in cess on luxury cars etc). He also ensured timely roll out of new key products like the Mercedes-Benz E-Class Long Wheelbase and it was under his leadership that Mercedes-Benz India sales crossed 15,000 sales milestone.

Roland Folger, Managing Director & CEO, Mercedes-Benz India commented, "My India stint will remain memorable with rich experiences and fond memories. The warmth of our customers and people, the diversity of the country's culture, and the unique business opportunities and challenges that this market presents, is enormous and truly enriching. I am very satisfied with Mercedes-Benz India's strong leadership position in the market and our relentless efforts in creating new benchmark in customer delight." Folger ca e to India from Malaysia and heads back to the south-east Asian markets of Thailand and Vietnam. He further said, "While I am eagerly looking forward to my new assignment, there will be a bit of India always inside me."

Martin Schwenk comes to India after working in China as the CFO of Beijing Mercedes-Benz Sales Service, he has been with Daimler since 1992 and has served for Mercedes-Benz in many countries including Germany, South Africa, Austria and United States. In September 2015, Martin joined the Mercedes-Benz Sales Organization in China as the Chief Financial Officer.

On his appointment in the Indian marker, Martin said that "having worked across in different countries and functions, I am extremely excited for my forthcoming responsibility to head the dynamic India market. India's rich cultural diversity, the young population, the diverse customs, different languages and topography together with its importance as a future economic powerhouse; makes it a compelling market to grow the business. It is a privileged opportunity for me to head the business of the most iconic and successful luxury motoring brand, in one of the most vibrant markets in the region. With my experience across various business divisions, I am looking forward to pursuing the 'Indian story' further and make the foundation of Mercedes-Benz even stronger in India. We have a fantastic winning team comprising our people and investors with proven records, and I am eager to be part of this winning team."
Sensex jumps over 800 points as exit polls suggest NDA's victory
Posted on 20th May 2019
Mumbai: Domestic financial markets cheered exit poll results showed that ruling NDA is likely to will the general Lok Sabha elections on Monday, with the benchmark BSE Sensex skyrocketing over 900 points, and the rupee appreciating 79 paise against the US dollar.

After soaring over 962 in early session, the 30-share index pared some gains and was trading 687.63 points, or 1.81 per cent, higher at 38,618.40. In similar movement, the broader NSE Nifty was trading 203.05 points, or 1.78 per cent, up at 11,610.20.
---
Rupee opens higher at 69.49 per dollar against the previous close of 70.22
Posted on 20th May 2019
The Indian rupee opened higher by 73 paise at 69.49 per dollar on Monday morning against the previous close 70.22 after the exit polls predicted landslide victory for Modi-led Bharatiya Janata Party (BJP) in Lok Sabha elections 2019. The final results will be announced on May 23. The experts said market gains would be kept in check ahead of the vote counting this week on Thursday. The global tensions and foreign investment flows will also drive the rupee besides major event of elections.
---
Trade wars: Google pulls Android from Huawei, deals blow to mobile business
Posted on 20th May 2019
Alphabet Inc.'s Google will cut off the supply of hardware and some software services to Huawei Technologies Co. to comply with a Trump administration crackdown on the Chinese telecoms giant, a person familiar with the matter said.

Huawei will only be able to access the public version of Google's Android mobile operating system, the world's most popular smartphone software. It won't be able to offer proprietary apps and services from Maps and search to Gmail, said the person, who requested anonymity speaking about a private matter.
---
ICICI Prudential Sadvings Fund's 75-80% exposure is in AAA-rated securities
Posted on 20th May 2019
Rohan Maru is the lead manager of the fund and he started managing it in September 2013. Maru has eight years of experience in the daily cash management and liquidity analysis of fixed income funds.

Rahul Goswami continues as co-manager. His role here involves overseeing the investment process and contributing to a macroeconomic view.
---
Sri Lanka marks a decade of the end of civil war
Posted on 18th May 2019
Sri Lanka, still reeling under the scars of the Easter Sunday bomb blasts, Saturday marked 10 years of the end of the nearly brutal civil war between the government and the LTTE even as it came under criticism for failing to ensure justice for the victims.

The Sri Lankan government on May 18, 2009 killed Liberation Tigers of Tamil Eelam ( LTTE) chief Velupillai Prabhakaran in the coastal village of in Mullaittivu,
---
Be the first person to write a business review for Mercedes-Benz India management changes: Martin Schwenk to replace Roland Folger as MD & CEO