Mercedes-Benz India management changes: Martin Schwenk to replace Roland Folger as MD & CEO
Posted on 9th July 2018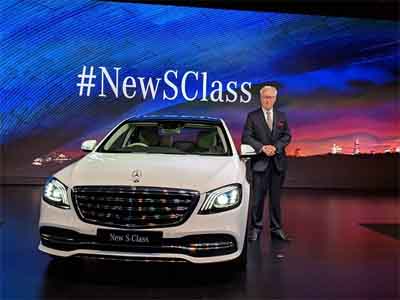 German luxury car maker Mercedes-Benz has announced changed in its top-management and Roland Folger who currently heads the company's operations in India will be replaced by Martin Schwenk starting November 2018. Martin Schwenk is currently the CFO of Mercedes-Benz China operations and will the Managing Director & CEO of Mercedes-Benz India.

Roland Folger is handed over the duties of for Mercedes-Benz's Thailand & Vietnam markets. Mr Folger has been heading Mercedes-Benz India since last 3 years and took charge from Eberhard Kern in 2015. He played a key role in driving in growth for the company and ensured smooth sales even during difficult times (ban of diesel SUVs in Delhi, increase in cess on luxury cars etc). He also ensured timely roll out of new key products like the Mercedes-Benz E-Class Long Wheelbase and it was under his leadership that Mercedes-Benz India sales crossed 15,000 sales milestone.

Roland Folger, Managing Director & CEO, Mercedes-Benz India commented, "My India stint will remain memorable with rich experiences and fond memories. The warmth of our customers and people, the diversity of the country's culture, and the unique business opportunities and challenges that this market presents, is enormous and truly enriching. I am very satisfied with Mercedes-Benz India's strong leadership position in the market and our relentless efforts in creating new benchmark in customer delight." Folger ca e to India from Malaysia and heads back to the south-east Asian markets of Thailand and Vietnam. He further said, "While I am eagerly looking forward to my new assignment, there will be a bit of India always inside me."

Martin Schwenk comes to India after working in China as the CFO of Beijing Mercedes-Benz Sales Service, he has been with Daimler since 1992 and has served for Mercedes-Benz in many countries including Germany, South Africa, Austria and United States. In September 2015, Martin joined the Mercedes-Benz Sales Organization in China as the Chief Financial Officer.

On his appointment in the Indian marker, Martin said that "having worked across in different countries and functions, I am extremely excited for my forthcoming responsibility to head the dynamic India market. India's rich cultural diversity, the young population, the diverse customs, different languages and topography together with its importance as a future economic powerhouse; makes it a compelling market to grow the business. It is a privileged opportunity for me to head the business of the most iconic and successful luxury motoring brand, in one of the most vibrant markets in the region. With my experience across various business divisions, I am looking forward to pursuing the 'Indian story' further and make the foundation of Mercedes-Benz even stronger in India. We have a fantastic winning team comprising our people and investors with proven records, and I am eager to be part of this winning team."
Odisha ups overtime limit for factory workers to 115 hrs a quarter from 75
Posted on 30th May 2020
The Odisha Cabinet on Friday approved as many as 22 proposals including amending the Factories Act, 1948, and allowing the workers to work 115 hours overtime in three months by enhancing the time limit.

The overtime limit is increased from 75 hours to 115 hours per quarter, and now the engagement of women workers will be allowed, with consent, between 7 pm to 6 am in factories with the condition that adequate safety, welfare and security measures and safeguards are taken by the concerned factories as prescribed, read an official statement issued by the Odisha government.
---
Govt is looking at starting home delivery of petrol, CNG: Pradhan
Posted on 30th May 2020
After doorstep delivery of diesel, the government is looking at starting home delivery of petrol and CNG for the greater convenience of customers, Oil Minister Dharmendra Pradhan said on Friday.

Also, the government is looking at unveiling a new fuel retailing model where all types of fuels — petrol, diesel, CNG, LNG and LPG — would be available at one place, he said.
---
Railways running 'Corona Express' in name of Shramik trains, says Mamata
Posted on 30th May 2020
Indian Railways is running Corona Express in the name of Shramik trains, West Bengal Chief Minister Mamata Banerjee said on Friday, alleging that social distancing is not being maintained in the special trains transporting migrant workers and others to their homes.

The law is equal for all but why are all trains running at full capacity? Why is the Railways not maintaining social distancing? Passengers are not being served water and food in the trains, Banerjee said.
---
Maharashtra to announce Covid-19 relief package soon: Deputy CM Ajit Pawar
Posted on 30th May 2020
Deputy Chief Minister Ajit Pawar on Friday said that the Maharashtra government will announce a package soon to deal with the situation arising out due to coronavirus (Covid-19) outbreak.

We will get to know about further plans for a lockdown of the Centre through the Prime Minister. I feel that the Prime Minister now will leave it on states because everything is shut for the last two-and-a-half-months. Schools, colleges, business and jobs are shut and hence, there is an economic crisis today, Pawar said.
---
COVID-19 tally in India crosses 1.73 lakh-mark, nearly 5,000 deaths; highest spike of 7,964 cases in 24 hours
Posted on 30th May 2020
The total number of confirmed cases of COVID-19 infection in India crossed the 1.73 lakh-mark on Monday, while the death toll neared the 5,000-mark as well. At 9:30 AM on this day, the COVID-19 tally in the country has reached 1,73,763 cases, which includes 86,422 active cases; 82,370 cured, discharged, or migrated patients, and 4,971 deaths.

According to the Union Ministry of Health and Family Welfare, as many as 7,964 new COVID-19 cases and 265 deaths were reported in the country in the last 24 hours, marking a significant spike. In fact, this is the highest spike in India's COVID-19 tally so far.
---
Be the first person to write a business review for Mercedes-Benz India management changes: Martin Schwenk to replace Roland Folger as MD & CEO