Volvo cars to beat Audi, BMW, Mercedes to make hybrid cars in India
Posted on 5th July 2018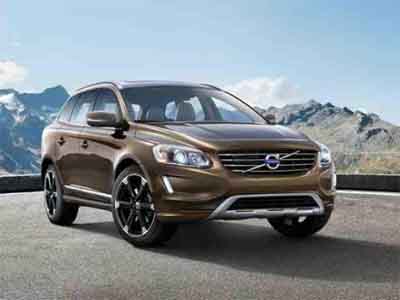 Volvo Cars is just not betting big on hybrid and electric cars globally but has also given some real good thoughts on bringing in hybrid and electric vehicles in India soon. Volvo Cars India confirmed that it will start local assembly of its plug-in hybrid Volvo XC90 Excellence from its Bengaluru plant in order to stay ahead of its target to sell 1 million hybrid/electric cars by 2025 worldwide. The other big news at the launch of Volvo XC40 SUV was that its elder sibling, Volvo XC60 will be locally manufactured from its Bengaluru plant. Volvo XC60 SUV sits between the XC40 and XC90 SUVs and was launched in India about 6 months back. Currently, Volvo XC60 SUV is already on sale in India and has had a successfull run for the company in 2018.

With the local made Volvo XC60 SUV, the company is in line with PM Modi's Make-in-India campaign with three of its products being locally made including Volvo XC90, Volvo S90 and Volvo XC60. Volvo Cars India has invested heavlily to assemble its cars and SUVs based on Scalable Product Architecture (SPA) platform. Volvo XC40 is based on the company's new CMA platform and in the near future expect the Swedish carmaker to invest further for locally made Volvo XC40 in India.

Volvo says that from 2019 every new model will feature an all-electric variant and the company will not hold back electric cars from the Indian market. The company's long-ter strategy is aimed at electric cars/SUVs. "We need to be ready in India just as we need to be ready anywhere else in the world," said Charles Frump.

Volvo XC90 plug-in hybrid Excellence trim is already on sale in India and costs about Rs 1.30 crore and is the only plug-in hybrid SUV on sale in India. Volvo says it expects about 50% of its sales to come from fully electric vehicles by 2025. India will play a crucial role for Volvo Cars to achiece its global 1 million electric vehicle sales target in next 7 years. Localisation of XC90 plug-in hybrid is indeed a big step by the company.

A plug-in hybrid electric vehicle runs on both an an internal combustion engine (ICE) and also gets an electric motor which is powered by a battery that requires charging.

Volvo XC60 is the third product based on SPA platform to be assembled in India and this will bring company's CKD columes to around 50% of its total sales. Volvo XC60 has contributed to over 25% of Volvo's total sales in India. In the first 6 months of 2018 (Jan-June 2018) the company has already sold over 3.17 lakh cars globally.
Air India pilot grounded for three months after failing alcohol test
Posted on 15th July 2019
New Delhi: An Air India pilot has been grounded for three months after he tested positive in a pre-flight breath analyser (BA) test here on Saturday.

The pilot wanted to fly as a passenger from Delhi to Bengaluru. Since the flight was full, he requested to fly in the cockpit as an additional crew member.
---
Amazon's $700 million training pledge is actually a bargain
Posted on 15th July 2019
New York: Amazon.com Inc. is amazing at turning mundane corporate management decisions into global news events.

Many retailers host annual sale events. But Amazon "celebrates" Prime Day. Many chief executives write notes to their shareholders. But Jeff Bezos pens annual letters with "lessons" and "principle themes" and "important words" to behold. Many companies open satellite offices.
---
Suzuki's next electric vehicle in India could be based on Ertiga
Posted on 15th July 2019
NEW DELHI: Suzuki Motor Corp. plans to tap the popular multipurpose vehicle Ertiga to build its second electric vehicle for India, said two people directly aware of the development, as global automakers accelerate efforts to sell more eco-friendly vehicles in a country that is home to some of the world's most polluted cities.
---
NZ vs ENG: Cricket World Cup 2019 | Kiwi fans on the outer for thrilling cricket finale
Posted on 15th July 2019
New Zealand cricket fans watched the Black Caps succumb to England in a nerve-shredding Cricket World Cup final Monday, but the country's sports bars were closed as the match reached its climax.

The match was played in the dead of night in New Zealand, starting at 10:15 pm on Sunday and ending around 6:30 am on Monday when the Black Caps lost in the final ball of an extra-time Super Over.
---
Amazon, Flipkart not on Mukesh Ambani's radar; Reliance Jio readies platform to wire kirana stores
Posted on 15th July 2019
Reliance Jio, which has plans to foray into e-commerce, will not be taking on the likes of Flipkart and Amazon, at least initially. Instead, the company's first project on which pilots have started is to build a B2B platform targeted at merchants who run grocery, fruits and vegetable stores in the neighbourhood markets. The company has termed it 'Hybrid Online-to-Offline' platform. At a later stage, this B2B platform would be connected to the MyJio app and thus provide the B2C interface also.
---
Be the first person to write a business review for Volvo cars to beat Audi, BMW, Mercedes to make hybrid cars in India