Reliance Industries hits new high, gains 10% in 3 weeks
Posted on 14th June 2018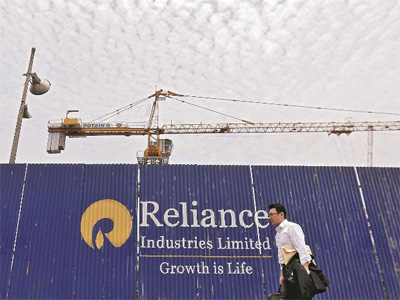 Reliance Industries (RIL) hit a new high of Rs 1,011.70 up 1% on the BSE in noon deal, surpassing its previous high of Rs 1010.70 recorded on April 27, 2018 in intra-day trade.
In past three weeks, RIL has outperformed the market by surging 10% as compared to 4% rise in the S&P BSE Sensex.

Thus far in the financial year 2018-19 (FY19), the stock was up 14% against 8% surged in benchmark index. In entire FY18, RIL had rallied 34% against 11% gained in the benchmark index.

RIL's consolidated annual revenues in FY18 grew significantly at 30.5% over FY17 to Rs 4,307 billion with a net profit of Rs 361 billion as against Rs 298 billion, an upside of 21% over the previous year.

"The healthy performance can primarily be attributed to a strong execution in the petrochemicals, refining and its flagship digital services business. The robust performance from the retail business has also contributed to the company's sturdy achievement. The company's petrochemical business has surpassed the refining business in terms of EBIT and EBIT margins supported by higher realization for the products along with improved volumes from the refinery off-gas cracker (ROGC) cracker," analysts at KR Choksey Shares and Securities said in result update.

The brokerage firm believes that RIL has now neared the completion of its 3-lakh crore capital expenditure cycle and these investments will now begin to deliver by way of improved margins and boosted cash flows. The ROGC cracker has been fully stabilized in this quarter which will help to produce high value polymer derivatives from low-cost fossil fuels resulting in lower feed stock costs for the company. In addition, the petcoke gasification project complimented by the rise in the crude prices will further help to improve the company's financial performance.

Nevertheless, with the telecom (Jio business) segment exhibiting a secured performance for the quarter, we expect the segments financials to improve further due to its growing popularity, increasing market share, highly competitive price tariffs and a strong operating leverage, it added. The brokerage firm recommends BUY rating on the stock with the target price of Rs 1,442/share based on SOTP methodology.

At 02:21 pm; RIL was trading 0.80% higher at Rs 1,010 on the BSE, as compared to 0.4% decline in the S&P BSE Sensex. A combined 3.97 million shares changed hands on the counter on the BSE and NSE so far.
L&T buys shares of Mindtree worth Rs44 crore through open market
Posted on 23rd May 2019
MUMBAI: Construction major L&T on Thursday bought shares worth about ₹44.16 crore of Mindtree through open market transactions.

According to the bulk deal data available with the NSE, the firm bought over 0.45 million shares, at an average price of ₹979.91 a share.
---
Paytm Payment bank turns profitable: Reports net profit of Rs 19 crore in FY19
Posted on 23rd May 2019
Paytm Payments Bank Limited (PPB) Thursday said it has turned profitable within its second year of operation, reporting a profit of Rs 19 crore for the financial year 2018-2019. PPBL claimed to lead mobile banking transactions with over 19 per cent market share as of March 2019.

"Nearly a third of the total mobile banking transactions in India are powered by PPB and it processes over Rs 3 lakh crore worth of digital transactions on an annualised basis," the company said in a statement.
---
NSE gets interim relief from SAT in co-location case
Posted on 23rd May 2019
The Securities Appellate Tribunal (SAT) on Wednesday stayed Sebi rulings that directed the National Stock Exchange to disgorge profits of over Rs 625 crore in the co-location case.

However, the tribunal directed the bourse to deposit Rs 625 crore with Sebi in two weeks. The exchange would have to continue to deposit revenues from the co-location facility to an escrow account.
---
Rupee rises 26 paise to 69.40/USD in early trade ahead of Lok Sabha elections outcome
Posted on 23rd May 2019
The rupee appreciated by 26 paise to 69.40 against the US dollar in opening trade Thursday, as counting of votes for the seven-phase Lok Sabha elections began across the country.

The counting exercise is on in over 4,000 counting centres. Most of the exit polls have predicted that the BJP-led National Democratic Alliance (NDA) is on course to retain power for a second term.
---
Hulst BV acquires additional 98,100 shares in NIIT Technologies
Posted on 23rd May 2019
New Delhi: Hulst BV has acquired additional 98,100 shares of NIIT Technologies from the open market, taking its shareholding in the mid-sized Indian IT firm to 32.04 per cent, a regulatory filing said on Thursday.

On Wednesday, Hulst BV had acquired 1.23 lakh shares of NIIT Technologies taking its shareholding in the company to 31.88 per cent.
---
Be the first person to write a business review for Reliance Industries hits new high, gains 10% in 3 weeks