Reliance Industries hits new high, gains 10% in 3 weeks
Posted on 14th June 2018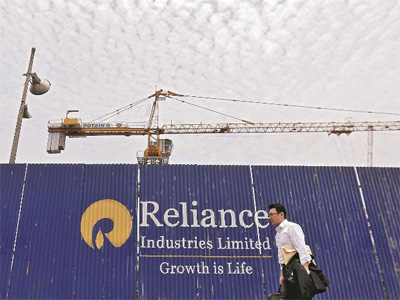 Reliance Industries (RIL) hit a new high of Rs 1,011.70 up 1% on the BSE in noon deal, surpassing its previous high of Rs 1010.70 recorded on April 27, 2018 in intra-day trade.
In past three weeks, RIL has outperformed the market by surging 10% as compared to 4% rise in the S&P BSE Sensex.

Thus far in the financial year 2018-19 (FY19), the stock was up 14% against 8% surged in benchmark index. In entire FY18, RIL had rallied 34% against 11% gained in the benchmark index.

RIL's consolidated annual revenues in FY18 grew significantly at 30.5% over FY17 to Rs 4,307 billion with a net profit of Rs 361 billion as against Rs 298 billion, an upside of 21% over the previous year.

"The healthy performance can primarily be attributed to a strong execution in the petrochemicals, refining and its flagship digital services business. The robust performance from the retail business has also contributed to the company's sturdy achievement. The company's petrochemical business has surpassed the refining business in terms of EBIT and EBIT margins supported by higher realization for the products along with improved volumes from the refinery off-gas cracker (ROGC) cracker," analysts at KR Choksey Shares and Securities said in result update.

The brokerage firm believes that RIL has now neared the completion of its 3-lakh crore capital expenditure cycle and these investments will now begin to deliver by way of improved margins and boosted cash flows. The ROGC cracker has been fully stabilized in this quarter which will help to produce high value polymer derivatives from low-cost fossil fuels resulting in lower feed stock costs for the company. In addition, the petcoke gasification project complimented by the rise in the crude prices will further help to improve the company's financial performance.

Nevertheless, with the telecom (Jio business) segment exhibiting a secured performance for the quarter, we expect the segments financials to improve further due to its growing popularity, increasing market share, highly competitive price tariffs and a strong operating leverage, it added. The brokerage firm recommends BUY rating on the stock with the target price of Rs 1,442/share based on SOTP methodology.

At 02:21 pm; RIL was trading 0.80% higher at Rs 1,010 on the BSE, as compared to 0.4% decline in the S&P BSE Sensex. A combined 3.97 million shares changed hands on the counter on the BSE and NSE so far.
SEBI COMES OUT WITH LIST OF 1,677 DEFAULTERS
Posted on 14th August 2018
As many as 1,677 entities, including individuals, failed to pay penalties imposed by Sebi till the end of May, according to the regulator.

The list of defaulters as on May 31, 2018 "for non-payment of penalty imposed by Sebi through orders passed up to December 31, 2017" has been published on the regulator's website on Monday.
---
SBI shares continue to fall; down over 3 per cent
Posted on 14th August 2018
New Delhi: Shares of State Bank of India continued to fall for the second straight session on Monday, dropping over 3 per cent after the lender reported a hefty loss of Rs 4,876 crore for the June quarter.

The stock went down 3.17 per cent to end at Rs 294.80 on BSE. Intra-day, it slumped 4.15 per cent to Rs 291.80. At NSE, shares of the company fell 2.54 per cent to close at Rs 296.70.
---
Bitcoin slips below $6,000 to lowest since June as almost every other crypto nosedives
Posted on 14th August 2018
Bitcoin dropped below $6,000 and dozens of smaller digital tokens tumbled as this month's selloff in cryptocurrencies showed few signs of letting up. The largest digital currency fell as much as 6.2 percent to $5,887 as of 10:44 a.m. in Hong Kong, the lowest level since June, according to Bloomberg composite pricing. Ether sank 12 percent, while all but one of the 100 biggest cryptocurrencies tracked by Coinmarketcap.com recorded declines over the past 24 hours.
---
Debit cards: Paytm rules the roost in the virtual world but lags in real life
Posted on 14th August 2018
Given how every depositor gets a digital debit card, Paytm Payments Bank has in less than a year of its launch notched up a large outstanding debit card user base.

Reserve Bank of India (RBI) data show the mobile wallet-to-payments bank entity had 39.12 million outstanding debit cards at the end of May.
---
Air India says yet to receive equity infusion from government
Posted on 14th August 2018
National carrier Air India on Monday said it is yet to receive the equity infusion from the government to meet its working capital requirements after an airline's pilots' body claimed grounding of several aircraft due to lack of funds.

"There is no money for spares and maintenance of these aircraft. Some of them have been grounded for the last three months.
---
Be the first person to write a business review for Reliance Industries hits new high, gains 10% in 3 weeks