Haze engulfs Delhi-NCR as air quality reaches 'hazardous' level
Posted on 14th June 2018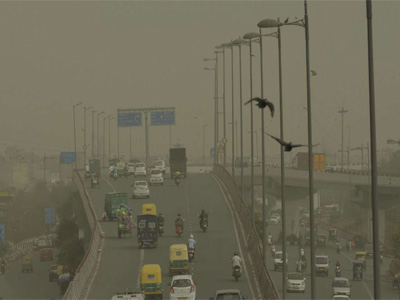 A thick blanket of haze continued to envelop Delhi and parts of the National Capital Region (NCR) on Thursday with the air quality remaining in 'poor' to 'hazardous' category.

Visuals from Rajpath in Central Delhi showed dust and haze hovering over the sky with visibility remaining very low.

In the morning on Thursday, Air Quality Index at RK Puram, Mandir Marg, Dwarka, Punjabi Bagh and ITO monitoring stations remained in 'hazardous' category. The RK Puram monitoring station showed that PM10 (particulate matter 10-particles with a diameter less than 10mm) had reached the highest level of 999. PM2.5 was recorded 199 around 8 am.

On Mandir station, while PM2.5 was 190, PM10 was seen at 770.

The Air Quality in Lodhi Road area also remained in poor' category with PM10 spiking to 262.

The Environment Ministry on Wednesday said that the dusty conditions were a fallout of dust storms from Rajasthan. It predicted that the condition is likely to prevail over the next three days.

High pollution levels in Delhi are mainly due to the dust storms from the desert state, the ministry said after air quality in the national capital deteriorated beyond "severe" level on Wednesday.

It has also alerted major construction agencies, municipal corporations and Delhi Pollution Control Committee (DPCC) to ensure water sprinkling, and asked Delhi's Chief Secretary to issue appropriate instructions in the matter to the agencies concerned.

The Central Pollution Control Board (CPCB) also convened an urgent meeting of the Task Force regarding implementation of Graded Response Action Plan (GRAP) today and issued necessary directions to contain local dust sources.

The air quality in Delhi deteriorated beyond the "severe" level because of a ground-level dust storm in western India which increased coarser particles in the air, the Central Pollution Control Board data showed.

The CPCB said the pollution of this season was very different from that of last year. In November last year, both PM2.5 and PM10 had spiked which was posing serious health hazard. However, the current increase in levels of pollution is mainly due to drastic increase in coarse particles in air which has caused a spike in PM10 level but PM2.5 is not as high as that of last year.
L&T buys shares of Mindtree worth Rs44 crore through open market
Posted on 23rd May 2019
MUMBAI: Construction major L&T on Thursday bought shares worth about ₹44.16 crore of Mindtree through open market transactions.

According to the bulk deal data available with the NSE, the firm bought over 0.45 million shares, at an average price of ₹979.91 a share.
---
Paytm Payment bank turns profitable: Reports net profit of Rs 19 crore in FY19
Posted on 23rd May 2019
Paytm Payments Bank Limited (PPB) Thursday said it has turned profitable within its second year of operation, reporting a profit of Rs 19 crore for the financial year 2018-2019. PPBL claimed to lead mobile banking transactions with over 19 per cent market share as of March 2019.

"Nearly a third of the total mobile banking transactions in India are powered by PPB and it processes over Rs 3 lakh crore worth of digital transactions on an annualised basis," the company said in a statement.
---
NSE gets interim relief from SAT in co-location case
Posted on 23rd May 2019
The Securities Appellate Tribunal (SAT) on Wednesday stayed Sebi rulings that directed the National Stock Exchange to disgorge profits of over Rs 625 crore in the co-location case.

However, the tribunal directed the bourse to deposit Rs 625 crore with Sebi in two weeks. The exchange would have to continue to deposit revenues from the co-location facility to an escrow account.
---
Rupee rises 26 paise to 69.40/USD in early trade ahead of Lok Sabha elections outcome
Posted on 23rd May 2019
The rupee appreciated by 26 paise to 69.40 against the US dollar in opening trade Thursday, as counting of votes for the seven-phase Lok Sabha elections began across the country.

The counting exercise is on in over 4,000 counting centres. Most of the exit polls have predicted that the BJP-led National Democratic Alliance (NDA) is on course to retain power for a second term.
---
Hulst BV acquires additional 98,100 shares in NIIT Technologies
Posted on 23rd May 2019
New Delhi: Hulst BV has acquired additional 98,100 shares of NIIT Technologies from the open market, taking its shareholding in the mid-sized Indian IT firm to 32.04 per cent, a regulatory filing said on Thursday.

On Wednesday, Hulst BV had acquired 1.23 lakh shares of NIIT Technologies taking its shareholding in the company to 31.88 per cent.
---
Be the first person to write a business review for Haze engulfs Delhi-NCR as air quality reaches 'hazardous' level