Haze engulfs Delhi-NCR as air quality reaches 'hazardous' level
Posted on 14th June 2018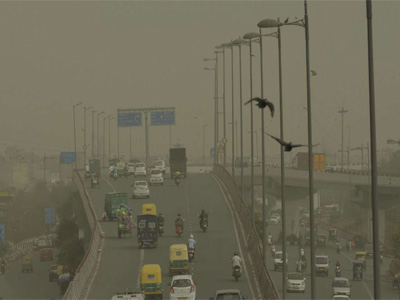 A thick blanket of haze continued to envelop Delhi and parts of the National Capital Region (NCR) on Thursday with the air quality remaining in 'poor' to 'hazardous' category.

Visuals from Rajpath in Central Delhi showed dust and haze hovering over the sky with visibility remaining very low.

In the morning on Thursday, Air Quality Index at RK Puram, Mandir Marg, Dwarka, Punjabi Bagh and ITO monitoring stations remained in 'hazardous' category. The RK Puram monitoring station showed that PM10 (particulate matter 10-particles with a diameter less than 10mm) had reached the highest level of 999. PM2.5 was recorded 199 around 8 am.

On Mandir station, while PM2.5 was 190, PM10 was seen at 770.

The Air Quality in Lodhi Road area also remained in poor' category with PM10 spiking to 262.

The Environment Ministry on Wednesday said that the dusty conditions were a fallout of dust storms from Rajasthan. It predicted that the condition is likely to prevail over the next three days.

High pollution levels in Delhi are mainly due to the dust storms from the desert state, the ministry said after air quality in the national capital deteriorated beyond "severe" level on Wednesday.

It has also alerted major construction agencies, municipal corporations and Delhi Pollution Control Committee (DPCC) to ensure water sprinkling, and asked Delhi's Chief Secretary to issue appropriate instructions in the matter to the agencies concerned.

The Central Pollution Control Board (CPCB) also convened an urgent meeting of the Task Force regarding implementation of Graded Response Action Plan (GRAP) today and issued necessary directions to contain local dust sources.

The air quality in Delhi deteriorated beyond the "severe" level because of a ground-level dust storm in western India which increased coarser particles in the air, the Central Pollution Control Board data showed.

The CPCB said the pollution of this season was very different from that of last year. In November last year, both PM2.5 and PM10 had spiked which was posing serious health hazard. However, the current increase in levels of pollution is mainly due to drastic increase in coarse particles in air which has caused a spike in PM10 level but PM2.5 is not as high as that of last year.
SEBI COMES OUT WITH LIST OF 1,677 DEFAULTERS
Posted on 14th August 2018
As many as 1,677 entities, including individuals, failed to pay penalties imposed by Sebi till the end of May, according to the regulator.

The list of defaulters as on May 31, 2018 "for non-payment of penalty imposed by Sebi through orders passed up to December 31, 2017" has been published on the regulator's website on Monday.
---
SBI shares continue to fall; down over 3 per cent
Posted on 14th August 2018
New Delhi: Shares of State Bank of India continued to fall for the second straight session on Monday, dropping over 3 per cent after the lender reported a hefty loss of Rs 4,876 crore for the June quarter.

The stock went down 3.17 per cent to end at Rs 294.80 on BSE. Intra-day, it slumped 4.15 per cent to Rs 291.80. At NSE, shares of the company fell 2.54 per cent to close at Rs 296.70.
---
Bitcoin slips below $6,000 to lowest since June as almost every other crypto nosedives
Posted on 14th August 2018
Bitcoin dropped below $6,000 and dozens of smaller digital tokens tumbled as this month's selloff in cryptocurrencies showed few signs of letting up. The largest digital currency fell as much as 6.2 percent to $5,887 as of 10:44 a.m. in Hong Kong, the lowest level since June, according to Bloomberg composite pricing. Ether sank 12 percent, while all but one of the 100 biggest cryptocurrencies tracked by Coinmarketcap.com recorded declines over the past 24 hours.
---
Debit cards: Paytm rules the roost in the virtual world but lags in real life
Posted on 14th August 2018
Given how every depositor gets a digital debit card, Paytm Payments Bank has in less than a year of its launch notched up a large outstanding debit card user base.

Reserve Bank of India (RBI) data show the mobile wallet-to-payments bank entity had 39.12 million outstanding debit cards at the end of May.
---
Air India says yet to receive equity infusion from government
Posted on 14th August 2018
National carrier Air India on Monday said it is yet to receive the equity infusion from the government to meet its working capital requirements after an airline's pilots' body claimed grounding of several aircraft due to lack of funds.

"There is no money for spares and maintenance of these aircraft. Some of them have been grounded for the last three months.
---
Be the first person to write a business review for Haze engulfs Delhi-NCR as air quality reaches 'hazardous' level