B.S. Yeddyurappa sworn in as Karnataka chief minister
Posted on 17th May 2018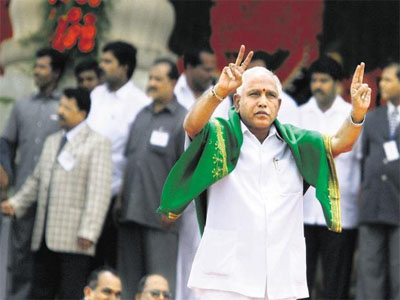 Bharatiya Janata Party's (BJP's) B.S. Yeddyurappa sworn in as Karnataka chief minister on Thursday, after a four-hour, post-midnight Supreme Court on a Congress-JD(S) petition that sought to quash his candidature.

The Supreme Court made it clear that the swearing-in and the government formation would be subject to its final order on the Congress-JD(S) petition before it. Yeddyurappa still has to prove the BJP's majority in the assembly.

The Karnataka election results declared Tuesday threw up a fractured mandate. The BJP has won 104 seats, the Congress 78 and JD(S) 37. One seat each went to the Bahujan Samaj Party (BSP), Karnataka Pragnyavantha Janatha Party and an independent candidate.
We do not share user data with third-parties or government, says Paytm
Posted on 26th May 2018
Digital payments company Paytm today said it does not share data of its users with any third-party or government. "We never share your (user) data with anyone: any company/ any government or any country. At Paytm, your data is yours. Not ours, or of a third party, or of the government," Paytm said in a blogpsot today. It added that its policy allows only legally-compliant data requests from the law of the land to get access to data for necessary investigations.
---
After Facebook, Microsoft is building tool to spot bias in AI algorithms
Posted on 26th May 2018
After Facebook announced its own tool to detect bias in an algorithm earlier this month, a new report suggests that Microsoft is also building a tool to automate the identification of bias in a range of different Artificial Intelligence (AI) algorithms.

The Microsoft tool has the potential to help businesses make use of AI without inadvertently discriminating against certain groups of people, MIT Technology Review reported on Friday.
---
Google, Facebook face over $9 bn in fines under new EU data protection law
Posted on 26th May 2018
Withing hours of the European Union's (EU) General Data Protection Regulation (GDPR) taking effect on Friday, technology giants Google and Facebook have been hit with privacy complaints that could carry fines of up to $9.3 billion in total, a media report said.

With regard to privacy, Google, Facebook and Facebook-owned WhatsApp and Instagram are forcing people to adopt a "take it or leave it" approach which essentially amounts to demanding that users submit to intrusive terms of service, according to the the Austrian privacy-advocacy group Noyb.eu, CNET reported on Friday.
---
TCS hits a milestone
Posted on 26th May 2018
Mumbai: Shares of Tata Consultancy Services on Friday attained a milestone when its market valuation briefly crossed the Rs 7-lakh crore mark. The country's largest IT services company becomes the first listed firm to achieve this level.

During intra-day trades, the market valuation of TCS rose to Rs 7,03,309 crore. This came after its share hit a new 52-week high of Rs 3,674.
---
BSE IT index emerges best performer in CY18
Posted on 26th May 2018
With S&P Bombay Stock Exchange (BSE) Sensex returning merely 2.55% returns since the beginning of the year in addition to weaker performance of other indices, S&P BSE Information Technology (IT) index has emerged as the best performing index. Analysts say stronger dollar, increased digital spending, strong results and reduced external factors around immigration have resulted in the rally of IT stocks.
---
Be the first person to write a business review for B.S. Yeddyurappa sworn in as Karnataka chief minister