B.S. Yeddyurappa sworn in as Karnataka chief minister
Posted on 17th May 2018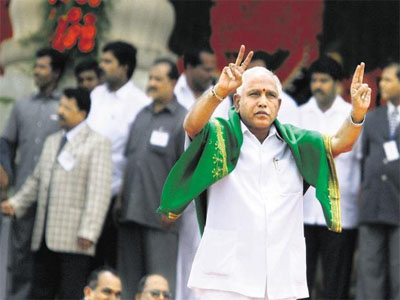 Bharatiya Janata Party's (BJP's) B.S. Yeddyurappa sworn in as Karnataka chief minister on Thursday, after a four-hour, post-midnight Supreme Court on a Congress-JD(S) petition that sought to quash his candidature.

The Supreme Court made it clear that the swearing-in and the government formation would be subject to its final order on the Congress-JD(S) petition before it. Yeddyurappa still has to prove the BJP's majority in the assembly.

The Karnataka election results declared Tuesday threw up a fractured mandate. The BJP has won 104 seats, the Congress 78 and JD(S) 37. One seat each went to the Bahujan Samaj Party (BSP), Karnataka Pragnyavantha Janatha Party and an independent candidate.
RIP Atal Bihari Vajpayee: BJP icon passes away; PM Narendra Modi says it's personal loss
Posted on 16th August 2018
RIP Atal Bihari Vajpayee: Former Prime Minister and BJP leader Atal Bihari Vajpayee passed away on Thursday at Delhi's AIIMS. The BJP stalwart breathed his last at around 5 PM. He was on life support system since Wednesday as his condition remained critical. The 93-year-old BJP leader, a diabetic, had one functional kidney. He had suffered a stroke in 2009 that weakened his cognitive abilities. Subsequently, he developed dementia.
---
Mercedes-Benz to hike prices by up to 4% in September
Posted on 16th August 2018
German luxury carmaker Mercedes-Benz today said it will hike prices of its vehicles across models by up to 4 per cent from September to offset adverse impacts of rising input costs and upward forex movement.

The rising inflation due to geo-political dynamics, coupled with rising input costs and increasing forex rates has been exerting significant pressure on overall operations, Mercedes-Benz India said in a statement.
---
GOVT SANCTIONS 500 POSTS FOR FSSAI
Posted on 16th August 2018
With food regulator FSSAI facing manpower shortage, the government has sanctioned an additional 493 posts for the authority to discharge its responsibility effectively for ensuring safe and nutritious food to people.

The Food Safety and Standards Authority of India (FSSAI), which currently has 356 sanctioned posts, will now be able to conduct food safety inspections, besides law enforcement for central licensees directly instead of being fully dependent on the states.
---
TELECOM COMM TO DISCUSS TRAI'S PROPOSAL FOR SPECTRUM ALLOCATION
Posted on 16th August 2018
The Telecom Commission, apex decision making body at the telecom department, is likely to meet on August 31 to discuss Trai's recommendation on spectrum allocation, according to official sources.

"The next Telecom Commission meeting is proposed for August 31," an official source said without disclosing agenda of the meeting.
---
Maruti Suzuki hikes prices by up to 6,100
Posted on 16th August 2018
New Delhi: Country's largest carmaker Maruti Suzuki India (MSI) on Thursday hiked prices of its vehicles by up to 6,100 in order to partially offset increase in commodity and distribution costs and adverse foreign exchange rates.

The price change varies across models and is up to 6,100 (ex-showroom Delhi), the company said in a statement.
---
Be the first person to write a business review for B.S. Yeddyurappa sworn in as Karnataka chief minister