L&T, BrahMos unveil naval launcher
Posted on 9th May 2018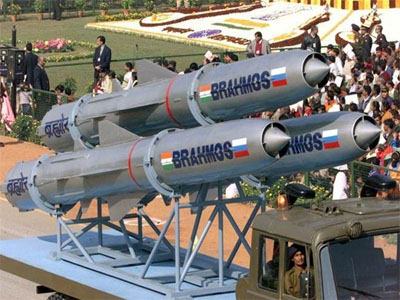 Mumbai: Larsen & Toubro (L&T) and BrahMos Aerospace have unveiled a new quad launcher prototype, heralding another attempt to boost the performance of naval warships.

The new prototype provides superior firepower compared to the twin canister and has the capability to launch four missiles in a single or salvo (simultaneous) mode. Besides, the quad launcher is suitable for warships which have space constraints to accommodate a vertical launch module.

The quad launcher, which was unveiled after conducting rigorous trials, will hit production once the Navy confirms an order. In that case, the quad launcher will be ready for deployment on naval ships within 18 months, said Jayant Patil, head of L&T's defence business. The quad launcher will be manufactured at L&T's Pune facility. The $17-billion engineering and construction giant has been associated with BrahMos, a joint venture between Defence Research and Development Organisation (DRDO) and NPO Mashinostroyenia of Russia, for the development of naval missile programme since 2000.

L&T has been upping its stake on the country's defence market after the government announced plans to cut down dependence on foreign military arms that has made India the world's top importer in the sector. Currently, defence accounts for nearly 4% of L&T's revenues.
---
Govt won't share limited Iran oil with private refiners: Sources
Posted on 16th January 2019
India will not share the limited supply of Iranian crude allowed under a U.S. waiver from sanctions with private refiners, according to people with knowledge of the matter. That is a departure from the earlier practice of splitting exempted volumes.

The government has asked its four state refiners led by Indian Oil Corp. to share the entire 9 millions barrels of Iranian oil available every month under a 180-day waiver from U.S. sanctions, the people said, asking not to be identified.
---
Indiabulls Integrated up 5% as arm gets preliminary nod from IRDAI
Posted on 16th January 2019
Shares of Indiabulls Integrated have locked in the upper circuit of 5 per cent at Rs 332 apiece on the BSE after the company announced that Indiabulls Life Insurance Company got the preliminary nod from Insurance Regulatory and Development Authority of India (IRDAI).

"The Company's wholly owned subsidiary, 'Indiabulls Life Insurance Company Limited' has received regulatory R1 acceptance from Insurance Regulatory and Development Authority of India (IRDAI) for its proposed life insurance business," Indiabulls Integrated Services said in a regulatory filing.
---
Rupee opens flat at 71.06 against US dollar
Posted on 16th January 2019
The rupee opened 1 paisa lower at 71.06 against US dollar on Wednesday. In the previous session, the domestic unit declined 13 paise to close at one-month low of 71.05 amid strengthening greenback and surging crude oil prices.

It was the third straight session of loss for the rupee. The domestic currency on Monday plunged by 43 paise to close at nearly one-month low of 70.92 against the US dollar.
---
India Oil demand rises from 4-year low as cash ban impact fades
Posted on 12th January 2019
India's oil demand growth in 2018 rebounded from the slowest pace in four years as the country recovered from the shock of a cash ban and the roll out of a national sales tax.

The nation's consumption of petroleum products rose 4.1 percent to about 210 million tons, the Oil Ministry's Petroleum Planning and Analysis Cell said Friday. Growth improved from the preceding year's 2.7 percent expansion, the slowest pace since 2013, as consumption was severely affected by a cash ban that crippled economic activity.
---
Be the first person to write a business review for L&T, BrahMos unveil naval launcher