Amazon's India vendors can now tap business clients in US, Europe and Japan
Posted on 4th April 2018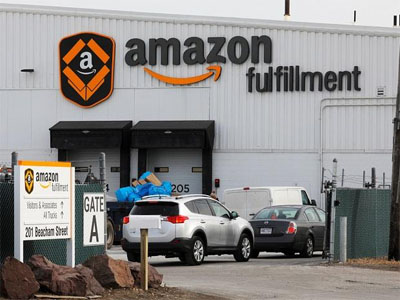 Amazon, the US-based online retail giant, has expanded its global selling programme in India by enabling its local sellers to tap business clients in markets of the US, Europe and Japan. Even though Amazon had opened its global platform to Indian sellers in 2015, they were allowed to ship products only to end-consumers. The company has opened the platform for business-to-business (B2B) channels as it sees an uptick in demand in that segment.

"We want to help Indian exporters and sellers reach business buyers across the world," said Peeyush Nahar, vice-president, B2B Marketplace Business , Amazon. "We have been piloting a programme to help a small set of sellers reach businesses to see how it works. Now we have 2,000 sellers and enough positive things to go ahead and expand the service," he added.

The 2,000 sellers, which Amazon has picked for this global B2B selling programme, are a subset of the 35,000 Indian sellers who ship products to consumers overseas. The firm said the experience for sellers would be largely similar, with a few additions such as enabling bulk orders and being able to price products differently for businesses

In 2017, Amazon said, a quarter of the revenues its sellers earned on its platform globally came from cross-border transactions. The company's B2B business also outpaced the company's overall 31 per cent revenue growth in the year, representing a big opportunity and also allowing it to take on rivals such as eBay and Alibaba.

This has led Amazon to encourage its sellers to ship more products overseas and not just in India. On the B2B global selling front, the company said it had tapped several Fortune 500 companies as well as small businesses, giving its sellers a good mix of customers to cater for. For Indian sellers, Amazon will take care of cross-border shipping, cross-border transactions and after-sales service if they are willing to do business overseas. This will also reduce complexities for Indian sellers as they will not have to encounter the hassle of winning orders, signing contracts, and going through the procurement ordeal.

"More sellers will offer more options which are one of our core propositions to the customer. What we are doing in India is creating awareness about the opportunity so whoever is interested can participate," said Gopal Pillai, director of Sellers Services, Amazon India.

"We are also going to clusters where there is a dense population of manufacturers of a particular type of product and we are onboarding them," he added.

While Amazon has launched its global seller programme across several geographies, for India, the company is doing things differently, considering a lot of sellers are small and medium enterprises. Amazon has customised its platform to allow these sellers to get easy currency conversions and translation services for listing products in Europe and Japan. It is even offering a marketplace for service providers who can help sellers with cross-border taxation

Over 10 per cent of Amazon's current 300,000 sellers in India are selling products to consumers outside the country. With the B2B, they can now potentially tap the businesses customers as well, the company said. Besides, the company is also continuing to focus on growing its base of global sellers out of India, which has grown by around 250 per cent in the past two years.
Gold prices slump to Rs 48,900 per 10 gm, Silver rallying at Rs 51,950 a kg
Posted on 11th July 2020
Gold prices on Saturday fell to Rs 48,900 from Rs 49,100 per 10 gram, while silver climbed to Rs 51,950 from Rs 51,900 per kilogram, according to Good Returns website.

Gold jewellery prices vary across India, the second-largest consumer of the metal, due to excise duty, state taxes, and making charges.
---
Facebook plans to ban political ads before US Presidential election: Report
Posted on 11th July 2020
Facing intense criticism from all quarters, Facebook is planning to ban political ads on its platform like Twitter does as the US inches closer towards the presidential election in November, the media reported on Saturday.

According to a report in CNN Business citing sources, the potential ban on political ads to reduce the spread of disinformation has been under consideration since last fall.
---
RIL closes four Jio stake sale deals, receives Rs 30,062 cr from investors
Posted on 11th July 2020
After Facebook Inc, Reliance Industries has closed deals to sell a minority stake in its digital arm to four other investors, receiving a total of over Rs 30,062 crore.

In a regulatory filing, Reliance said it has closed the sale of 6.13 per cent stake in Jio Platforms with L Catterton, The Public Investment Fund, Silver Lake and General Atlantic.
---
Kolkata: Eden Gardens to be used as COVID-19 quarantine facility for police personnel
Posted on 11th July 2020
Kolkata Police can now use the galleries of Eden Gardens stadium as a makeshift quarantine facility, the Cricket Association of Bengal (CAB) on Friday said.

A meeting at Kolkata Police Headquarter, Lal Bazaar, took place at the Chamber of Special Commissioner Jawed Shamim. It was attended by CAB president Avishek Dalmiya.
---
India sees 27,114 new coronavirus cases, tally crosses 8 lakh-mark
Posted on 11th July 2020
In another highest single-day spike of coronavirus cases, India on Saturday reported 27,114 new cases in the last 24 hours. As many as 519 deaths were reported during this period.

With this, the country's total count has crossed the eight lakh-mark.

The total number of positive cases in the country stands at 8,20,916, including 2,83,407 active cases, 5,15,386 cured/discharged/migrated and 22,123 deaths, according to the Ministry of Health and Family Welfare.
---
Be the first person to write a business review for Amazon's India vendors can now tap business clients in US, Europe and Japan