Amazon shares fall after Donald Trump reportedly wants to curb its power
Posted on 29th March 2018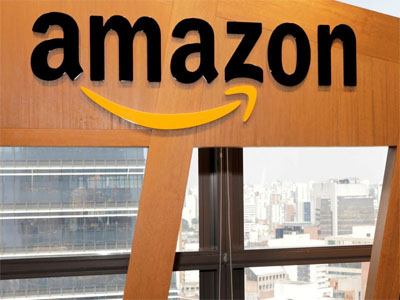 Amazon.com Inc shares fell almost 5 percent on Wednesday, wiping more than $30 billion off its market value, after news website Axios reported that U.S. President Donald Trump is obsessed with the world's largest online retailer and wants to rein in its growing power. Trump has talked about using antitrust law to "go after" the company because he is worried about mom-and-pop retailers being put out of business by Amazon, Axios reported, citing five sources it said had discussed the issue with him.

Trump also wants to change Amazon's tax treatment, the Axios report said, an issue the president raised publicly last year when he called for an internet tax for online retailers, even though Amazon already collects sales tax on items it sells direct to customers. "The president has said many times before he's always looking to create a level playing field for all businesses and this is no different," said White House spokeswoman Sarah Sanders, when asked about the Axios report. "He's always going to look at different ways, but there aren't any specific policies on the table at this time."

Trump has been complaining about Amazon in private, believing the company has become too powerful, another administration official confirmed to Reuters. The official said Trump links this to Amazon Chief Executive Jeff Bezos' private ownership of the Washington Post, which he has called "fake news" for its critical coverage of his administration. Trump regards the newspaper as a mouthpiece for Bezos' business interests, calling it #AmazonWashingtonPost on Twitter.

Amazon did not reply to a request for comment on the Axios report.
Now, Indian Railways passengers can book tickets for Kashi Vishwanath Temple at Varanasi station
Posted on 12th December 2019
Indian Railways passengers, commoners can now book tickets for visiting the Kashi Vishwanath Temple in Varanasi. In a joint initiative by the national transporter and Shri Kashi Vishwanath Temple Trust, help-desks are being opened at Varanasi Junction Railway Station, also known as Varanasi Cantt Railway Station (BSB). Minister of State for Railways Suresh Angadi officially launched the help-desk project at the station premises earlier this year.
---
Hyderabad vet rape-murder: SC for impartial probe into killing of accused
Posted on 12th December 2019

The Supreme Court on Thursday said there should be an impartial inquiry into the encounter killings of the four men accused in the gangrape and murder of a veterinarian in Telangana.

An apex court bench headed by Chief Justice S A Bobde was hearing two public interest litigations seeking an independent probe into the deaths last week.
---
Manappuram Finance rallies 8% in two days, trades near record high
Posted on 12th December 2019
Shares of Manappuram Finance moved higher by 2 per cent to Rs 170 on Thursday, inching towards its all-time high level on the BSE. The stock of non-banking finance company (NBFC) was trading close to its record high of Rs 174 touched on November 4, 2019. It rallied 8 per cent in the past two trading days on the back of heavy delivery-based volumes.
---
From Polycab India to IRCTC, IPOs that doubled your money in 2019
Posted on 12th December 2019
Calendar year 2019 (CY19) has turned out to be a good year for those who invested in equities via the primary market route with most of the new listings outperforming the S&P Sensex. As many as 92 per cent of the stocks of companies that listed in 2019 are trading well above their issue price and have given a return of over 200 per cent.

Among individual stocks, investors in four new listed companies - Indian Railway Catering and Tourism Corporation (IRCTC), IndiaMART InterMESH, Affle (India) and Polycab India - have doubled their money post their stock debuted at the exchanges.
---
Indian Union Muslim League moves SC challenging Citizenship Bill
Posted on 12th December 2019
The Indian Union Muslim League (IUML) moved the Supreme Court on Thursday challenging the Citizenship (Amendment) Bill, a day after it was passed in the Rajya Sabha completing the legislative process for giving Indian citizenship to non-Muslim migrants from Pakistan, Afghanistan and Bangladesh.
---
Be the first person to write a business review for Amazon shares fall after Donald Trump reportedly wants to curb its power