Amazon shares fall after Donald Trump reportedly wants to curb its power
Posted on 29th March 2018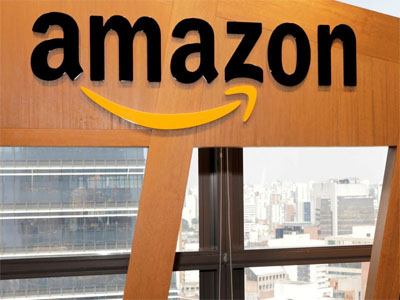 Amazon.com Inc shares fell almost 5 percent on Wednesday, wiping more than $30 billion off its market value, after news website Axios reported that U.S. President Donald Trump is obsessed with the world's largest online retailer and wants to rein in its growing power. Trump has talked about using antitrust law to "go after" the company because he is worried about mom-and-pop retailers being put out of business by Amazon, Axios reported, citing five sources it said had discussed the issue with him.

Trump also wants to change Amazon's tax treatment, the Axios report said, an issue the president raised publicly last year when he called for an internet tax for online retailers, even though Amazon already collects sales tax on items it sells direct to customers. "The president has said many times before he's always looking to create a level playing field for all businesses and this is no different," said White House spokeswoman Sarah Sanders, when asked about the Axios report. "He's always going to look at different ways, but there aren't any specific policies on the table at this time."

Trump has been complaining about Amazon in private, believing the company has become too powerful, another administration official confirmed to Reuters. The official said Trump links this to Amazon Chief Executive Jeff Bezos' private ownership of the Washington Post, which he has called "fake news" for its critical coverage of his administration. Trump regards the newspaper as a mouthpiece for Bezos' business interests, calling it #AmazonWashingtonPost on Twitter.

Amazon did not reply to a request for comment on the Axios report.
RIL net debt to dip with rights issue, Jio stake sale: Morgan Stanley
Posted on 3rd July 2020
Asset monetisation in Jio Platforms along with the $7 billion rights issue should reduce Reliance Industries Limited's (RIL) net debt by more than half, according to a report by Morgan Stanley.

It said that multiple catalysts are in play with faster than expected deleveraging, improving demand and margin outlook on refining and chemicals, top quartile earnings CAGR of 23 per cent over F20-23, and digitisation, supporting multiples.
---
---
UP Police eliminates two criminals involved in killing of eight cops in Kanpur
Posted on 3rd July 2020
The Uttar Pradesh Police on Friday eliminated two criminals who were allegedly involved in the killing of eight police personnel in Kanpur, Inspector General, Kanpur informed.

During a combing operation following last night's encounter, two police personnel were injured and two criminals have been neutralised, Mohit Agarwal, IG Kanpur told mediapersons.
---
Intel Capital invests Rs 1,894 crore for a 0.39% stake in Jio Platforms
Posted on 3rd July 2020
Intel Capital will invest Rs 1,894.50 crore in Reliance Industries' Jio Platforms at an equity value of Rs 4.91 trillion and an enterprise value of Rs 5.16 trillion for a 0.39 per cent stake, said the two companies on Friday.

This will be the twelfth international deal for Reliance's digital arm in less than three months, taking the total investment amount to Rs 117,588.45 crore.
---
JSW group will bring down China imports to zero in 2 years: Parth Jindal
Posted on 3rd July 2020
As the clamour to boycott Chinese products grows amid a stand-off between the Indian and Chinese armies in eastern Ladakh, several companies have indicated they would cut imports from the neighbouring country and support the government's self-reliance theme.

Parth Jindal, managing director of JSW Cement, said on Thursday that the JSW group, promoted by his family, would be bringing down its imports from China to zero within two years.
---
Be the first person to write a business review for Amazon shares fall after Donald Trump reportedly wants to curb its power