IRCTC ties up with Ola for booking cabs on its website, app
Posted on 20th March 2018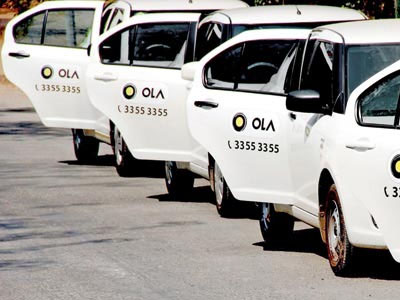 New Delhi: With an aim to providing first-and-last-mile connectivity, railway public sector undertaking (PSU) Indian Railway Catering and Tourism Corporation (IRCTC) on Monday announced a partnership with cab aggregator Ola, giving commuters an option book taxi on its app.

The tie-up, a six month pilot project, will give customers access to Ola booking services when they visit the IRCTC Rail Connect App and on its website, the IRCTC said in a statement.

The Ola cab facility will provide all the services offered such as Ola Micro, Ola Mini, Ola Auto, Ola Share etc. on the same price available directly on the IRCTC Rail Connect App and website. However, customers would not be entitled to any discount, people aware of the matter said.

Customers can choose to book cabs up to seven days in advance or upon reaching the railway station. In addition, the IRCTC outlets at railway stations or Ola's self-serving kiosk will also enable commuters to book cabs.

The partnership will provide first-and-last-mile connectivity to commuters, an IRCTC spokesperson said. "The ease of travel of our commuters is of prime importance to us and we believe that this association will help in delivering unparalleled convenience to the users on our platform, fostering and strengthening the culture of Digital India," the spokesperson said.
People assaulting police personnel during COVID-19 lockdown will be booked under NSA, warns UP government
Posted on 3rd April 2020
The Yogi-Adityanath led Uttar Pradesh government on Friday took a strict stance against reports of misbehaviour against police personnel in the state and said that anyone who attacks the police at any place in the state will be booked under the National Security Act (NSA).

A directive issued by the state government, under Chief Minister Yogi Adityanath, read, During the lockdown, strict action will be taken against those who attack the police at any place in the state. They will be booked under the NSA.
---
Amazon Pantry back online, resumes services in Bengaluru, Hyderabad, Pune
Posted on 3rd April 2020
Amazon Pantry, the company's daily essentials store for Prime members, is back online and is accepting orders in a few cities after temporarily shutting down last week due to the lockdown.

It is now serviceable in Bengaluru, Hyderabad and Pune for select pincodes. Pantry offers essentials including food, beverages, household supplies, health and beauty products at discounted rates.
---
'Switch of all lights in your homes for 9 minutes at 9 PM on April 5': PM Modi's appeal to India in video message
Posted on 3rd April 2020
Prime Minister Narendra Modi on Friday addressed the nation through a video message, in which he appealed to the citizens of India to come together to defeat the threat of the coronavirus disease (COVID-19) crisis, that is spreading like wildfire across the nation.

In a unique proposition, the Prime Minister asked every citizen to switch off all lights at their residences on April 5 at 9 PM for nine minutes and instead light a candle, a 'Diya', or their mobile's flashlights to mark India's fight against coronavirus.
---
Tablighi Jamaat patients making lewd gestures at nurses, roaming nude in hospital: Ghaziabad CMO writes to police
Posted on 3rd April 2020
Hours after Delhi government wrote to capital's police commissioner seeking deployment of adequate police force at the quarantine centres and hospital where people who attended the Tablighi Jamaat event in Nizamuddin Markaz have been kept, adjoining Ghaziabad's Chief Medical Officer (CMO) has written to the local police saying that the Jammat attendees have been roaming nude inside the MMG district hospital and making lewd gestures and remarks at the nurses.

In the letter, the CMO said that the inmates who have been put under observation are misbehaving with the hospital staff.
---
960 foreigners linked to Tablighi Jamaat blacklisted, visas cancelled
Posted on 3rd April 2020
Taking stringent action against the Tablighi Jamaat, Nizamuddin, the Centre on Thursday blacklisted 960 foreigners and cancelled their tourist visas after over their involvement in Jamaat activities. The government also said that necessary legal action will be taken against them.

Under the directions of Union Home Minister, Shri Amit Shah, the Ministry of Home Affairs (MHA) has blacklisted 960 foreigners, present in India on tourist visas, for their involvement in Tablighi Jamaat activities, the Ministry of Home Affairs said in an official statement.
---
Be the first person to write a business review for IRCTC ties up with Ola for booking cabs on its website, app