Stock market volatility may continue for some time: SEBI Chairman Ajay Tyagi
Posted on 12th February 2018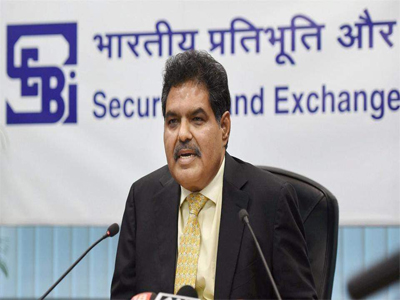 Amid rising volatility in the domestic stock markets, as gauged by the 30-share barometer Sensex and Nifty, which have shown wild swings over the last week, if response to bouts of global stock sell-off, SEBI Chairman Ajay Tyagi says that the stock market will continue to remain volatile for some more time. India's stock market opened higher on Monday following a sharp recovery on Wall Street on Friday last week with Dow Industrials rising 330-points and better Q3 earnings by some of the blue-chip companies back home. The Sensex gained 272.48 points to hit the day's high of 34,278.24 whereas NSE Nifty marked the day's peak of 10,538.1, up by 83.15 points.

However, the current recovery has come after a heavy turmoil witnessed last week, and during the three-day sell-off, up until 6 February, the Sensex washed away 1,710 points which included a massive intraday slump of 1,274 points on Tuesday (6 February 2018). In fact, in its recent bi-monthly policy, RBI noted that the financial markets have become volatile due to concerns surrounding the pace of normalisation of the US Fed monetary policy especially after a report released by the US Labor Department said that wages shot up in recent times, adding to the fear of rising inflation. "Financial markets have become volatile in recent days due to uncertainty over the pace of normalisation of the US Fed monetary policy in view of January payrolls data showing rapidly accelerating wage growth and better than expected employment," RBI said in its Sixth Bi-monthly Monetary Policy Statement released on February 7th.

In his address to the press, RBI Governor Urjit Patel on Saturday said the stock market bubble should not lead to a very major problem and said that regulators must be cognizant of the risks going forward. "There has already been a correction not only globally but in India and therefore in a way it underscores how capital markets can change direction," RBI Governor Urjit Patel said. "So far neither globally nor in India have we felt that this bubble could lead to a very major problem. However, as financial market regulators both RBI and Sebi need to be cognisant of the risk going forward," Urjit Patel added.
---
Amazon helps Shenzhen ex-Googler turn mom's money into a billion
Posted on 21st May 2018
After Steven Yang left his coveted job at Google, he asked his mother whether he should take venture-capital money to fund his business idea.

If his online consumer-electronics enterprise was a risky bet, she told him, go with the venture capitalists. But if building the business into something great was his destiny, he instead should use her money from a pharmaceutical career in China.
---
L&T Hydrocarbon Engineering bags orders for setting up two fertilizer plants in Bihar, Jharkhand
Posted on 21st May 2018
L&T Hydrocarbon Engineering in consortium with TechnipFMC has bagged two orders from Hindustan Urvarak and Rasayan Ltd for setting up two fertilizer plants. "L&T Hydrocarbon Engineering (LTHE), a wholly owned subsidiary of… Larsen & Toubro Ltd, in consortium with TechnipFMC, has won two significant orders from Hindustan Urvarak and Rasayan Ltd (HURL), a joint venture company of IOCL, NTPC, CIL, FCIL and HFCL," Larsen and Toubro (L&T) said in a BSE filing.
---
Ashok Leyland extends fall on volume growth concerns; stock ends 10% lower
Posted on 21st May 2018
Shares of Ashok Leyland have declined nearly 10% to Rs 133.75, extending their 4% fall on the BSE on Friday, on concerns of truck volume growth in current fiscal on account of a partial overloading ban relaxation in Uttar Pradesh (UP) from last month.

In the past two weeks, Ashok Leyland has underperformed the market by falling over 18% as compared to 1.2% decline in the S&P BSE Sensex. The stock hit a record high of Rs 168 on May 8, 2018 in intra-day trade.
---
Hyundai India profit up 6% in 2017 to Rs 22 bn, growth similar to Maruti's
Posted on 21st May 2018
Korean car maker Hyundai, the second-biggest player in the domestic car market, expanded its profit by six per cent in the 2017 calendar year (CY) to Rs 22 billion. The profit increase is identical to market leader Maruti Suzuki's, which saw a five per cent increase in profit for the year ended March 31, 2018. Hyundai's sales revenue also grew by six per cent in 2017.
---
Be the first person to write a business review for Stock market volatility may continue for some time: SEBI Chairman Ajay Tyagi