Stock market volatility may continue for some time: SEBI Chairman Ajay Tyagi
Posted on 12th February 2018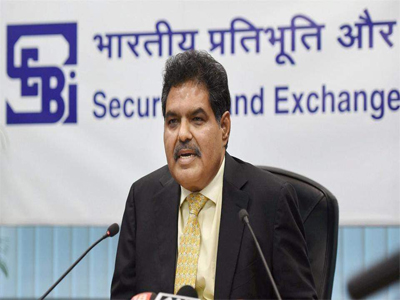 Amid rising volatility in the domestic stock markets, as gauged by the 30-share barometer Sensex and Nifty, which have shown wild swings over the last week, if response to bouts of global stock sell-off, SEBI Chairman Ajay Tyagi says that the stock market will continue to remain volatile for some more time. India's stock market opened higher on Monday following a sharp recovery on Wall Street on Friday last week with Dow Industrials rising 330-points and better Q3 earnings by some of the blue-chip companies back home. The Sensex gained 272.48 points to hit the day's high of 34,278.24 whereas NSE Nifty marked the day's peak of 10,538.1, up by 83.15 points.

However, the current recovery has come after a heavy turmoil witnessed last week, and during the three-day sell-off, up until 6 February, the Sensex washed away 1,710 points which included a massive intraday slump of 1,274 points on Tuesday (6 February 2018). In fact, in its recent bi-monthly policy, RBI noted that the financial markets have become volatile due to concerns surrounding the pace of normalisation of the US Fed monetary policy especially after a report released by the US Labor Department said that wages shot up in recent times, adding to the fear of rising inflation. "Financial markets have become volatile in recent days due to uncertainty over the pace of normalisation of the US Fed monetary policy in view of January payrolls data showing rapidly accelerating wage growth and better than expected employment," RBI said in its Sixth Bi-monthly Monetary Policy Statement released on February 7th.

In his address to the press, RBI Governor Urjit Patel on Saturday said the stock market bubble should not lead to a very major problem and said that regulators must be cognizant of the risks going forward. "There has already been a correction not only globally but in India and therefore in a way it underscores how capital markets can change direction," RBI Governor Urjit Patel said. "So far neither globally nor in India have we felt that this bubble could lead to a very major problem. However, as financial market regulators both RBI and Sebi need to be cognisant of the risk going forward," Urjit Patel added.
HDFC puts out notice to auction family house of Sanjay Chandra
Posted on 17th October 2018
New Delhi: As their real estate empire crumbles, Chandras of Unitech may even lose their family home to lenders. Mortgage lender HDFC has put out notices to auction Sanjay Chandra's house in the upmarket Hauz Khas area in South Delhi.

Unitech managing director Sanjay Chandra grew up in the Mayfair Garden house in Hauz Khas where his mother ran a clinic.
---
Paytm Money appoints Cyrus Khambata to its board
Posted on 17th October 2018
New Delhi: Paytm Money, the wealth management unit of One97 Communications Ltd., on Wednesday said it had appointed former executive director of Central Depository Services Ltd. (CSDL India) Cyrus Khambata to its board of directors.

Khambata, considered an industry veteran in capital markets, has previously served as the managing director of CDSL Ventures and CDSL Insurance Depository.
---
Tata Motors eyes tie-ups with Ola, Uber with new shared mobility platform
Posted on 17th October 2018
New Delhi: Tata Motors Ltd has created a separate division to explore ways to tap its entire range of passenger and commercial vehicles for offering shared mobility solutions, said two people aware of the development. Named Mobility Innovations Hub, the new department is headed by Pankaj Jhunja, formerly with Tata Technologies, said the people cited above, who did not want to be named.
---
Sensex jumps 267 points on strong earnings and global cues
Posted on 17th October 2018
The equity benchmark Sensex rallied for the fourth straight session Wednesday, and jumped 267 points, on encouraging second quarter earnings by tech major Infosys and positive global cues.

The 30- share Sensex soared 267.26 points, or 0.76 per cent, to 35,429.74. It had rallied 1,161 points in the previous three sessions.
---
RIL pips TCS again to become India's most valued firm; Mukesh Ambani-led firm's rise so far
Posted on 17th October 2018
Billionaire Mukesh Ambani-controlled Reliance Industries Ltd (RIL) on Tuesday pipped the information technology (IT) giant Tata Consultancy Services (TCS) to become the country's most valued firm by market capitalisation. As per Tuesday's close, Reliance Industries' market capitalisation was recorded at Rs 7,37,576.57 crore on the Bombay Stock Exchange (BSE), up Rs 1,471.26 crore from that of Tata Consultancy's market capitalisation of 7,36,105.31 crore on Tuesday, data available with the stock exchanged showed.
---
Be the first person to write a business review for Stock market volatility may continue for some time: SEBI Chairman Ajay Tyagi