Stock market volatility may continue for some time: SEBI Chairman Ajay Tyagi
Posted on 12th February 2018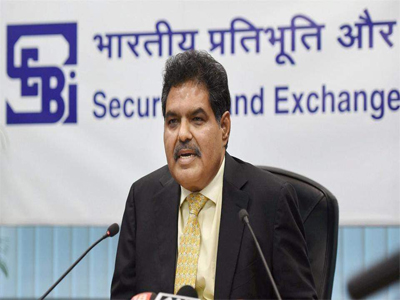 Amid rising volatility in the domestic stock markets, as gauged by the 30-share barometer Sensex and Nifty, which have shown wild swings over the last week, if response to bouts of global stock sell-off, SEBI Chairman Ajay Tyagi says that the stock market will continue to remain volatile for some more time. India's stock market opened higher on Monday following a sharp recovery on Wall Street on Friday last week with Dow Industrials rising 330-points and better Q3 earnings by some of the blue-chip companies back home. The Sensex gained 272.48 points to hit the day's high of 34,278.24 whereas NSE Nifty marked the day's peak of 10,538.1, up by 83.15 points.

However, the current recovery has come after a heavy turmoil witnessed last week, and during the three-day sell-off, up until 6 February, the Sensex washed away 1,710 points which included a massive intraday slump of 1,274 points on Tuesday (6 February 2018). In fact, in its recent bi-monthly policy, RBI noted that the financial markets have become volatile due to concerns surrounding the pace of normalisation of the US Fed monetary policy especially after a report released by the US Labor Department said that wages shot up in recent times, adding to the fear of rising inflation. "Financial markets have become volatile in recent days due to uncertainty over the pace of normalisation of the US Fed monetary policy in view of January payrolls data showing rapidly accelerating wage growth and better than expected employment," RBI said in its Sixth Bi-monthly Monetary Policy Statement released on February 7th.

In his address to the press, RBI Governor Urjit Patel on Saturday said the stock market bubble should not lead to a very major problem and said that regulators must be cognizant of the risks going forward. "There has already been a correction not only globally but in India and therefore in a way it underscores how capital markets can change direction," RBI Governor Urjit Patel said. "So far neither globally nor in India have we felt that this bubble could lead to a very major problem. However, as financial market regulators both RBI and Sebi need to be cognisant of the risk going forward," Urjit Patel added.
Microsoft, Apollo Hospitals build AI-powered platform to predict cardiovascular disease risk score
Posted on 17th August 2018
Microsoft India and Apollo Hospitals have partnered to build an artificial intelligence-powered platform, designed to predict the risk of Cardiovascular Disease (CVD) in the Indian population. Under the collaboration, which is part of Microsoft's AI Network for Healthcare initiative, the two entities have launched an AI-powered Cardiovascular Disease Risk Score API (application program interface)
---
Malaysia's Axiata relinquishes major rights in Idea Cellular ahead of Vodafone merger
Posted on 17th August 2018
Idea Cellular today said Axiata, whose current holding in the company stands at over 16 per cent, has relinquished "all major rights" including that of nominating a director on the board. Idea's statement comes at a time when the telecom firm has received the government's approval for merger with Vodafone. The combination is set to create the country's largest mobile phone operator worth more than USD 23 billion with a 35 per cent market share.
---
BPCL to keep Mumbai refinery shut for at least 2 months after fire: Source
Posted on 17th August 2018
India's Bharat Petroleum Corp Ltd will keep a secondary unit at its 120,000 barrels-per-day (bpd) Mumbai refinery offline for at least two months following a fire last week, two industry sources said on Friday.

When contacted, a BPCL spokesman could not immediately confirm the duration of the shutdown, saying that a decision will be made in one to two days.
---
Ashok Leyland bags order for 300 double-decker buses from Bangladesh
Posted on 17th August 2018
Ashok Leyland has won an order of 300 double-decker buses from Bangladesh Road Transport Corporation (BRTC).

Leyland has to deliver the order within eight months.

Vinod K. Dasari, Managing Director of Ashok Leyland, said Bangladesh is one of the key export markets and this order further strengthens the company's position.
---
ITC hits fresh 52-week high; stock surges 17% in one month
Posted on 17th August 2018
Shares of ITC hit a fresh 52-week high of Rs 315, up 2.5% on the BSE in early morning trade, extending gains of the past 4 weeks after the company's June quarter net profit beat the Street estimates.

The stock of fast moving consumer goods (FMCG) company was the largest gainer among the S&P BSE Sensex at 09:38 am. It outperformed the market by surging 17% in past one month, as compared to a 4% rise in the benchmark index.
---
Be the first person to write a business review for Stock market volatility may continue for some time: SEBI Chairman Ajay Tyagi