Stock market volatility may continue for some time: SEBI Chairman Ajay Tyagi
Posted on 12th February 2018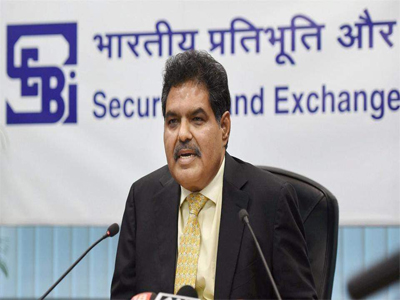 Amid rising volatility in the domestic stock markets, as gauged by the 30-share barometer Sensex and Nifty, which have shown wild swings over the last week, if response to bouts of global stock sell-off, SEBI Chairman Ajay Tyagi says that the stock market will continue to remain volatile for some more time. India's stock market opened higher on Monday following a sharp recovery on Wall Street on Friday last week with Dow Industrials rising 330-points and better Q3 earnings by some of the blue-chip companies back home. The Sensex gained 272.48 points to hit the day's high of 34,278.24 whereas NSE Nifty marked the day's peak of 10,538.1, up by 83.15 points.

However, the current recovery has come after a heavy turmoil witnessed last week, and during the three-day sell-off, up until 6 February, the Sensex washed away 1,710 points which included a massive intraday slump of 1,274 points on Tuesday (6 February 2018). In fact, in its recent bi-monthly policy, RBI noted that the financial markets have become volatile due to concerns surrounding the pace of normalisation of the US Fed monetary policy especially after a report released by the US Labor Department said that wages shot up in recent times, adding to the fear of rising inflation. "Financial markets have become volatile in recent days due to uncertainty over the pace of normalisation of the US Fed monetary policy in view of January payrolls data showing rapidly accelerating wage growth and better than expected employment," RBI said in its Sixth Bi-monthly Monetary Policy Statement released on February 7th.

In his address to the press, RBI Governor Urjit Patel on Saturday said the stock market bubble should not lead to a very major problem and said that regulators must be cognizant of the risks going forward. "There has already been a correction not only globally but in India and therefore in a way it underscores how capital markets can change direction," RBI Governor Urjit Patel said. "So far neither globally nor in India have we felt that this bubble could lead to a very major problem. However, as financial market regulators both RBI and Sebi need to be cognisant of the risk going forward," Urjit Patel added.
Enough assets to meet any liability, says scam-hit PNB
Posted on 22nd February 2018
MUMBAI: State-owned PNB on Thursday said it has followed lawful avenues to recover its dues following Rs 11,400 crore swindling of funds allegedly by jewellery designer Nirav Modi and associates.

The country's second largest public sector lender also reaffirmed that it has enough assets to meet any liability.
---
Telecom Minister Manoj Sinha says there's no proposal to merge BSNL, MTNL
Posted on 22nd February 2018
Telecom Minister Manoj Sinha today said there are no plans at present to merge BSNL and MTNL, but asserted that the strategic plan outlined for promoting synergy among state-owned telecom firms will strengthen and benefit both the organisations. "There is no thinking in government on merging the two. But we are taking steps to ensure that collaboration between MTNL (Mahanagar Telephone Nigam Ltd) and BSNL (Bharat Sanchar Nigam Ltd) strengthens and benefits both the organisations," Sinha said.
---
Sebi may tighten AIF regulations to better monitor the source of funding
Posted on 22nd February 2018
The Securities and Exchange Board of India (Sebi) plans to tighten present Alternative Investment Funds (AIF) regulations to better monitor the source of funding and their end use.

According to sources, Sebi may check the anti-money laundering policies implemented by AIFs and examine the sanctity of any back-end arrangements an AIF may have with its investors, whereby money raised in AIFs is invested back in entities owned by the investors.
---
Qualcomm, Microsoft offer 'always connected' PCs with smartphone features
Posted on 22nd February 2018
Global chip-maker Qualcomm Technologies and Microsoft have collaborated with leading retailers from across the world to offer new "always connected" Windows 10 PCs powered by the Qualcomm Snapdragon Mobile PC Platform.

Retailers in the US, Australia, China, Italy, France and the UK will offer a range of new Windows 10 PCs from Asus, HP and Lenovo, the companies announced on Thursday.
---
Sensex slips 144 points ahead of F&O expiry
Posted on 22nd February 2018
MUMBAI: The benchmark BSE Sensex fell over 144 points in early trade as investors turned cautious ahead of February derivatives expiry amid sustained foreign fund outflows and mixed Asian cues.

The 30-share index, which had gained 141.27 points in the previous session, slipped 144.23 points, or 0.42 per cent, to 33,700.63.
---
Be the first person to write a business review for Stock market volatility may continue for some time: SEBI Chairman Ajay Tyagi