Stock market volatility may continue for some time: SEBI Chairman Ajay Tyagi
Posted on 12th February 2018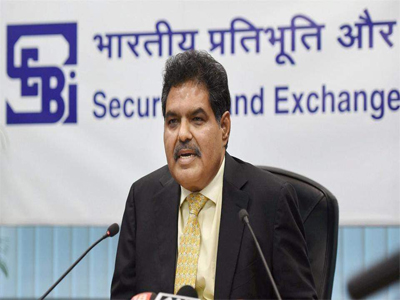 Amid rising volatility in the domestic stock markets, as gauged by the 30-share barometer Sensex and Nifty, which have shown wild swings over the last week, if response to bouts of global stock sell-off, SEBI Chairman Ajay Tyagi says that the stock market will continue to remain volatile for some more time. India's stock market opened higher on Monday following a sharp recovery on Wall Street on Friday last week with Dow Industrials rising 330-points and better Q3 earnings by some of the blue-chip companies back home. The Sensex gained 272.48 points to hit the day's high of 34,278.24 whereas NSE Nifty marked the day's peak of 10,538.1, up by 83.15 points.

However, the current recovery has come after a heavy turmoil witnessed last week, and during the three-day sell-off, up until 6 February, the Sensex washed away 1,710 points which included a massive intraday slump of 1,274 points on Tuesday (6 February 2018). In fact, in its recent bi-monthly policy, RBI noted that the financial markets have become volatile due to concerns surrounding the pace of normalisation of the US Fed monetary policy especially after a report released by the US Labor Department said that wages shot up in recent times, adding to the fear of rising inflation. "Financial markets have become volatile in recent days due to uncertainty over the pace of normalisation of the US Fed monetary policy in view of January payrolls data showing rapidly accelerating wage growth and better than expected employment," RBI said in its Sixth Bi-monthly Monetary Policy Statement released on February 7th.

In his address to the press, RBI Governor Urjit Patel on Saturday said the stock market bubble should not lead to a very major problem and said that regulators must be cognizant of the risks going forward. "There has already been a correction not only globally but in India and therefore in a way it underscores how capital markets can change direction," RBI Governor Urjit Patel said. "So far neither globally nor in India have we felt that this bubble could lead to a very major problem. However, as financial market regulators both RBI and Sebi need to be cognisant of the risk going forward," Urjit Patel added.
Jio GigaFiber effect: BSNL now offers 35GB data per day to Bharat Fiber FTTH subscribers
Posted on 21st January 2019
BSNL recently announced Bharat Fiber, which is a fibre-to-the-home (FTTH) internet service for its broadband customers. Taking on rivals like Jio GigaFiber and Airtel V-Fiber, the service is said to offer 35GB data per day at as low as Rs 1.1 per GB. To make sure that users can express their interest in the new service, BSNL has commenced bookings for Bharat Fiber via its online portal.
---
Maruti Suzuki is looking to back your next big startup; here's why?
Posted on 21st January 2019
Maruti Suzuki, India's largest car manufacturer today announced the launch of its innovation program for early-stage startups in the automobile and mobility space called Mobility & Automobile Innovation Lab (MAIL).

The company has partnered with Gurugram-based startup accelerator GHV Accelerator to tap on innovative startups with solutions that it believes are futuristic and customer oriented.
---
Kotak Mahindra Bank consolidated Q3 net up 13.5% to Rs 1,844 crore
Posted on 21st January 2019
Private lender Kotak Mahindra Bank reported 13.5 per cent rise in its third quarter (Q3) consolidated net profit on account of higher interest and fee income. The asset quality of the bank's loan book also improved during the quarter.

Profit after tax at the consolidated level rose to Rs 1,844 crore for the quarter ended December 2018 (Q3FY19), from Rs 1,624 crore in the year-ago period (Q3FY18).
---
LIC completes the acquisition of 51% controlling stake in IDBI Bank
Posted on 21st January 2019
IDBI Bank Monday said insurance behemoth LIC has completed acquisition of 51 per cent controlling stake in the bank, making it the lender's majority shareholder.

"The deal, conceptualised in June 2018, is envisaged as a win-win situation for both IDBI Bank and LIC with an opportunity to create enormous value for shareholders, customers & employees of both entities through mutual synergies," IDBI Bank said in a BSE filing.
---
Sebi interpretation does not permit smaller L&T buyback
Posted on 21st January 2019
Shares of Larsen & Toubro Ltd opened over 3% lower on Monday after market regulator Securities Exchange Board of India denied the company permission for its first ever share buyback plan. However, the scrip pared all the losses and was trading 0.4% higher.

The stock had opened at ₹1,275 a share, or 3.3% lower than its Friday close. At 9.56 am, L&T was trading at ₹1,324 on the BSE, up 0.44% from its previous close. The Sensex rose 0.7% to 36,652.26 points.
---
Be the first person to write a business review for Stock market volatility may continue for some time: SEBI Chairman Ajay Tyagi