ONGC surges 6% on acquisition of 51.11% stake in HPCL
Posted on 22nd January 2018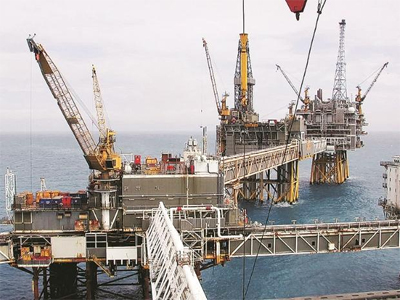 Oil and Natural Gas Corporation (ONGC) has surged 6% to Rs 206 on BSE in early morning trade after the state-owned oil exploration company announced that it will acquire the 51.1% government stake in Hindustan Petroleum Corporation (HPCL) at a cost of Rs 369.15 billion.

ONGC will acquire the government stake in HPCL by paying Rs 473.97 per share which works out to a 14% premium to HPCL's closing market price of Rs 417 on Friday, 19 January. ONGC is likely to be exempt from issuing an open offer and expects to complete this deal by the end of January 2018.

"Key benefits of having an integrated oil conglomerate are performance of integrated oil companies balance upstream and downstream pressure and provide for stability despite volatility in crude prices, lower earnings volatility, diversified cash flows and lower business risk resulting in higher PE multiples and valuations resulting in higher shareholder value and several synergies are available through HPCL (complimentary asset portfolio, midstream and downstream presence and access to marketing network)," ONGC said in a statement.

"Assuming this deal is entirely funded through debt (which looks to be the most probable route), ONGC's consolidated debt/equity ratio would increase to only 0.4x from 0.2 now," according to analysts at BOB Capital Market.

"The acquisition will give ONGC access to a 26% ROCE business, while its own core E&P business makes around 10% ROCE. HPCL will continue to operate as an independent entity and hence we expect no merger or operational synergies," the brokerage firm said in a sector update.

For ONGC, the stake would merely contribute as investment value of a subsidiary (net of the acquisition price of Rs 474/share).

We see no change in fundamental outlook or valuations as this deal carries no operational synergies, it added.

At 09:36 am; ONGC was trading 5% higher at Rs 203 with a combined 5.55 million shares change hands on BSE and NSE. HPCL was quoting 2.2% lower at Rs 407 after hitting an intra-day low of Rs 402 on BSE in early morning deal.
17 US states, DC file lawsuit against Trump's new visa policy for students
Posted on 14th July 2020
As many as 17 US states and the District of Columbia have filed a lawsuit against the Trump administration's new visa policy for international students, calling it a "cruel, abrupt, and unlawful action to expel them amidst the COVID-19 pandemic.

In its July 6 order, the US Immigration and Customs Enforcement (ICE) declared that the nonimmigrant students with F-1 and M-1 visas attending schools operating entirely online or taking only online courses will not be permitted to remain in the United States.
---
Telangana coronavirus update: State reports 1,550 new cases, 9 deaths
Posted on 14th July 2020
A total of 1,550 COVID-19 cases and nine deaths were reported in Telangana on Monday, said the state's health department.

The state's total COVID-19 cases now stand at 36,221, including 12,178 active cases and 23,679 recoveries.

The deadly virus has so far claimed 365 lives in the State.
---
Gold prices today at Rs 49,050 per 10 gm, silver jumps to Rs 52,210 a kg
Posted on 14th July 2020
Gold prices on Tuesday jumped to Rs 49,050 from Rs 49,010 per 10 gram, while silver climbed to Rs 52,210 from Rs 52,000 per kilogram, according to Good Returns website.

Gold jewellery prices vary across India, the second-largest consumer of the metal, due to excise duty, state taxes, and making charges.
---
5Paisa Capital hits 52-wk high after posting first-ever quarterly profit
Posted on 14th July 2020
Shares of 5Paisa Capital were locked in 5 per cent upper circuit at Rs 324.60 on the BSE on Tuesday after the company posted net profit of Rs 3.74 crore in June quarter (Q1FY20), against net loss of Rs 55 lakh in the year-ago quarter.

The company has reported quarterly profits for the first time since the launch of 5Paisa in March 2016. The stock was trading at its 52-week high level.
---
Tata Communications hits over 2-year high; stock zooms 112% in 3 months
Posted on 14th July 2020
Shares of Tata Communications were locked in the 5 per cent upper circuit for the second straight day on the BSE at Rs 700.55 on Tuesday, hitting an over two-year high in an otherwise weak market.

The stock of the Tata group company was trading at its highest level since December 15, 2017. In the past three months, it had rallied 112 per cent after the company delivered strong operating performance during the January-March quarter (Q4FY20). In comparison, the S&P BSE Sensex was up 18 per cent during the period.
---
Be the first person to write a business review for ONGC surges 6% on acquisition of 51.11% stake in HPCL