India rejects US solar claim at WTO, explores new defence
Posted on 9th January 2018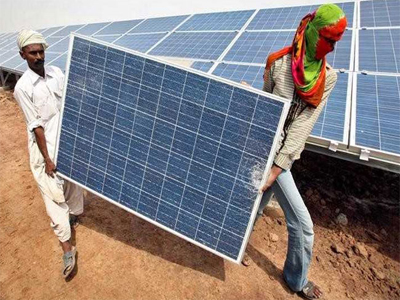 GENEVA: India hit back on Monday at Washington's latest legal assault on its solar power policies+ at the World Trade Organization, rejecting a US legal claim and exploring possible new protection of India's own solar industry.

Last month, the United States had triggered a new round of litigation at the WTO, arguing that India had failed to abide by a ruling that it had illegally discriminated against foreign suppliers of solar cells and modules.

Also watch Photo Gallery of Top 10 Solar Power Plants.

In a statement published by the WTO on Monday, India said it had changed its rules to conform with the ruling and that a US claim for punitive trade sanctions was groundless.

"India underscores that the United States' request is not a valid request," the Indian statement said.

It said Washington had skipped legal steps, failed to follow the correct WTO procedure, and omitted to mention any specific level of trade sanctions that it proposed to level on India, leaving India "severely prejudiced".

India would be vindicated if the proper process was followed, it said.

"In view of the above, India strongly objects to the US request of 19 December 2017," it said.
Anil Ambani-led RCom moves Supreme Court against DoT
Posted on 13th December 2018
Reliance Communications and its subsidiary Reliance Telecom on Thursday moved the Supreme Court, asking it to initiate appropriate contempt proceedings against the department of telecommunications (DoT) for "wilfully and deliberately disobeying" its November 30 order that directed DoT to grant no objection certificate (NoC) to the firms by December 7 to trade its spectrum with Reliance Jio Infocomm.
---
SEBI board meet outcome: 3 big reforms from mutual fund risk management to start up listing
Posted on 13th December 2018
In a series of reforms, market regulator SEBI has allowed mutual funds "to allow mutual funds to create segregated portfolios with respect to debt and money market instruments subject to various safeguards". The creation of segregated portfolios is a mechanism which is followed to separate distressed, illiquid and hard-to-value assets from other more liquid assets in a portfolio. SEBI has also cleared easing of norms to start startup listings.
---
Rajasthan High Court stays arrest of Twitter CEO Jack Dorsey
Posted on 13th December 2018
The Rajasthan High Court has put stay on the arrest of Twitter CEO Jack Dorsey, but has refused to cancel the FIR lodged against him.

An FIR was filed at the Basni police station by Rajkumar Sharma against Dorsey for hurting the sentiments of Brahmin community after his photo holding the slogan after his photo holding the slogan "Smash Brahminical Patriarchy" went viral.
---
Your debit, credit cards may get blocked from December 31, here's why
Posted on 13th December 2018
You might have recieved a message from your respective bank lately to upgrade your debit and credit cards. But if you ignored the message, then you are in some rude shock after December 31.

If you are thinking what do you need to do avoid the same then let us tell you that the Reserve Bank of India in order to protect the customers from fradulent transactions had issued guidelines to to change Magstripe Debit Cards to EMV Chip Debit Cards by the end of 2018.
---
Solar installations see 4% drop in Q3 due to lack of clarity around GST
Posted on 13th December 2018
The Indian solar market installed 1,589 MW (mega watt) in the third quarter of 2018. Installations declined by four per cent compared to 1,659 MW in the second quarter of 2018, while a year ago (Q3 2017) it was 2,278 MW.

Large-scale installations during the third quarter of 2018 totalled 1,154 MW compared to 1,244 MW in second quarter 2018 and 2,013 MW in Q3 2017, according to Mercom India Research report.
---
Be the first person to write a business review for India rejects US solar claim at WTO, explores new defence