Balakrishnan pats Nilekani for fixing a 'reasonable salary' for Infosys CEO
Posted on 6th January 2018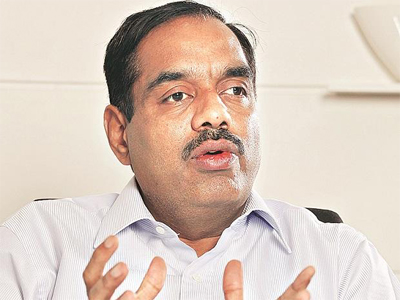 Former Infosys Chief Financial Officer V Balakrishnan on Saturday praised the company's co-founder Nandan Nilekani for correcting the 'wrongdoings' committed by the previous board, by fixing a reasonable salary for the incumbent CEO.

"I think the board under Nandan has done the right thing to correct the previous wrongdoings. The salary structure for the current Chief Executive Officer Salil Parekh looks reasonable with a large part tied to variable salary with a greater focus on long-term retention," he told PTI here.


Balakrishnan said it is important for the board to clearly articulate the performance metrics for the vesting of variable salaries to senior management.

"The metrics should have a clear focus on increasing shareholders' value by achieving superior growth... If the board wants to exercise any discretion it should be explained to the shareholders with proper reasoning," he said.

Infosys has fixed Parekh's salary at Rs 65 million with an eligibility for variable pay of Rs 975 million at the end of the 2018-2019 fiscal year.

Elaborating on the 'wrongdoings' by the previous board, Balakrishnan said, "unfortunately, it never clearly understood the culture or value systems followed by Infosys under its founders, which resulted in excessive senior management salaries and a huge disconnect with rest of the organisation."

"The former CEO's (Vishal Sikka) salary was increased substantially without clear reason while the rest of the organisation had to contend with meager salary hikes and reduced variable compensation," he added.

The $20 billion target by 2020 was loosely used to justify the pay increase to the CEO that lacked conviction, Balakrishnan alleged.

Recalling N R Narayana Murthy's views, he said excess in capitalism will make the acceptance of capitalism difficult to a large sections of the society.

"The CEO compensation should be reasonable enough to attract top talent while at the same time be comparable with peer group companies," the company's former CFO said.

"It should also reflect the realities within the organization otherwise selling it internally will be difficult," he added.

Balakrishnan also said when the founders ran the company, the senior management salaries were reasonable enough to attract top talent and were never considered excessive.

Also, in difficult times, the leadership took the pain before it being passed on to rest of the organisation, he added.

"Leadership by example was practised both in substance and form," Balakrishnan said.

He also said, "As a shareholder, I want the board to be restructured quickly with some members who were part of the earlier dispensation like the erstwhile co-chairman (Ravi Venkatesan) and audit committee chairman (Roopa Kudva) be replaced."

An effective board is the need of the hour to establish proper checks and balances that was lacking in the earlier dispensation, Balakrishnan said.
Hindustan Petroleum Corp enters into a long-term agreement with HMEL
Posted on 22nd September 2018
Hindustan Petroleum Corporation (HPCL) on Friday entered into a long-term agreement with HMEL (HPCL-Mittal Energy) for operations and maintenance of its newly-commissioned bitumen terminal at Bathinda.

HMEL recently set up a bitumen blowing unit with a capacity of 550 million tonne per annum different grades of bitumen plant at Guru Gobind Singh Refinery, Bathinda. The agreement is for storing, handling and dispatching the product.
---
Amazon India to soon sell cow urine and dung based soaps, face packs made by RSS-backed centre
Posted on 22nd September 2018
Soaps, face packs, shampoos and medicinal products made from cow urine and dung may soon be just a click away as an RSS-backed centre says it is set to sell these on e-commerce major Amazon India.

Deen Dayal Dham, a centre run by the RSS in Farah town of Mathura in Uttar Pradesh, will first put up a dozen products related to health, beauty and apparel on the website for sale, a manger at the centre said.
---
Sensex witnesses flash crash
Posted on 22nd September 2018
Mumbai: The shares of housing finance companies (HFC) and other financial service firms were battered badly on Friday causing a flash crash on the domestic bourses as rumours about default by certain entities amidst rising delinquencies and cost of capital triggered panic selling in the market.
---
Infosys to offer cloud solutions to global enterprises on Google Clouds
Posted on 22nd September 2018
Software major Infosys would offer scalable services and solutions on demand to global enterprises on search engine's Google cloud platform, the IT major said on Saturday.

"We are partnering with Google to develop cloud transformation and migration services for enabling enterprises transform their businesses on scalable and on-demand model," said the city-based company in a statement.
---
RIL closes KG-D6 oilfield
Posted on 22nd September 2018
Reliance Industries has permanently shut down its only oilfield (MA field) in the KG-D6 block on the back of dwindling output from the reserve. This was the company's first foray into oil and gas exploration that began in September 2008 when the field started producing oil.

"The MA (D26) field in Block KG-DWN-98/3 (KGD6), which is being operated by RIL as an operator of the joint venture consisting of RIL (60 per cent), BP (30 per cent) and Niko (10 per cent)
---
Be the first person to write a business review for Balakrishnan pats Nilekani for fixing a 'reasonable salary' for Infosys CEO