Balakrishnan pats Nilekani for fixing a 'reasonable salary' for Infosys CEO
Posted on 6th January 2018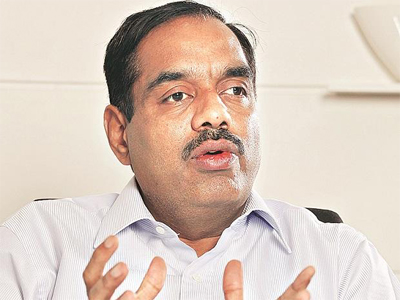 Former Infosys Chief Financial Officer V Balakrishnan on Saturday praised the company's co-founder Nandan Nilekani for correcting the 'wrongdoings' committed by the previous board, by fixing a reasonable salary for the incumbent CEO.

"I think the board under Nandan has done the right thing to correct the previous wrongdoings. The salary structure for the current Chief Executive Officer Salil Parekh looks reasonable with a large part tied to variable salary with a greater focus on long-term retention," he told PTI here.


Balakrishnan said it is important for the board to clearly articulate the performance metrics for the vesting of variable salaries to senior management.

"The metrics should have a clear focus on increasing shareholders' value by achieving superior growth... If the board wants to exercise any discretion it should be explained to the shareholders with proper reasoning," he said.

Infosys has fixed Parekh's salary at Rs 65 million with an eligibility for variable pay of Rs 975 million at the end of the 2018-2019 fiscal year.

Elaborating on the 'wrongdoings' by the previous board, Balakrishnan said, "unfortunately, it never clearly understood the culture or value systems followed by Infosys under its founders, which resulted in excessive senior management salaries and a huge disconnect with rest of the organisation."

"The former CEO's (Vishal Sikka) salary was increased substantially without clear reason while the rest of the organisation had to contend with meager salary hikes and reduced variable compensation," he added.

The $20 billion target by 2020 was loosely used to justify the pay increase to the CEO that lacked conviction, Balakrishnan alleged.

Recalling N R Narayana Murthy's views, he said excess in capitalism will make the acceptance of capitalism difficult to a large sections of the society.

"The CEO compensation should be reasonable enough to attract top talent while at the same time be comparable with peer group companies," the company's former CFO said.

"It should also reflect the realities within the organization otherwise selling it internally will be difficult," he added.

Balakrishnan also said when the founders ran the company, the senior management salaries were reasonable enough to attract top talent and were never considered excessive.

Also, in difficult times, the leadership took the pain before it being passed on to rest of the organisation, he added.

"Leadership by example was practised both in substance and form," Balakrishnan said.

He also said, "As a shareholder, I want the board to be restructured quickly with some members who were part of the earlier dispensation like the erstwhile co-chairman (Ravi Venkatesan) and audit committee chairman (Roopa Kudva) be replaced."

An effective board is the need of the hour to establish proper checks and balances that was lacking in the earlier dispensation, Balakrishnan said.
Made-in-India electric cars from Mercedes-Benz soon as it bets big on EVs
Posted on 20th June 2018
German automaker, Mercedes-Benz is betting big on electric cars globally and also believes that electric cars will play a crucial role as India gets ready to adapt to future of mobility. A report on TOI confirmes that Mercedes-Benz has plans to manufacture electric cars from its plant in Chakan, Pune. The company has already confirmed that it will launch on BSVI compliant diesel engine cars and SUVs in India and now expect many a range of hybrid and electric cars from Mercedes-Benz in India soon.
---
India shelves Air India sale plan after failing to attract buyers – reports
Posted on 20th June 2018
India has shelved its sale of Air India after failing to attract buyers, local media quoted a government minister as saying – a decision that could exacerbate the carrier's financial woes and representing a setback for government efforts to cut debt. Civil Aviation Minister Suresh Prabhu said plans to privatise the carrier have been dropped for now due to factors such as the looming election and high oil prices, according to Times of India which cited news agency PTI.
---
Merger-bound Idea Cellular completes VoLTE expansion
Posted on 20th June 2018
Idea Cellular on Tuesday said it has completed the rollout of VoLTE services in all its 20 4G circles with the country's third largest telecom operator announcing the launch of VoLTE in five circles — Himachal Pradesh, Odisha, Assam, North East Service Area (NESA) and Jammu & Kashmir.

"With the completion of the last phase of VoLTE rollout, Idea is now the only operator to offer pan India integrated 2G, 3G, 4G and VoLTE services.
---
Former RBI Deputy Governor Rama Subramaniam Gandhi joins Paytm as Advisor
Posted on 20th June 2018
One97 Communications, which runs Paytm, has appointed former RBI Deputy Governor Rama Subramaniam Gandhi as an advisor. Gandhi will bring his years of knowledge and experience on payment systems, regulations, compliance and corporate governance, the company said in a statement. Gandhi was a member of the first Monetary Policy Committee.
---
Sensex opens in green, up 130 points in early trade
Posted on 20th June 2018
The BSE Sensex rebounded over 130 points in opening trade today, reversing its two-session losing streak on value-buying in select blue-chips amid a strengthening rupee.

Overseas, mixed trend at other Asian markets also influenced trading sentiments here. The rupee recovered from its nearly one-month low by strengthening 32 paise to 68.06 against the US dollar in early trade today. The 30-share BSE index was trading higher by 130.41 points, or 0.37%, to 35,417.15 in early trade today.
---
Be the first person to write a business review for Balakrishnan pats Nilekani for fixing a 'reasonable salary' for Infosys CEO