Balakrishnan pats Nilekani for fixing a 'reasonable salary' for Infosys CEO
Posted on 6th January 2018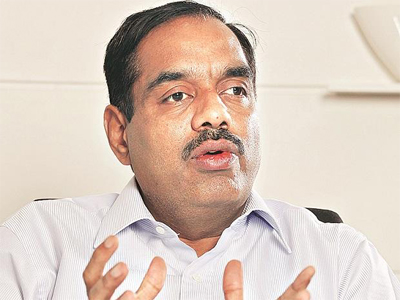 Former Infosys Chief Financial Officer V Balakrishnan on Saturday praised the company's co-founder Nandan Nilekani for correcting the 'wrongdoings' committed by the previous board, by fixing a reasonable salary for the incumbent CEO.

"I think the board under Nandan has done the right thing to correct the previous wrongdoings. The salary structure for the current Chief Executive Officer Salil Parekh looks reasonable with a large part tied to variable salary with a greater focus on long-term retention," he told PTI here.


Balakrishnan said it is important for the board to clearly articulate the performance metrics for the vesting of variable salaries to senior management.

"The metrics should have a clear focus on increasing shareholders' value by achieving superior growth... If the board wants to exercise any discretion it should be explained to the shareholders with proper reasoning," he said.

Infosys has fixed Parekh's salary at Rs 65 million with an eligibility for variable pay of Rs 975 million at the end of the 2018-2019 fiscal year.

Elaborating on the 'wrongdoings' by the previous board, Balakrishnan said, "unfortunately, it never clearly understood the culture or value systems followed by Infosys under its founders, which resulted in excessive senior management salaries and a huge disconnect with rest of the organisation."

"The former CEO's (Vishal Sikka) salary was increased substantially without clear reason while the rest of the organisation had to contend with meager salary hikes and reduced variable compensation," he added.

The $20 billion target by 2020 was loosely used to justify the pay increase to the CEO that lacked conviction, Balakrishnan alleged.

Recalling N R Narayana Murthy's views, he said excess in capitalism will make the acceptance of capitalism difficult to a large sections of the society.

"The CEO compensation should be reasonable enough to attract top talent while at the same time be comparable with peer group companies," the company's former CFO said.

"It should also reflect the realities within the organization otherwise selling it internally will be difficult," he added.

Balakrishnan also said when the founders ran the company, the senior management salaries were reasonable enough to attract top talent and were never considered excessive.

Also, in difficult times, the leadership took the pain before it being passed on to rest of the organisation, he added.

"Leadership by example was practised both in substance and form," Balakrishnan said.

He also said, "As a shareholder, I want the board to be restructured quickly with some members who were part of the earlier dispensation like the erstwhile co-chairman (Ravi Venkatesan) and audit committee chairman (Roopa Kudva) be replaced."

An effective board is the need of the hour to establish proper checks and balances that was lacking in the earlier dispensation, Balakrishnan said.
No relief for Kotak Bank on promoter shareholding, shares fall
Posted on 17th December 2018
Mumbai: Kotak Mahindra Bank shares fell over 3% on Monday after the Bombay high Court refused to grant stay on 31 December deadline given by the Reserve Bank of India for promoter stake dilution. The next hearing will be on 17 January, Bloomberg reported. In intraday, Kotak Mahindra Bank shares declined as much as 3.6% to hit a low of ₹1,209.30 apiece. The Kotak Bank stock closed at 1,223.90 per share, down 2.50% from its previous close, while the Sensex rose 0.85% to 36,270.07 points.
---
ONGC, OIL spent over Rs 13,000 crore on 115 discoveries sold to private companies: Pradhan
Posted on 17th December 2018
ONGC, OIL spent Rs 13,000 cr on 115 discoveries govt took away from them: Pradhan

New Delhi: State-owned Oil and Natural Gas Corp (ONGC) and Oil India Ltd (OIL) spent over Rs 13,000 crore on 115 oil and gas discoveries which were taken away from them by the government for auctioning to private companies, Oil Minister Dharmendra Pradhan said Monday.
---
NHAI projects likely to fall short by 33-37% of its FY19 target, says Icra
Posted on 17th December 2018
Despite the pace of highways projects undertaken by state-run National Highways Authority of India (NHAI) picking up in the last three years, it is likely to remain short by 33-37 per cent of its FY19 target of completing 6,000 km, says Icra.

With a strong unexecuted pipeline and concerted efforts on right of way, the NHAI is on a strong footing and is set to witness sustained growth in execution in FY2019, the highest ever over the last one decade (FY2010- FY2019), the agency said in a statement issued on Monday.
---
HC rejects IDBI officers' plea against LIC move to acquire stake in bank
Posted on 17th December 2018
The Delhi High Court on Monday dismissed a plea challenging the LIC move to acquire 51 per cent stake in the Industrial Development Bank of India (IDBI).

Justice Vibhu Bakhru rejected the petition by the All India IDBI Officers Association, which had opposed the move of Life Insurance Corporation (LIC) on the ground that change in shareholding could take away the public sector bank status of IDBI.
---
NTPC rallies to near 1-month high after Jefferies raises share price target
Posted on 17th December 2018
Shares of state-run major NTPC surged in early trade Monday after global brokerage Jefferies said that the PSU will benefit from Central Electricity Regulatory Commission (CERC) latest decision. NTPC share price rallied 5.8 per cent to hit the day's high at Rs 151.35. The CERC, in its draft, allowed energy charges per unit of power to be calculated with a variation of 85 kilocalorie to billing on actual gross calorific value of coal received, giving NTPC the benefit of about 2.7 per cent on its coal cost, Jefferies noted.
---
Be the first person to write a business review for Balakrishnan pats Nilekani for fixing a 'reasonable salary' for Infosys CEO