Balakrishnan pats Nilekani for fixing a 'reasonable salary' for Infosys CEO
Posted on 6th January 2018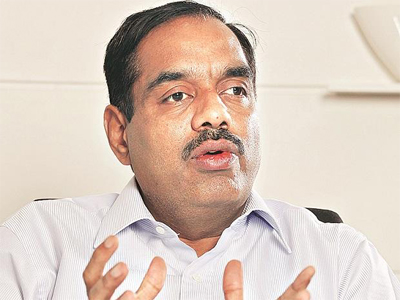 Former Infosys Chief Financial Officer V Balakrishnan on Saturday praised the company's co-founder Nandan Nilekani for correcting the 'wrongdoings' committed by the previous board, by fixing a reasonable salary for the incumbent CEO.

"I think the board under Nandan has done the right thing to correct the previous wrongdoings. The salary structure for the current Chief Executive Officer Salil Parekh looks reasonable with a large part tied to variable salary with a greater focus on long-term retention," he told PTI here.


Balakrishnan said it is important for the board to clearly articulate the performance metrics for the vesting of variable salaries to senior management.

"The metrics should have a clear focus on increasing shareholders' value by achieving superior growth... If the board wants to exercise any discretion it should be explained to the shareholders with proper reasoning," he said.

Infosys has fixed Parekh's salary at Rs 65 million with an eligibility for variable pay of Rs 975 million at the end of the 2018-2019 fiscal year.

Elaborating on the 'wrongdoings' by the previous board, Balakrishnan said, "unfortunately, it never clearly understood the culture or value systems followed by Infosys under its founders, which resulted in excessive senior management salaries and a huge disconnect with rest of the organisation."

"The former CEO's (Vishal Sikka) salary was increased substantially without clear reason while the rest of the organisation had to contend with meager salary hikes and reduced variable compensation," he added.

The $20 billion target by 2020 was loosely used to justify the pay increase to the CEO that lacked conviction, Balakrishnan alleged.

Recalling N R Narayana Murthy's views, he said excess in capitalism will make the acceptance of capitalism difficult to a large sections of the society.

"The CEO compensation should be reasonable enough to attract top talent while at the same time be comparable with peer group companies," the company's former CFO said.

"It should also reflect the realities within the organization otherwise selling it internally will be difficult," he added.

Balakrishnan also said when the founders ran the company, the senior management salaries were reasonable enough to attract top talent and were never considered excessive.

Also, in difficult times, the leadership took the pain before it being passed on to rest of the organisation, he added.

"Leadership by example was practised both in substance and form," Balakrishnan said.

He also said, "As a shareholder, I want the board to be restructured quickly with some members who were part of the earlier dispensation like the erstwhile co-chairman (Ravi Venkatesan) and audit committee chairman (Roopa Kudva) be replaced."

An effective board is the need of the hour to establish proper checks and balances that was lacking in the earlier dispensation, Balakrishnan said.
Amazon India reportedly closing in on Flipkart
Posted on 22nd March 2018
BENGALURU: Amazon has almost closed the gap with Flipkart's standalone sales in 2017, behind in GMV marketshare by less than 1percentage point in 2017 from 5 percentage points in 2016, as per Forrester. However, Flipkart still leads as a group with Myntra and Jabong.

While Flipkart leads in fashion and smartphones, Amazon has taken lead in categories such as appliances, consumer electronics, and more importantly, groceries, which builds platform stickiness, said Satish Meena, a senior forecast analyst at Forrester.
---
Air India may give promotions to 100 pilots with pay hike of up to Rs 12 lakh: Report
Posted on 22nd March 2018
Amidst the privatisation talks, it has been reported that the national carrier Air India might gove promotion to its 100 pilots with a pay hike of Rs 12 lakh per head.

"The 100 deputy general manager rank pilots are narrow-body and widebody pilots. These pilots are likely to be promoted to executive despite the fact that the airline is being privatised," a source told the Economic Times.
---
Opening bell: Sensex opens stronger after fed rates hike
Posted on 22nd March 2018
Key indices on Thursday gained strength after the federal reserve hiked rates as widely expected.

The 30-share BSE Sensex was up 138.34 points at 33,274.52 and the 50-share NSE Nifty rose 49.40 points to 10,204.70.
---
Sebi may impose trading curbs on cos undergoing insolvency proceedings
Posted on 22nd March 2018
The Securities and Exchange Board of India (Sebi) may impose trading restrictions on shares of companies that are undergoing insolvency proceedings. The move, which is also a demand by industry players, is aimed at reducing volatility in stock prices and curbing manipulation or misuse of price-sensitive information.

Sources said the market regulator would lay down a compliance framework for listed companies undergoing insolvency resolution. The announcement will likely be made at Sebi's board meeting next week.
---
Essar Steel set for rebid as lenders reject Arcelor, Numetal offers
Posted on 22nd March 2018
The State Bank of India-led consortium of lenders called for a second round of bidding for Essar Steel on Wednesday. All the six companies that had submitted expressions of interest (EoIs) earlier have to submit their bids by April 2.

Lenders rejected bids by Numetal and ArcelorMittal after both companies failed the legal eligibility test. The legal advisors cited one of the clauses of Section 29A of the Insolvency and Bankruptcy Code (IBC) for rejecting the bids.
---
Be the first person to write a business review for Balakrishnan pats Nilekani for fixing a 'reasonable salary' for Infosys CEO