Bad loans: HDFC Bank says no impact of 'couple of defaulters' in RBI list on provisioning
Posted on 9th December 2017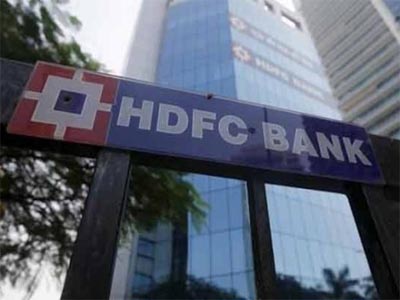 Private sector lender HDFC Bank has seen no impact on the provisioning front due to exposures to the "couple of companies" featuring in the Reserve Bank of India's (RBI) lists of loan defaulters, the bank's deputy managing director, Paresh Sukthankar, told FE. In an exclusive interview, Sukthankar said no further provisioning was needed for those accounts as the bank had already set aside the required provisions. "Actually, we had a couple of names from both first and second lists and we do not require further provisions, because these are already NPAs in our book," he said. The lender has exposure to one of the 12 companies, initially identified by RBI for reference under the Insolvency and Bankruptcy Code (IBC). "This is one of those which were NPAs for us long back. So, there was no immediate impact for us," Sukthankar added. However, he did not divulge details on the bank's total exposure to the firms in the two separate lists. The central bank had earlier sent lenders a second list of as many as 29 defaulters. It wanted that the stressed loans to be resolved by December 13, failing which, they would have to be taken to the National Company Law Tribunal (NCLT) by December 31, 2017. The norms require that banks set aside as provision of 50% for cases referred for insolvency proceedings at the tribunals.

Terming the recent ordinance amending the IBC as a great development, he said, it was "absolutely appropriate". "I think that was one of the requests of the banking community as well," he said. The ordinance has also prohibited promoters of companies, which have been non-performing for one year or more, to bid during the resolution process. To a question whether HDFC Bank had taken any cautious stand in corporate lending to sectors such as iron and steel on the back of several loans turning bad, Sukthankar said the bank was typically keeping in mind what the various sectors were doing. "It is too early…as of now and we are focused on doing an analysis," he said on the stress in the micro small and medium enterprises (MSME) sector, particularly after the rollout of goods and services tax (GST).

He said that domestic credit demand has picked up marginally from where it was earlier, but the year-on-year (y-o-y) growth was still in a single digit and somewhat muted. "As of now the loan growth is still on 6-7% range. The hope is, as this gradually picks up, at least it comes to higher single digit." Sukthankar said the government's massive PSU bank recapitalisation plan would clearly facilitate higher lending, if growth was muted because of lack of lending on the part of banks. "Of course, the reality is it is the combination of demand and supply, so this (fund infusion) will enable easier supply for appetite in part of the banks. Obviously, the demand for credit has also picked up."

HDFC Bank reported over 20% y-o-y jump in its September quarter net profit at R4,151.03 crore. The bank's gross NPAs in absolute term stood at `7,702.84 crore, up 52% y-o-y from R5,069.04 crore, a year ago. Provisions and contingencies nearly doubled on y-o-y basis at R1476.19 crore. Meanwhile, the bank is planning to spend R365 crore for its corporate social responsibility (CSR) activities this financial year against R305 crore spent last fiscal. Sukthankar has formally launched its flagship CSR initiative Holistic Rural Development Programme (HRDP) at the village of Umpathaw, around 80 km from Shillong. The tiny hamlet in Meghalaya has become the 750th village under the bank's HRDP initiative.
Bank of Baroda signs MoU with ten companies to loan Rs 500 cr
Posted on 21st July 2018
State-run Bank of Baroda signed a Memorandum of Understanding with ten companies including Uber, Oyo, Lava and Flipkart to provide loans to members in their supply chain like drivers and retailers in its efforts to raise its exposure to small enterprises.

"We want to target around 5,000 micro-entrepreneurs and spend at least Rs.500 crores in 2018-19," said P S Jeyakumar, CEO of Bank of Baroda.
---
IRCTC to charge portals a fee on each ticket's sale
Posted on 21st July 2018
MUMBAI: In a move that will make purchase of railway tickets from portals such as MakeMyTrip, Yatra, Paytm and Cleartrip more expensive, the Indian Railway Catering and Tourism Corporation (IRCTC) has said it will charge a fee of Rs 12 plus taxes on every ticket booked from service providers.
---
Sensex snaps two week winning streak, slips 45 points
Posted on 21st July 2018
The benchmark Sensex snapped its two week winning streaks to register small losses by 45.26 points to conclude at 36,496.37, while the broader Nifty managed to maintain the key 11,000-level to close at 11,010.20, losing a marginal 8.70 points.

Caution ruled roost during the week trade, weighed down by economic woes set-off by the surging June Wholesale price (WPI) inflation which shot-up to a four-year high to 5.77 per cent increased the chances of RBI hiking rates in its August meet.
---
New Rs 100 note poses fresh headaches for ATM operators
Posted on 21st July 2018
The Reserve Bank of India's (RBI) announcement launching a new series of 100-rupee denomination notes has been greeted with trepidation by the major companies engaged in the manufacture and supply of Automatic Teller Machines (ATMs) in the country.

Like the new post-demonetisation Rs 2,000, Rs 500, Rs 200 and the new Rs 50 notes and Rs 10 notes, even the new lavender-coloured Rs 100 is a tad smaller in size compared to the blue-coloured Rs 100 notes currently in circulation.
---
Facebook suspends US-based analytics firm over data concerns
Posted on 21st July 2018
After the Cambridge Analytica data scandal, Facebook has now suspended Boston-based data analytics company Crimson Hexagon over concerns that it harvested users' data.

According to a report in The Wall Street Journal late on Friday, the social media giant was investigating whether the analytics firm's "contracts with the US government, a Russian non-profit organisation tied to the Kremlin and the Turkish government violate the platform's policies".
---
Be the first person to write a business review for Bad loans: HDFC Bank says no impact of 'couple of defaulters' in RBI list on provisioning