Bad loans: HDFC Bank says no impact of 'couple of defaulters' in RBI list on provisioning
Posted on 9th December 2017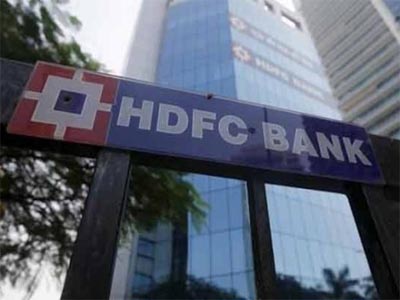 Private sector lender HDFC Bank has seen no impact on the provisioning front due to exposures to the "couple of companies" featuring in the Reserve Bank of India's (RBI) lists of loan defaulters, the bank's deputy managing director, Paresh Sukthankar, told FE. In an exclusive interview, Sukthankar said no further provisioning was needed for those accounts as the bank had already set aside the required provisions. "Actually, we had a couple of names from both first and second lists and we do not require further provisions, because these are already NPAs in our book," he said. The lender has exposure to one of the 12 companies, initially identified by RBI for reference under the Insolvency and Bankruptcy Code (IBC). "This is one of those which were NPAs for us long back. So, there was no immediate impact for us," Sukthankar added. However, he did not divulge details on the bank's total exposure to the firms in the two separate lists. The central bank had earlier sent lenders a second list of as many as 29 defaulters. It wanted that the stressed loans to be resolved by December 13, failing which, they would have to be taken to the National Company Law Tribunal (NCLT) by December 31, 2017. The norms require that banks set aside as provision of 50% for cases referred for insolvency proceedings at the tribunals.

Terming the recent ordinance amending the IBC as a great development, he said, it was "absolutely appropriate". "I think that was one of the requests of the banking community as well," he said. The ordinance has also prohibited promoters of companies, which have been non-performing for one year or more, to bid during the resolution process. To a question whether HDFC Bank had taken any cautious stand in corporate lending to sectors such as iron and steel on the back of several loans turning bad, Sukthankar said the bank was typically keeping in mind what the various sectors were doing. "It is too early…as of now and we are focused on doing an analysis," he said on the stress in the micro small and medium enterprises (MSME) sector, particularly after the rollout of goods and services tax (GST).

He said that domestic credit demand has picked up marginally from where it was earlier, but the year-on-year (y-o-y) growth was still in a single digit and somewhat muted. "As of now the loan growth is still on 6-7% range. The hope is, as this gradually picks up, at least it comes to higher single digit." Sukthankar said the government's massive PSU bank recapitalisation plan would clearly facilitate higher lending, if growth was muted because of lack of lending on the part of banks. "Of course, the reality is it is the combination of demand and supply, so this (fund infusion) will enable easier supply for appetite in part of the banks. Obviously, the demand for credit has also picked up."

HDFC Bank reported over 20% y-o-y jump in its September quarter net profit at R4,151.03 crore. The bank's gross NPAs in absolute term stood at `7,702.84 crore, up 52% y-o-y from R5,069.04 crore, a year ago. Provisions and contingencies nearly doubled on y-o-y basis at R1476.19 crore. Meanwhile, the bank is planning to spend R365 crore for its corporate social responsibility (CSR) activities this financial year against R305 crore spent last fiscal. Sukthankar has formally launched its flagship CSR initiative Holistic Rural Development Programme (HRDP) at the village of Umpathaw, around 80 km from Shillong. The tiny hamlet in Meghalaya has become the 750th village under the bank's HRDP initiative.
Suresh Kumar assumes additional charge as Coal India CMD
Posted on 23rd April 2018
New Delhi: Senior bureaucrat Suresh Kumar on Monday assumed the additional charge as chairman and managing director (CMD) of state-owned Coal India Ltd.

Kumar, additional secretary with the coal ministry, has taken over from Central Coalfields Ltd CMD Gopal Singh, who was appointed as interim chairman of the world's largest coal miner in September last year.
---
Volvo S90 Ambience Concept: A three-seat saloon that connects to three senses including smell!
Posted on 23rd April 2018
Volvo Cars has revealed its S90 Ambience Concept which comes with an industry-first sensory experience that synchronises visuals, sound and scent. The S90 Ambience Concept, making its public debut at the Beijing Auto Show in China, is based on Volvo's top-of-the-line S90 Excellence three-seater executive saloon and focuses on chauffeured passengers in the rear seat.
---
Xi Jinping, Narendra Modi to discuss US' 'protectionist' trade policy, 'unprecedented' developments
Posted on 23rd April 2018
China on Monday said the "protectionist" trade policy of the US and the "unprecedented" changes in the world order in the past 100 years will be discussed by Chinese President Xi Jinping and Indian Prime Minister Narendra Modi at their two-day summit this week. A day after the big announcement of Modi-Xi's informal meet in China's central city Wuhan on April 27-28, Beijing said the outcome of the meeting will be "positive".
---
Google CEO Sundar Pichai to cash in $380 million share award
Posted on 23rd April 2018
It's about to rain money on Google CEO Sundar Pichai this week. According to a Bloomberg report, Pichai on Wednesday would be cash in an award of 353,939 restricted shares, which he received before a promotion in 2014 will vest.

The Bloomberg data further showed that at the end of last week, the grant was worth about $380 million, making it one of the biggest single payouts to a public firm official lately.
---
After RBI, Raghuram Rajan to work for Bank of England?
Posted on 23rd April 2018
Former governor of the Reserve Bank of India, Raghuram Rajan as been named as one of the contenders for the top job of the UK's central bank. The leading Financial daily, Financial Times has named Raghuram Rajan as someone who might replace Mark Carney, he current governor of Bank of England.
---
Be the first person to write a business review for Bad loans: HDFC Bank says no impact of 'couple of defaulters' in RBI list on provisioning