Bad loans: HDFC Bank says no impact of 'couple of defaulters' in RBI list on provisioning
Posted on 9th December 2017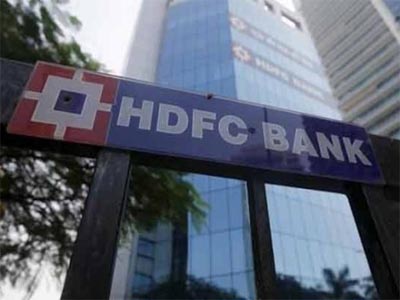 Private sector lender HDFC Bank has seen no impact on the provisioning front due to exposures to the "couple of companies" featuring in the Reserve Bank of India's (RBI) lists of loan defaulters, the bank's deputy managing director, Paresh Sukthankar, told FE. In an exclusive interview, Sukthankar said no further provisioning was needed for those accounts as the bank had already set aside the required provisions. "Actually, we had a couple of names from both first and second lists and we do not require further provisions, because these are already NPAs in our book," he said. The lender has exposure to one of the 12 companies, initially identified by RBI for reference under the Insolvency and Bankruptcy Code (IBC). "This is one of those which were NPAs for us long back. So, there was no immediate impact for us," Sukthankar added. However, he did not divulge details on the bank's total exposure to the firms in the two separate lists. The central bank had earlier sent lenders a second list of as many as 29 defaulters. It wanted that the stressed loans to be resolved by December 13, failing which, they would have to be taken to the National Company Law Tribunal (NCLT) by December 31, 2017. The norms require that banks set aside as provision of 50% for cases referred for insolvency proceedings at the tribunals.

Terming the recent ordinance amending the IBC as a great development, he said, it was "absolutely appropriate". "I think that was one of the requests of the banking community as well," he said. The ordinance has also prohibited promoters of companies, which have been non-performing for one year or more, to bid during the resolution process. To a question whether HDFC Bank had taken any cautious stand in corporate lending to sectors such as iron and steel on the back of several loans turning bad, Sukthankar said the bank was typically keeping in mind what the various sectors were doing. "It is too early…as of now and we are focused on doing an analysis," he said on the stress in the micro small and medium enterprises (MSME) sector, particularly after the rollout of goods and services tax (GST).

He said that domestic credit demand has picked up marginally from where it was earlier, but the year-on-year (y-o-y) growth was still in a single digit and somewhat muted. "As of now the loan growth is still on 6-7% range. The hope is, as this gradually picks up, at least it comes to higher single digit." Sukthankar said the government's massive PSU bank recapitalisation plan would clearly facilitate higher lending, if growth was muted because of lack of lending on the part of banks. "Of course, the reality is it is the combination of demand and supply, so this (fund infusion) will enable easier supply for appetite in part of the banks. Obviously, the demand for credit has also picked up."

HDFC Bank reported over 20% y-o-y jump in its September quarter net profit at R4,151.03 crore. The bank's gross NPAs in absolute term stood at `7,702.84 crore, up 52% y-o-y from R5,069.04 crore, a year ago. Provisions and contingencies nearly doubled on y-o-y basis at R1476.19 crore. Meanwhile, the bank is planning to spend R365 crore for its corporate social responsibility (CSR) activities this financial year against R305 crore spent last fiscal. Sukthankar has formally launched its flagship CSR initiative Holistic Rural Development Programme (HRDP) at the village of Umpathaw, around 80 km from Shillong. The tiny hamlet in Meghalaya has become the 750th village under the bank's HRDP initiative.
Sensex, Nifty start on a cautious note on mixed global cues
Posted on 23rd January 2019
Benchmark equity indices started on a cautious note, staging a moderate recovery in early trade Wednesday, following tepid sentiment in other Asian markets.

A stronger rupee against the dollar and easing crude prices also influenced market sentiment.
---
Lodha Group to buy back dollar bonds, cut debt
Posted on 23rd January 2019
Real estate developer Lodha Group's subsidiary Lodha Developers International has announced a buyback programme for its senior dollar denominated bonds that are due in the year 2020.

For the buyback transaction, Lodha Developers International has entered into an arrangement with J P Morgan Securities PLC to commence the buyback programme for repurchasing on its behalf,
---
Is merging Air India and Jet Airways the way to save the sinking airlines?
Posted on 23rd January 2019
To have one airline limping forward on the brink of bankruptcy may be regarded as a misfortune. To have two looks like carelessness.

That's the fundamental problem for India's aviation industry, home to the critically ill Jet Airways India Ltd. and its state-owned rival Air India Ltd., which more or less died in 2012 but has been kept on life support thanks to ongoing infusions of taxpayer cash.
---
Google spends record $21.2 mn on US lobbying amid anti-trust, bias battles
Posted on 23rd January 2019
Alphabet Inc's Google disclosed on Tuesday that it spent a company-record $21.2 million on lobbying the United States government in 2018, topping its previous high of $18.22 million in 2012, as the search engine operator fights wide-ranging scrutiny into its practices.

Google said in a quarterly disclosure to Congress that it spent $4.9 million on lobbying activities during the fourth quarter, slightly above $4.4 million in the same period a year ago.
---
New tariff order by Feb 1 or full blackout: Trai to cable, DTH operators
Posted on 23rd January 2019
Despite repeated assertions by the Telecom Regulatory Authority of India (Trai), the implementation of the new tariff order is proceeding at a sluggish pace. Sources in the know reveal that less than 50 per cent of the consumers' choice has been recorded across cable-digital and direct-to-home (DTH) platforms.
---
Be the first person to write a business review for Bad loans: HDFC Bank says no impact of 'couple of defaulters' in RBI list on provisioning