GMR to develop Greece airport
Posted on 8th June 2017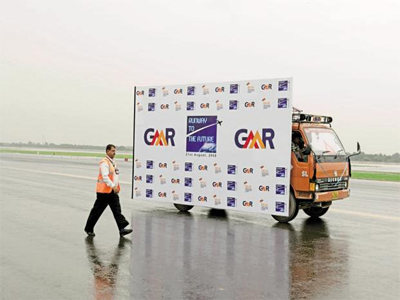 GMR group has won the bid to develop and operate a greenfield airport in Greece giving a boost to its aviation business.

GMR has partnered Greek company GEK Terna to develop the airport at Heraklion on island of Crete. This will be the group's second overseas project (GMR runs Mactan Cebu project in Philippines. Earlier it ran airports in Turkey and Maldives) and the award win comes close on heels of a revival in its airport business.

"GMR will be the designated airport operator in the consortium and will hold minimum 10 per cent stake in the consortium. The rest of the equity will be held by GEK Terna and Greece government. The construction will start by early 2018 and equity contribution will be required once the construction starts. The total project cost will be 530 million Euros. The airport construction would start by early 2018 and will be completed in 5 years from the financial closure. The airport will have an operational capacity of 15 million passengers annually," GMR group said in an emailed response. The project concession period is for 35 years including construction phase of five years and there is no concession fee payable to the government.

Crete is the largest and most visited island in Greece with a current passenger traffic of seven million passengers. The existing Heraklion airport will be shut once the new airport is completed.

Srinivas Bommidala, business chairman, GMR Airports said, "This new airport will definitely boost the tourism industry and aid the growth of international tourists that Greece has been witnessing over the past couple of years. The airport is in line with the asset lite strategy we have adopted for overseas expansion and will see GMR participate in project management and commercial management in addition to airport operations."

Sidharath Kapur, President, GMR Airports added, "This selection reinforces the position of GMR Airports as a major global airport operator. This will be GMR Group's second foray into Europe after having developed Istanbul's Sabiha Gokcen airport. Having been selected, we expect to complete necessary documentation and concession signing over the next few months.

GMR group runs airports in Delhi, Hyderabad and Philippines and has also won the bid to develop Mopa airport in Goa.

GMR Infrastructure on Friday reported a turnaround in the current year with a profit after tax of Rs 9 crore in FY17 from a loss of Rs 2,664 crore in FY16. The return to black was spurred by good performance in its airport segment.
Air India Assets Holding raises another Rs 7,985 cr
Posted on 17th October 2019
Raising funds for the third time in little over a month, Air India Assets Holding Ltd (AIAHL) on Thursday raised Rs 7,985 crore through bond sale, which was oversubscribed. A special purpose vehicle of Air India, AIAHL has mopped up a total of Rs 21,985 crore by way of bond issues since September 16 and the proceeds would be utilised to repay debt of the national carrier.
---
Microsoft CEO Satya Nadella earns nearly $43 million in 2018-19 fiscal; check details
Posted on 17th October 2019
With Microsoft posting strong results, the company's CEO Satya Nadella has got a 66 per cent raise in the 2018-19 fiscal, taking his total yearly earnings to a whopping USD 42.9 million, according to media reports on Thursday. While Nadella, 52, has a base salary of a little over USD 2.3 million, most of his pay came from stock awards, reported CNN Business. He received USD 29.6 million in stock award, USD 10,7 million in non-equity incentive plan compensation and around USD 111,000 in other compensation.
---
BSNL is in strategic interest of nation, we are looking into issues, says Ravi Shankar Prasad
Posted on 17th October 2019
Existence of BSNL is in strategic interest of the nation and the government is looking to resolve issues plaguing it, Union Minister Ravi Shankar Prasad said on Thursday. The law and telecom minister acknowledged that there are problems in the telecom sector, which are being looked upon by the government.

"BSNL is in strategic interest of the nation. Whenever there is flood, cyclones, BSNL is the first one to offer services for free. 75 per cent of their revenues goes into salary of employees while others manage it in 5-10 per cent.
---
Twin ONGC strikes in Colombia and Brazil
Posted on 17th October 2019
ONGC Videsh (OVL) on Wednesday said it has struck oil in Colombia and gas in Brazil, which will boost its energy reserves in the Latin American countries.

OVL found oil in Colombia's onshore exploration block CPO-5 in the Llanos basin and natural gas in a deep offshore exploration block — BM-SEAL-4 — in Brazil's Sergipe Alagoas Basin, the company said in a statement.
---
Warburg Pincus, Premji Invest to buy IAG's stake in SBI General for $432 million
Posted on 17th October 2019
Mumbai: Insurance Australia Group (IAG), which holds 26% stake in SBI General Insurance, on Thursday, said it has signed a definitive agreement to sell its entire stake to private equity firms Warburg Pincus and Premji Invest.

While Premji Invest will acquire 16% stake in the general insurer, Warburg Pincus plans to buy the remaining 10%, giving an exit to IAG.
---
Be the first person to write a business review for GMR to develop Greece airport