GMR to develop Greece airport
Posted on 8th June 2017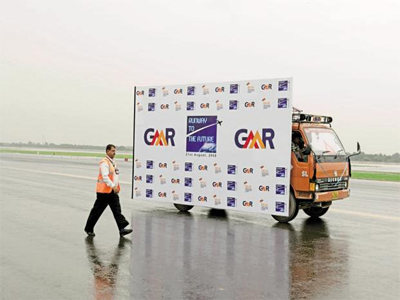 GMR group has won the bid to develop and operate a greenfield airport in Greece giving a boost to its aviation business.

GMR has partnered Greek company GEK Terna to develop the airport at Heraklion on island of Crete. This will be the group's second overseas project (GMR runs Mactan Cebu project in Philippines. Earlier it ran airports in Turkey and Maldives) and the award win comes close on heels of a revival in its airport business.

"GMR will be the designated airport operator in the consortium and will hold minimum 10 per cent stake in the consortium. The rest of the equity will be held by GEK Terna and Greece government. The construction will start by early 2018 and equity contribution will be required once the construction starts. The total project cost will be 530 million Euros. The airport construction would start by early 2018 and will be completed in 5 years from the financial closure. The airport will have an operational capacity of 15 million passengers annually," GMR group said in an emailed response. The project concession period is for 35 years including construction phase of five years and there is no concession fee payable to the government.

Crete is the largest and most visited island in Greece with a current passenger traffic of seven million passengers. The existing Heraklion airport will be shut once the new airport is completed.

Srinivas Bommidala, business chairman, GMR Airports said, "This new airport will definitely boost the tourism industry and aid the growth of international tourists that Greece has been witnessing over the past couple of years. The airport is in line with the asset lite strategy we have adopted for overseas expansion and will see GMR participate in project management and commercial management in addition to airport operations."

Sidharath Kapur, President, GMR Airports added, "This selection reinforces the position of GMR Airports as a major global airport operator. This will be GMR Group's second foray into Europe after having developed Istanbul's Sabiha Gokcen airport. Having been selected, we expect to complete necessary documentation and concession signing over the next few months.

GMR group runs airports in Delhi, Hyderabad and Philippines and has also won the bid to develop Mopa airport in Goa.

GMR Infrastructure on Friday reported a turnaround in the current year with a profit after tax of Rs 9 crore in FY17 from a loss of Rs 2,664 crore in FY16. The return to black was spurred by good performance in its airport segment.
Avenue Supermarts hits over two-month low; stock down 8% in a week
Posted on 11th December 2019

Shares of Avenue Supermarts, owner of the DMart brand, were trading lower for the fifth straight day and dipped 2 per cent at Rs 1,701 on Wednesday to hit 12-week low on the BSE. The stock was trading at its lowest level since September 20, 2019. In past one week, it has fallen 8 per cent, as compared to 1 per cent decline in the S&P BSE Sensex.

According to a Bloomberg report, Bank of America Corp and Kotak Mahindra Capital Co are among banks Indian billionaire Radhakishan Damani has picked for another planned stake sale in Avenue Supermarts.
---
Alstom to double manufacturing capacity in India, increase staff to 8,000
Posted on 11th December 2019
French trainset and related systems manufacturer Alstom is planning to double its manufacturing capacity in SriCity, in Andhra Pradesh, to 480 train sets per annum in near future. The company will be increasing its headcount from current 5,000 people to 8,000 by March 2023, said Alain Spohr, MD, Alstom, India & South Asia.
---
CSB Bank trades lower for fifth straight day, down 16% since listing
Posted on 11th December 2019

Shares of the recently listed CSB Bank slipped for the fifth straight day, down 3 per cent at Rs 251 on the BSE on Wednesday, after a strong debut. The stock of the private sector bank has fallen 16 per cent since it's listing on December 4, 2019. In comparison, the benchmark S&P BSE Sensex was down 1 per cent during the week.

The Kerala-based bank soared 54 per cent during its stock market debut at Rs 300.4, over its issue price of Rs 195. The stellar listing followed the hugely successful initial public offering (IPO) backed by Canadian billionaire Prem Watsa's Fairfax.
---
Justice Nanavati-Mehta Commission gives clean chit to Narendra Modi in 2002 Gujarat riots
Posted on 11th December 2019

The Gujarat government has tabled the final part of the Justice Nanavati-Mehta Commission report on the 2002 riots, in the Assembly on Wednesday. The report deals with post-Godhra violence in which more than 1,000 people were killed in the widespread communal riots across the State.

The Commission has given clean chit to the then Chief Minister Narendra Modi and others in post-Godhara riots. The Commission held that the riots were not organised and the State administration had taken all necessary measures to control the situation.
---
Some oppn parties speaking language of Pakistan on Citizenship Amendment Bill, says PM Modi
Posted on 11th December 2019

Ahead of the discussions on the Citizenship Amendment Bill, 2019 in the Rajya Sabha today, BJP held its Parliamentary party meeting which was also attended by Prime Minister Narendra Modi among other key leaders.

Speaking at the parliamentary party meeting, PM Modi said that the opposition parties are speaking the same language as Pakistan on the Citizenship Amendment Bill.
---
Be the first person to write a business review for GMR to develop Greece airport