GMR to develop Greece airport
Posted on 8th June 2017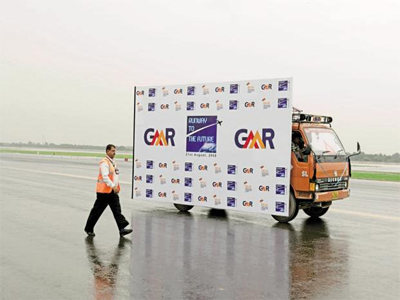 GMR group has won the bid to develop and operate a greenfield airport in Greece giving a boost to its aviation business.

GMR has partnered Greek company GEK Terna to develop the airport at Heraklion on island of Crete. This will be the group's second overseas project (GMR runs Mactan Cebu project in Philippines. Earlier it ran airports in Turkey and Maldives) and the award win comes close on heels of a revival in its airport business.

"GMR will be the designated airport operator in the consortium and will hold minimum 10 per cent stake in the consortium. The rest of the equity will be held by GEK Terna and Greece government. The construction will start by early 2018 and equity contribution will be required once the construction starts. The total project cost will be 530 million Euros. The airport construction would start by early 2018 and will be completed in 5 years from the financial closure. The airport will have an operational capacity of 15 million passengers annually," GMR group said in an emailed response. The project concession period is for 35 years including construction phase of five years and there is no concession fee payable to the government.

Crete is the largest and most visited island in Greece with a current passenger traffic of seven million passengers. The existing Heraklion airport will be shut once the new airport is completed.

Srinivas Bommidala, business chairman, GMR Airports said, "This new airport will definitely boost the tourism industry and aid the growth of international tourists that Greece has been witnessing over the past couple of years. The airport is in line with the asset lite strategy we have adopted for overseas expansion and will see GMR participate in project management and commercial management in addition to airport operations."

Sidharath Kapur, President, GMR Airports added, "This selection reinforces the position of GMR Airports as a major global airport operator. This will be GMR Group's second foray into Europe after having developed Istanbul's Sabiha Gokcen airport. Having been selected, we expect to complete necessary documentation and concession signing over the next few months.

GMR group runs airports in Delhi, Hyderabad and Philippines and has also won the bid to develop Mopa airport in Goa.

GMR Infrastructure on Friday reported a turnaround in the current year with a profit after tax of Rs 9 crore in FY17 from a loss of Rs 2,664 crore in FY16. The return to black was spurred by good performance in its airport segment.
Kerala govt makes compulsory for public to follow Covid-19 norms till 2021
Posted on 6th July 2020
The Kerala government has made it mandatory for the public to adhere to Covid-19 safety guidelines such as wearing of masks for the next one year, as part of its measures to tackle the spread of the virus in the state.

Through an amendment brought to the Epidemic Diseases Act, the state government said the regulations for the public will remain in effect till July 2021.
---
HDFC Bank shares gain 3% on strong loan growth in June quarter
Posted on 6th July 2020
Shares of HDFC Bank rose 3 per cent to Rs 1,110 on the BSE on Monday after the bank reported strong loan growth of 21 per cent year on year (y-o-y) at Rs 1.04 trillion for the first quarter of financial year 2020-21 (Q1FY21).

The Bank's advances aggregated to approximately Rs 1.04 trillion as of June 30, 2020, a growth of around 21 per cent as compared to Rs 8,297 crore as of June 30, 2019 (Rs 9,937 crore as of March 31, 2020), HDFC Bank said in an exchange filing.
---
Vegetable prices rise up to 200%; trade blame crop damage and fuel price
Posted on 6th July 2020
The prices of food items, including vegetables, have started to skyrocket even as the coronavirus crisis shows no sign of abating. The prices of vegetables, in particular, have increased quite significantly with retail prices of almost all kinds rising from 25 per cent to 200 per cent.

The most significant rise has been registered in the price of tomato. Vegetable traders say prices have risen due to crop failure during the rainy season.
---
COVID-19 Outbreak: India crosses Russia, takes third spot in list of worst-hit nations
Posted on 6th July 2020
As the coronavirus cases in India continue to spread rapidly, India is now just behind the United States, and Brazil in terms of the total confirmed cases. With close to 25,000 new cases on Sunday, India overtook Russia to take the third spot in the list of nations worst hit by the coronavirus disease (COVID-19) pandemic outbreak. It is, therefore, the biggest epicenter of the coronavirus disease pandemic in Asia.

India's COVID-19 count on Sunday crossed the 6.97 lakh-mark, while the death toll has crossed the 19,500-mark as well.
---
Devotees throng Lord Shiva temples on first Monday of Sawan
Posted on 6th July 2020
On the first Monday of 'Sawan' (Shravan) month, devotees started coming to Lord Shiva temples in different parts of the country from the early morning to offer prayers.

Uttar Pradesh Chief Minister Yogi Adityanath offered prayer at Mansarovar Temple, on the first Monday of 'sawan' month.
---
Be the first person to write a business review for GMR to develop Greece airport