Xiaomi puts the focus on India with plans to open 100 retail stores
Posted on 13th May 2017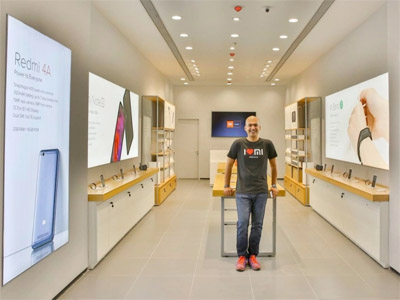 Xiaomi is increasing its office retail presence in China as bids to gain ground stolen by rivals in its homeland, and now it is making that very same push in its second largest market, India.

The Chinese company, which is valued at $45 billion, suffered a tough time last year as sales growth slowed — Xiaomi, notably, didn't go public with sales figures for 2016 — but India has been a bright spot. It passed $1 billion in revenue for the first time in the country last year, and it ended 2016 as India's second highest selling smartphone maker behind only Samsung, according to analyst firm Canalys.

Now it is doubling down on the country by introducing its 'Mi Home' stores, starting with a debut space in Bengaluru which will open in just over a week. The plan is to expand the initiative to reach 100 stores over the next two years, Xiaomi's India head Manu Jain said in a tweet.

Jain told Economics Times that Xiaomi is aiming to stock all products available in India but, in the off chance that it is out, customers will be able to pick up a code that allows them to buy their desired device online. The stores will also show off products from China before their local launch in India.

Initially, Xiaomi is somewhat constrained by Indian regulations on overseas firms operating brick and mortar retails stores. That means its first stores will be run by a partner, although Xiaomi said it has applied for the relevant license to take over. Apple is among others that is in the same boat. The U.S. giant is waiting on permission to bring the Apple Store to Indian soil, a move that would massively increase its sales presence. While CEO Tim Cook has said that India-based sales are growing at record levels, Apple is estimated to have shipped just 2.5 million iPhones to the country last year. For comparison, it sold 50.8 million iPhones in the most recent quarter alone.
Sebi may tighten AIF regulations to better monitor the source of funding
Posted on 22nd February 2018
The Securities and Exchange Board of India (Sebi) plans to tighten present Alternative Investment Funds (AIF) regulations to better monitor the source of funding and their end use.

According to sources, Sebi may check the anti-money laundering policies implemented by AIFs and examine the sanctity of any back-end arrangements an AIF may have with its investors, whereby money raised in AIFs is invested back in entities owned by the investors.
---
Qualcomm, Microsoft offer 'always connected' PCs with smartphone features
Posted on 22nd February 2018
Global chip-maker Qualcomm Technologies and Microsoft have collaborated with leading retailers from across the world to offer new "always connected" Windows 10 PCs powered by the Qualcomm Snapdragon Mobile PC Platform.

Retailers in the US, Australia, China, Italy, France and the UK will offer a range of new Windows 10 PCs from Asus, HP and Lenovo, the companies announced on Thursday.
---
Sensex slips 144 points ahead of F&O expiry
Posted on 22nd February 2018
MUMBAI: The benchmark BSE Sensex fell over 144 points in early trade as investors turned cautious ahead of February derivatives expiry amid sustained foreign fund outflows and mixed Asian cues.

The 30-share index, which had gained 141.27 points in the previous session, slipped 144.23 points, or 0.42 per cent, to 33,700.63.
---
M&M pact for auto technology
Posted on 22nd February 2018
Calcutta: Close on the heels of picking up a 16 per cent stake in Zoomcar for Rs 176 crore, domestic automobile major Mahindra and Mahindra (M&M) has zeroed in on another automotive technology firm, Carnot Technologies Private Limited.

M&M has signed an agreement to acquire 1,296 equity shares and subscribe up to 6,074 compulsory convertible cumulative preference shares, translating into a 22.9 per cent stake in the Mumbai-based Carnot. The cost of acquisition is estimated at Rs 6.06 crore.
---
Idea QIP price at a marginal discount
Posted on 22nd February 2018
Mumbai: Idea Cellular has fixed an issue price of Rs 82.50 per share for the sale of shares through a qualified institutional placement (QIP).
---
Be the first person to write a business review for Xiaomi puts the focus on India with plans to open 100 retail stores