Xiaomi puts the focus on India with plans to open 100 retail stores
Posted on 13th May 2017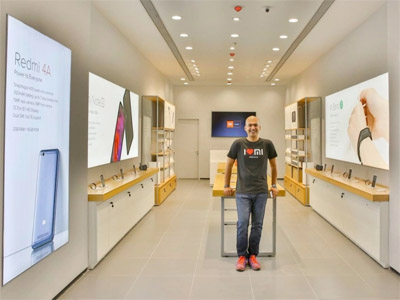 Xiaomi is increasing its office retail presence in China as bids to gain ground stolen by rivals in its homeland, and now it is making that very same push in its second largest market, India.

The Chinese company, which is valued at $45 billion, suffered a tough time last year as sales growth slowed — Xiaomi, notably, didn't go public with sales figures for 2016 — but India has been a bright spot. It passed $1 billion in revenue for the first time in the country last year, and it ended 2016 as India's second highest selling smartphone maker behind only Samsung, according to analyst firm Canalys.

Now it is doubling down on the country by introducing its 'Mi Home' stores, starting with a debut space in Bengaluru which will open in just over a week. The plan is to expand the initiative to reach 100 stores over the next two years, Xiaomi's India head Manu Jain said in a tweet.

Jain told Economics Times that Xiaomi is aiming to stock all products available in India but, in the off chance that it is out, customers will be able to pick up a code that allows them to buy their desired device online. The stores will also show off products from China before their local launch in India.

Initially, Xiaomi is somewhat constrained by Indian regulations on overseas firms operating brick and mortar retails stores. That means its first stores will be run by a partner, although Xiaomi said it has applied for the relevant license to take over. Apple is among others that is in the same boat. The U.S. giant is waiting on permission to bring the Apple Store to Indian soil, a move that would massively increase its sales presence. While CEO Tim Cook has said that India-based sales are growing at record levels, Apple is estimated to have shipped just 2.5 million iPhones to the country last year. For comparison, it sold 50.8 million iPhones in the most recent quarter alone.
SBI appoints Arijit Basu as new managing director; here's all about veteran banker
Posted on 23rd June 2018
The government on Saturday appointed Arijit Basu as managing director of the country's largest lender State Bank of India. He will fill the position that fell vacant following the elevation of Rajnish Kumar as the chairman. Now, after this, the SBI will have four managing directors. As per the SBI Act, the bank can have four managing directors.
---
Microsoft News for Android, iOS, Windows 10 is here
Posted on 23rd June 2018
Joining the likes of Google and Apple, Microsoft has launched Microsoft News – a news engine that curates articles from across the web and delivers them to the users' Microsoft feed, the media reported. The newly redesigned app for iOS and Android platforms would also power news on "Microsoft Edge", the News app in Windows 10, Skype, Xbox and Outlook.com.
---
23 Air India flights delayed due to software malfunction
Posted on 23rd June 2018
Nearly two dozen Air India flights were delayed across its network including at IGI Airport here today after a technical glitch in the check-in software hampered operations, an airline spokesperson said. The departure timings of as many as 23 flights were affected and the delays owing to the software malfunction stretched from 15-30 minutes, the spokesperson said.
---
Infosys at exciting juncture, bets big on digital: Nilekani at 37th AGM
Posted on 23rd June 2018
Riding on strong financial performance and disruptive technologies, global software major Infosys is betting on digital strategy to spur growth in the exciting times, said its co-founder and Chairman Nandan M Nilekani on Saturday.

"We are at an exciting juncture in the journey of our industry. I have never seen as many possibilities to partner with and grow along with our clients as I see today.
---
Volvo aims for 25% recycled plastics in every car from 2025
Posted on 23rd June 2018
Volvo Cars has announced that, from 2025 onwards, at least 25% of the plastics used in every newly launched Volvo car will be made from recycled material. The company has also urged auto industry suppliers to work closely with car-makers to develop next-gen components that are as sustainable as possible, especially with regards to containing more recycled plastics.
---
Be the first person to write a business review for Xiaomi puts the focus on India with plans to open 100 retail stores