GVK, GMR submit bids for Navi Mumbai airport
Posted on 13th February 2017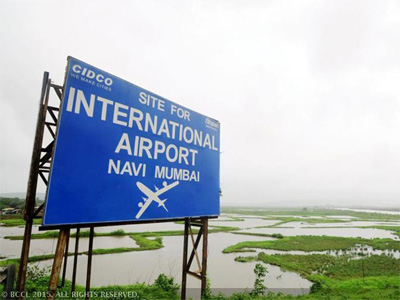 GVK-led Mumbai International Airport Limited and GMR Group, which run the country's busiest airports, today submitted financial bids for the Rs 16,000 crore Navi Mumbai international airport. Today was the last day for the bid submission after two extensions granted the City and Industrial and Development Corporation (CIDCO).

Bids were received on Monday afternoon, CIDCO officials said. MIAL has the right of first refusal and will be allowed to match the bid if it is 10% lower than competition.

The much delayed project failed to attract any bidder on earlier two occasions and CIDCO was forced to make changes in project conditions.

The Rs 16,000-crore airport project will be carried out through public private partnership. Project implementing authority CIDCO will bear the cost of pre- development works and the amount will be treated as a loan to the project developer.

One of the changes in concession agreement is extension to the repayment period of soft loan from 11 years to 15 years and another one is to cap the soft loan to around Rs 3,500 crore and not the actual cost.

According to original condition, out of the total amount of Rs 3,420 crore spent on pre-development works, Rs 430 crore will be treated as CIDCO's equity contribution and the remaining as soft loan to be repaid in five equal instalments from the 11th year.
Brexit deal, divestment plans boost Sensex, Nifty
Posted on 19th October 2019
Equity market witnessed sixth consecutive session of gains with benchmark indices Sensex and Nifty-50 gaining over 0.6 per cent on positive global and domestic cues after Brexit deal and the Central government planning more PSU divestments to bridge the fiscal deficit gap.

Sensex gained 246.32 points or 0.63 per cent closing at 39,298.38 while the broader Nifty-50 gained 75.50 points or 0.65 per cent to close at 11,661.85.
---
Isro releases 1st illuminated image of moon surface taken by Chandrayaan 2
Posted on 19th October 2019
The Indian Research Space Organisation (ISRO) on Thursday released the first image of the surface of the moon captured by the Imaging Infrared Spectrometer (IIRS) payload on-board Chandrayaan 2.

"See the first illuminated image of the lunar surface acquired by #Chandrayaan2's IIRS payload. IIRS is designed to measure reflected sunlight from the lunar surface in narrow and contiguous spectral channels," ISRO tweeted along with the picture on its account.
---
EPFO to cover 400,000 employees in J&K: 5 Key benefits for workers of organized sector
Posted on 19th October 2019
NEW DELHI : Retirement fund manager Employees Provident Fund Organization (EPFO) will cover 400,000 organized sector employees in Jammu and Kashmir and Ladakh, effective 31 October, making them eligible for a series of social security benefits ranging from family and disability pension to higher life insurance, among others. It shall also reduce the employee cost for companies to some extent.
---
Strategic sale buzz: BHEL gains 27.5% in intra-day trade
Posted on 19th October 2019
Strategic sale buzz fuelled a sharp 27.5% rise on Friday in the share price of Bharat Heavy Electricals (BHEL) during the intra-day trade on BSE. The stock rose to Rs 56.80 on Friday, before closing at Rs 54.45, 22.2% higher than the previous day's close. It had hit a 52-week low of Rs 41.35 on Wednesday, as the company battled through tough times stemming from execution delays and low order inflows.
---
ITC to develop value chain for chilli growers in Andhra Pradesh
Posted on 19th October 2019
The Agri Business Division of ITC Ltd has joined hands with the Andhra Pradesh government for improving farm value chain for chillies under public-private partnership mode covering Krishna, Guntur, Prakasam and Kurnool districts of the southern state. The collaboration will focus on developing an integrated agri extension platform for chilli value chain development, covering 10,000 acre in the first phase and another 100,000 acre in the near future.
---
Be the first person to write a business review for GVK, GMR submit bids for Navi Mumbai airport