GVK, GMR submit bids for Navi Mumbai airport
Posted on 13th February 2017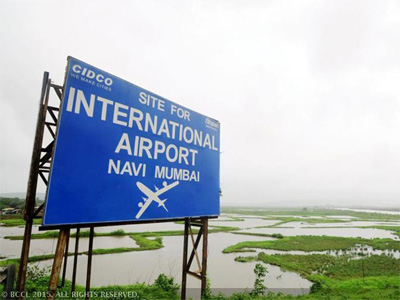 GVK-led Mumbai International Airport Limited and GMR Group, which run the country's busiest airports, today submitted financial bids for the Rs 16,000 crore Navi Mumbai international airport. Today was the last day for the bid submission after two extensions granted the City and Industrial and Development Corporation (CIDCO).

Bids were received on Monday afternoon, CIDCO officials said. MIAL has the right of first refusal and will be allowed to match the bid if it is 10% lower than competition.

The much delayed project failed to attract any bidder on earlier two occasions and CIDCO was forced to make changes in project conditions.

The Rs 16,000-crore airport project will be carried out through public private partnership. Project implementing authority CIDCO will bear the cost of pre- development works and the amount will be treated as a loan to the project developer.

One of the changes in concession agreement is extension to the repayment period of soft loan from 11 years to 15 years and another one is to cap the soft loan to around Rs 3,500 crore and not the actual cost.

According to original condition, out of the total amount of Rs 3,420 crore spent on pre-development works, Rs 430 crore will be treated as CIDCO's equity contribution and the remaining as soft loan to be repaid in five equal instalments from the 11th year.
SC declines to pass order on women's pleas seeking safe entry in Sabarimala
Posted on 13th December 2019

The Supreme Court on Friday declined to pass any order on the pleas by two women activists seeking a direction to the Kerala government to ensure safe entry of women in the Sabarimala temple under police protection.

The top court said the issue was very emotive and it did not want the situation to become explosive.
---
Banks surge on report govt may raise bond investment limit for FPIs to 10%
Posted on 13th December 2019
Banking counters such as IDBI Bank, State Bank of India (SBI), YES Bank, and ICICI Bank, were trading higher on Friday after reports suggested that the government is considering increasing the government bond investment limit of foreign portfolio investors (FPIs) to at least 10 per cent of the outstanding, from 6 per cent now, with an aim to incorporate local bonds into global bond indices.

According to a Business Standard report, the central bank, however, wants the government to go slow and first check how the currency risk is covered from the issuer perspective, before increasing the limits further.
---
Delhi court to hear Nirbhaya gangrape case today, convicts to appear via video conferencing
Posted on 13th December 2019

The hearing in the 2012 Nirbhaya gangrape-murder case will be conducted in Delhi's Patiala Court on Friday with the four convicts appearing via video conferencing. The decision was taken citing security reasons and a threat to their lives by the enraged public over the rise in the number of rape incidents in the country. The hearing is scheduled to begin at 10 AM.

Currently, the court is hearing a plea filed by the victim's parents seeking execution of all the convicts to be expedited. Counsel for Nirbhaya's parents, Seema Kushwaha, had sought issuance of death warrant against them without any delay.
---
Airports to railway stations: Gold smuggling peaks in India as prices climb
Posted on 13th December 2019

Surging gold prices in India are keeping customs officials on their toes.

Illegal inflows have jumped after the Indian government increased import taxes in July and prices surged to record highs in September. Customs officials have arrested people for attempting to smuggle in gold by concealing it in bags, clothes and their rectums. On one flight alone, officials caught 30 passengers trying to smuggle in 7.5 kg of gold into Chennai.
---
Now, Indian Railways passengers can book tickets for Kashi Vishwanath Temple at Varanasi station
Posted on 12th December 2019
Indian Railways passengers, commoners can now book tickets for visiting the Kashi Vishwanath Temple in Varanasi. In a joint initiative by the national transporter and Shri Kashi Vishwanath Temple Trust, help-desks are being opened at Varanasi Junction Railway Station, also known as Varanasi Cantt Railway Station (BSB). Minister of State for Railways Suresh Angadi officially launched the help-desk project at the station premises earlier this year.
---
Be the first person to write a business review for GVK, GMR submit bids for Navi Mumbai airport